Hollywood hues
Court drama at its best
The Young Victoria is a plush, plodding stroll through the Victorian times, writes Ervell E. Menezes

THE dowager Queen Victoria is known most for being the longest serving English monarch and the 19th century or at least most of it is part of what has come to be known as the Victorian Age. But little has been known of her early childhood, strict upbringing and her formative years that moulded her character. Jean-Marc Vallee's The Young Victoria deals precisely with this aspect of her character and its repercussions on the country.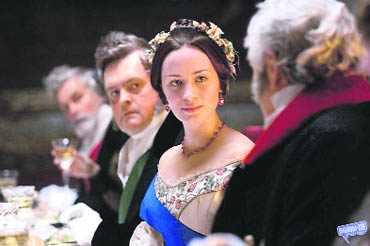 Jean-Marc Vallee's The Young Victoria deals with her early childhood, strict upbringing and formative years that moulded Victoria's character

It is British court drama at its very best, lush green outdoors, huge architectural edifices, idle recreations of life and ritual with copious portions of intrigue. The locale is Kensington Palace where little Victoria is brought up. "Never walk alone, hold someone's hand and walk," was one of the instructions and many more followed as did a number of no-nos known as the Kensington rules.
Poor little Victoria, she was watched hawk-eyed by her elders and it probably engendered a spirit of revolt in her with grew more in her adolescence. Then the pressures of monarchy were also beginning to tell on the hapless girl. By now, an ingrown antagonism towards had fully flowered or rather festered. Victoria (Emily Blunt) bore all this with fortitude but often felt the butt of scheming courtiers.
Lord Melbourne (Paul Bettany) was said to have a great influence on the household decisions but she found more sympathy in her cousin Albert (Rupert Friend) whom she had known from youth. There were other suitors, including young King Leopold of Belgium (Thomas Kutschmain). King William (Jim Broadbent) cut a sorry figure and his rare outbursts not only provided dramatic relief but gave evidence of the duplicity prevalent in those days.
It is a plush, plodding stroll through those Victorian times and the halting pace provides the space and time for psychological overtones. Julian Fellows screenplay too is rich in imagination and buttressed with apt dalliances. And since the story ends somewhere in the middle, director Vallee must let events build to rising crescendo. What's more he signs off adroitly without as much as giving the slightest hint.
Young Emily Blunt does an excellent job and growing with every frame is quite superb in the latter half. Reminiscent of Olivia Hussey (who played Juliet in Franco Zefirelli's 1968 Romeo & Juliet), hers is a very photogenic face. But she also has talent to go with it. Rupert Friend is handsome but not as handsome is what he does — a bit patchy. Paul Bettany and Miranda Richardson provide good cameos in this compelling court drama.
If only director Vallee showed some restraint with the final bedroom scenes. They do not fit in with the mood and spirit of things.