ART & LITERATURE
'ART & SOUL
ENTERTAINMENT
TELEVISION
GARDEN LIFE
NATURE
FOOD TALK
CONSUMER, BEWARE!
FASHION
HOLLYWOOD HUES
BRIDGE
ULTA-PULTA
EARLIER FEATURE
TRAVEL
RELATIONSHIPS
DREAM THEME
TIME OFF

Some grain, some pain
In the backdrop of fiscal liabilities and lifestyle changes, Baisakhi festivities in the region have a different flavour now, writes Sarbjit Dhaliwal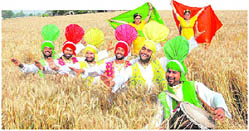 BESIDES having a religious significance, the Baisakhi festival, that falls on April 13, is closely associated with the farming community in North India, especially in the states of Punjab and Haryana.

United Colours
of Baisakhi
Varinder Singh
Baisakhi — the festival marking the beginning of the solar year, the arrival of the fresh rabi crop besides and commemorating the creation of the Khalsa Panth by the 10th Sikh Guru Gobind Singh in 1699 — is celebrated all over the country even as it holds greater significance in the North, especially in Punjab, Haryana and adjoining states.

Fair position
Royal women of the Mughal period were proficient in martial arts and social
etiquette, besides being capable administrators, seasoned politicians and artists,
says Pramod Sangar
THE position of woman in almost every age or period has remained distinctly subordinate. Describing the status of the Rajput woman in medieval India, Col Tod in his Annals of Rajasthan commented, "To the fair of other lands, the fate of the Rajputani must appear to be one of appalling hardship.

In a class of its own
Punjab Public School, Nabha — celebrating its golden jubilee today — has the infrastructure and teaching methods comparable to the best in the world, writes Harish Dhillon
THE original purpose of setting up public schools was to create a class of young men who would be equipped to govern England and its colonies. The curriculum in these schools gave the students the qualities of leadership, integrity, a sense of duty, an awareness of the world and national pride.

Laced with grace
Whether it is a party, or a marriage reception, women like to show off their style with the use of lace in their attire, says Banalata Bipani
LACE is the style to watch out for in 2010, internationally and in our local fashion bazaars. What makes lace so contemporary? Well, besides the opaque sensuality, lace is light and airy.

Foodies' paradise
Multicultural Melbourne offers an enormous choice of events and restaurants, writes Sumitra Senapaty
SPRING in Melbourne is certainly an odd time of the year for picnics and horse races. One minute you're choosing somewhere with outdoor tables and calling for ice, the next moment sprinting for cover.

Thank women for creating beer
AN academic has claimed that beer would have never come into existence without the entrepreneurial skills of women. According to a report in The Telegraph, Jane Peyton, an author and historian, said women created beer and for thousands of years it was only they who were allowed to operate breweries and drink beer.

Mice ballads
MALE mice sing ultrasonic love songs to woo females, a new study has found. The ultrasonic songs vary widely, with some winning males emitting tunes that prove irresistible to females.

The truth about 'true' TV stories
Shoma A. Chatterji
HOW 'true' is a 'true story' beamed across television news channels? Can stories be 'created' out of thin air? Or can they be created from a conspiracy between the media and a third vested party, in this case, the local police?

British films take a shot at India
A package of independent British films makes inroads into Indian multiplexes to explore a market that is waiting to be tapped, says Saibal Chatterjee
WHEN a package of seven contemporary British films was showcased in multiplexes in Delhi, Mumbai and Bangalore last month, film enthusiasts in the country had cause for cheer.

I am a self-made woman: Priyanka Chopra
Bohni Bandyopadhyay
SHE has achieved a lot in a few years time in Bollywood, including a National award for Best Actress, but Priyanka Chopra insists that the accolade has not made much difference to her life.