Some grain, some pain
In the backdrop of fiscal liabilities and lifestyle changes, Baisakhi festivities in
the region have a different flavour now, writes Sarbjit Dhaliwal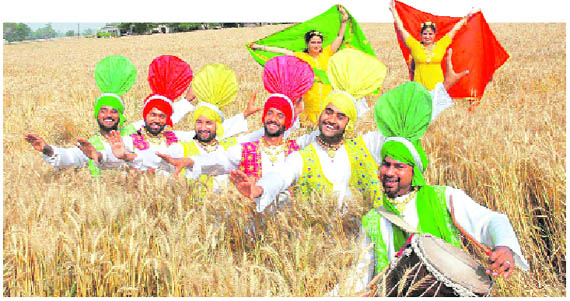 The harvest festival of Baisakhi brings a golden glow to the fields and spells bounty Photo: Pawan Sharma
BESIDES having a religious significance, the Baisakhi festival, that falls on April 13, is closely associated with the farming community in North India, especially in the states of Punjab and Haryana. It is an integral part of the culture of this agriculturally rich region because it coincides with the onset of the harvesting of rabi crops such as wheat, a staple of Punjab, Haryana and western Uttar Pradesh. That is why it is also called the harvest festival.
Of late, however, Baisakhi, which used to be an occasion for fun and frolic and was celebrated with great vigour, has been losing its charm. Revelry and the rhythm of bhangra and giddha were associated with it. That is no longer the case. Actually, over the years, the character of Baisakhi has changed tremendously. The shift has a lot to do with the fast-changing lifestyles and pattern of agriculture in the region.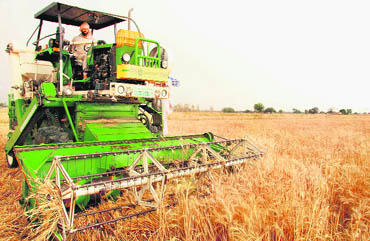 Advanced technology, in the form of combine harvesters and other farm machinery, has not only enhanced productivity but also the debt burden of farmers Photo: Malkiat Singh

Earlier, such festivals were a pretext to hold celebrations, have some fun and enjoy life. As people in the rural areas had to manually do all the agriculture-related jobs, which were highly labour-intensive, they did not have much time for merry making. Most of the time was spent in the fields. There was no television or other means of entertainment in the countryside. Most of the villages were without electricity till the mid-1970s.
Cinema houses were also confined to big towns and cities. There was no proper connectivity of the rural areas with the urban centres. The rural road network was created only four decades ago and it facilitated the introduction of a public transport system in the countryside.
To make their insipid life a bit colourful, people had invented their own ways to have fun at the local level. Wrestling and kabaddi tournaments turned into big sporting events. People used to wait eagerly for festivals such as Baisakhi, Hola Mohalla and Maghi to move out from their rural confines, to congregate at Talwandi Sabo for Baisakhi, at Anandpur Sahib for Hola Mohalla, and at Muktsar for Maghi Mela. In the absence of transport facilities, people used to go to attend such festivals, lasting three days or even more, either on foot or cycle, which remained the best mode of transport till the 1970s for the rural folks.
Debt damper
The study by economist H. S. Shergill for the Institute of Development and Communication has found that the per farm household debt has risen three times in the past 10 years. It was Rs 52,000 per household in 1997 and it went up to Rs 1.39 lakh in 2008. He has concluded that the per acre debt has more than doubled from Rs 5721 to Rs 13,062 in the past 10 years. More than 70 per cent farm households are under debt. And 17 per cent of them are virtually in a debt trap.
The outstanding debt component has increased at a faster rate (14.13 per cent per year) than the total farm debt (8.81 per cent per year) over this period, according to Shergill. He says that when compared to income generated from the farms, the debt amount has increased from 68 per cent in 1997 to 84 per cent in 2008. Then, as a proportion of the value of machinery owned by Punjab farmers, the debt amount has gone up from 15 per cent in 1997 to 53 per cent in 2008.
Despite the steep rise in farm prices in the state, the amount of farm debt is now (2008) equal to 4 per cent of the total value of farmland in the state, compared to 3 per cent in 1997.
Highlighting the non-productive use of loans, Shergill has revealed that the northern Malwa farmers took the highest amount of non-productive loans for reasons such as house construction and repair (44.38 per cent of total amount), marriages and social ceremonies (41.41 per cent of total), and purchase of durable consumer goods (25.41 per cent of total). The main sources of these loans were: commission agents and moneylenders (54.48 per cent of total amount) and commercial banks (28.96 per cent of total). The share of Cooperative Credit Institutions in non-productive long-term loans was rather small, being only 3.36 per cent. —SD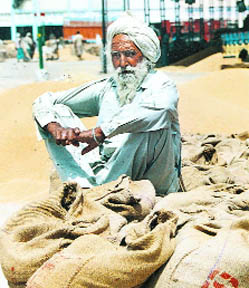 But all that has changed now. Agriculture has been fully mechanised in Punjab and Haryana. Even small farmers use machines to sow and reap their crops. The process of harvesting and threshing has been reduced to just two or three days and, in some cases, even to a few hours. Gone are the days when farmers used to spend at least one month to first harvest and then gather the grains from their fields. The entire process was, by and large, manual. Most of the local farmers have now stopped working in the fields themselves. They engage migrant labour for handling farm-related chores.
With the introduction of new technologies and hybrid seeds, the production level in the agricultural sector has gone up but the input cost has also risen manifold.
Sukhpal Singh Bhullar, a progressive farmer from Ghuman village, near Mansa, says it is true that with the introduction of new technology the production level has gone up in the farm sector, but it has also enhanced the debt burden of farmers. There are about five lakh tractors in the state and about 13 lakh tubewells. Farmers have made a huge investment in agricultural implements. He says the new generation of farmers is fast learning the proper use of machinery. Agricultural cooperative societies, which were playing a useful role by renting out farm machinery in the Doaba area and some parts of Malwa to the farmers, should be persuaded to follow the same pattern in other parts of the state. That would save small and marginal farmers from buying farm machinery individually and incurring an unnecessary loan burden.
`A0Due to the high input cost, agriculture has become unviable for small and marginal farmers. They have come under heavy debt. It has resulted in a serious crisis in the farm sector. Festivals such as Baisakhi no longer bring cheer to farmers, who are reeling under the burden of institutional and non-institutional loans.
Eminent economist Prof H. S. Shergill, who conducted a study twice — first in 1997 and the second in 2009 — with regard to farmers' debt in Punjab on behalf of the Institute of Development and Communication (IDC), has revealed that the debt liability on farmers has gone up to Rs 30,394 crore now. It was Rs 5700 crore in 1997.
Commenting on the lifestyle changes, Dr P. S. Rangi, a reputed agricultural economist, says that traditional melas such as Baisakhi started losing sheen after this region ushered in the green revolution in the late 1960s. For people, such melas became a source of momentary entertainment. Their focus started turning to scientific events such as the kisan melas organised by Punjab Agricultural University.
"With the economic and social development of the people, the changes in their lifestyles and traditional cultural activities were bound to happen," he adds. Whereas earlier people used to spend 2-3 days at such festivals, now they spend just a few hours".
Moreover, several alternatives are available for having fun and merry making. With the spread of cable networks to the countryside, television watching has become available to rural people round the clock. Owing to linking of all rural areas with urban areas through a road network, the connectivity of people has gone up in a big way. As a lot of fun and entertainment is available in day-to-day life, festivals such as Baisakhi have lost their community appeal.
Commenting on the cultural change in the celebrations, Gurbhajan Gill, an eminent Punjabi writer, says that life has become too individualistic in recent times and living in a commune form has almost disappeared. That process has also affected festivals such as Baisakhi. Moreover, today everything has become market-oriented. Life has become a race full of tension and devoid of internal peace and tranquillity and the simple festivites of yore have been replaced by making merry in a hurry.
United Colours
of Baisakhi
Varinder Singh
Baisakhi — the festival marking the beginning of the solar year, the arrival of the fresh rabi crop besides and commemorating the creation of the Khalsa Panth by the 10th Sikh Guru Gobind Singh in 1699 — is celebrated all over the country even as it holds greater significance in the North, especially in Punjab, Haryana and adjoining states.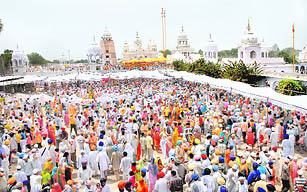 People from far and near congregate at the Baisakhi celebrations at Takht Damdama Sahib, Talwandi Sabo

Though Baisakhi is celebrated in every nook and corner by the people of Punjab, particularly the farmers, who start harvesting their bumber crop to the peppy rhythm of bhangra and giddha, the epicentre of the festivities remain the two cities of Amritsar and Anandpur Sahib.
Guru Gobind Singh had baptised the five Sikhs or Panj Piaras on this historic day in 1699 at Kesgarh Sahib, Anandpur Sahib, by first making them partake of amrit and then taking it himself. The auspicious day is also celebrated in neighbouring countries like Nepal and Pakistan, and other parts of India, as Rongali Bihu in Assam, Naba Barsha in Bengal, Puthandu in Tamil Nadu, Pooram Vishu in Kerala and Vaishakha in Bihar.
Like Divali, the Baisakhi of Amritsar, too, has turned into a world-famous event, owing largely to the exuberance of the people who descend on the holy city in hordes, dressed in colourful attire, and head for the Golden Temple.
Spirituality pervades the air as men, womenfolk and children throng the shrine since early morning and take a dip in the holy sarovar while hymns are recited by paathis in the bedecked sanctum sanctorum. The importance of the day is also explained after the ardas at the sanctum sanctorum even as devotees bow their heads at Akal Takht also.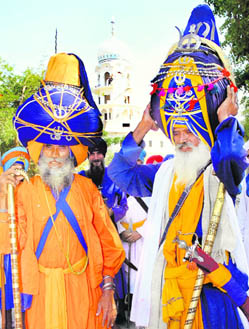 Nihangs in full regalia
Photos: Malkiat Singh

Keeping in view the religious importance of the day, devout Sikhs prefer to get baptised at the Golden Temple. Those who cannot make it there get baptised at nearby gurdwaras.
Fun and frolic fill the entire holy city as visiting devotees and residents savour snacks and other delicacies like jalebis, sat puras and samosa-kachoris to have a feel of ethnic Punjabi delicacies. This centuries' old tradition has hardly witnessed any change as far as celebrations are concerned.
It is a different matter that the festivities have now got confined to the rural areas and small towns of the region and technology has brought drastic changes to the golden wheat-laden fields. Combine harvesters now rule the roost in wheat fields and have made manual harvesting a thing of the past. However, the farmers of Majha and some other parts of Punjab still buy new sickles on this day as part of the long-held tradition of manual harvesting.
Baisakhi is also considered auspicious in Tarn Taran. People from far-off places not only come to pay obeisance at the Darbar Sahib gurdwara in Tarn Taran but also herd their cattle up to the shrine's boundary wall. After getting a dip in the holy pond, they sprinkle water taken from the holy pond of the gurdwara on their animals in the belief that their livestock remain free from disease. Similarly, a large number of people from the Malwa, Majha and Doaba areas bathe in the Sutlej and Beas, particularly at their confluence near Harike, as they consider these rivers to be holy entities.
"In fact, the happiness of farmers almost resembles that of a husband at the sight of his new bride as fresh crop starts pouring in from the fields, giving the first sign of a bountiful and blissful year ahead," says Surinder Singh, a farmer of Tarn Taran.
The Hindu Goddess, Jwalamukhi, is also worshipped on this day. Devotees throng her temple at Jwalamukhi in Himachal Pradesh.
On a different note, people also pay homage to those who had sacrificed their lives for the country in the Jallianwala massacre, wherein the British soldiers in India had killed 379 persons and injured hundreds by opening fire at innocent men, women and children on April 13, 1919.
People wake up early and take a dip in holy rivers or ponds before getting attired in their best of clothes and break into bhangra and giddha, generally to the tune of the popular Mohammed Rafi number, "Jatta Aai Baisakhi". Langars (community kitchens) dot gurdwaras, temples and other religious places.