Laced with grace
Whether it is a party, or a marriage reception, women like to show off their style
with the use of lace in their attire, says Banalata Bipani

LACE is the style to watch out for in 2010, internationally and in our local fashion bazaars. What makes lace so contemporary? Well, besides the opaque sensuality, lace is light and airy. A simple V-neck shirt, encrusted with some gossamer lace, works wonders. Lacy skirts textured with knits are swish. A hint of black lace over a flesh-coloured pink camisole, and you are set for the night.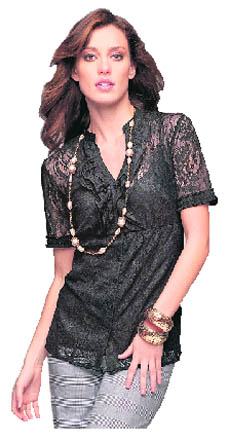 A touch of lace can spell romance
What is great about lace? Crochet lace is the elegant display of sartorial minimalism. Just a touch adds that element of femininity and romance. A touch of lace and delicate silhouettes can spell romance minus the frothy frills. It doubles as the demure Victorian ensemble, or the hip contemporary outfit, while carrying off a laidback hippy 70sí vibe. French or Belgian lace is popping up in the most unusual places, be it a shirt collar or a sandal strap, a clutch bag or your hair scrunchie.
Worldwide, names like Chanel, Micheal Kors, Fendi and Valentino include lace in their 2010 collection. Closer to home, Manish Malhotraís new resort wear line has a range of lace-layered skirts. His saris in pure white lace and white gowns with hints of black, blue and gold lace look dainty and graceful.
"The most appealing aspect of wearing lacy outfits is that the material itself isnít limited to a particular age group. Be it a sober salwar-kameez with a ravishing lace dupatta, or even a simple lacy dress, women of all ages are spoilt for choice," opines fashion designing student Hemlata Mehta, who adds: "Be it a cocktail party, or marriage receptions, women of all ages have their own way to show off their style statement with use of lace in their attire."
The most common use of lace is now seen as attached borders on saris. "It is so lightweight and delicate that anyone can carry it off, especially when it comes to lace saris, which drape well on actresses like Katrina Kaif. Black lace with beading work is my favourite, or even some resham-coloured thread works well. Swarovski crystals add a bit of glam. Lace will remain a classic choice that can be worn season after season," says fashion designer Anuradha Paudwal.
Lace and net give sophisticated, sharp and feminine look. Outfits with a touch of lace or net makes for a perfect evening wear. It would be really good to opt for these fabrics for attending glamorous parties, as it adds a vintage and romantic charm. Both lend an exquisitely beautiful look with a classic yet sensuous appeal. Thatís the reason most of the sensuous lingerie are of these fabrics.
Lace and net are traditional yet complex fabrics, and the designers always come up with a new elegant, classic and sexy style. Slip on your lace ensemble and donít be surprised to feel elegant, glamorous and sexy ó all at the same time.
But there are cautions when going for lace in your outfits.
Lace garments, shoes and bags are popular. But please donít combine all the three. If you are going for a bold lace pump, keep the dress simple and chic in solid black and vice-versa. The level of refinement of lace is high and the jewellery worn with it must define the same ethos. Chunky pieces, uncut stones, hoop earrings and heavy watches are not going to work. Lace calls for a lighter touch. Repeating the intricate lace pattern in jewellery is highly effective.
When it comes to wearing lace and net, you have to be very careful. Being delicate in nature, it has to be carefully handled. It would be wise to consider a lace or net sari, only if you have a perfectly proportionate figure and are sure to carry it off. Stay away from it, if you feel you are a bit skinny or plump for it. Due to the nature of the fabric, laces and nets tend to be revealing and, hence, should be avoided when it comes to traditional and conservative events. ó MF