Foodies' paradise
Multicultural Melbourne offers an enormous choice of events
and restaurants, writes Sumitra Senapaty

SPRING in Melbourne is certainly an odd time of the year for picnics and horse races. One minute you're choosing somewhere with outdoor tables and calling for ice, the next moment sprinting for cover.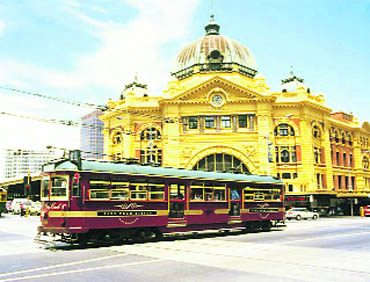 A ride on the Melbourne city circle tram car is a major tourist attraction Photos by the writer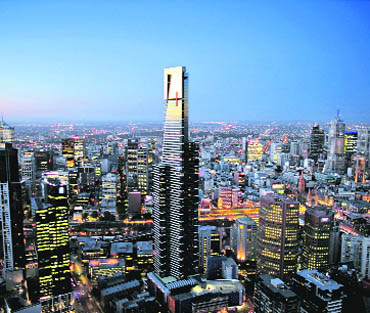 Eureka Skydeck 88, the highest public vantage point in the Southern Hemisphere, offers unparalleled 360-degree view of Melbourne

But summer in Melbourne is another thing. This is when the city emerges from closed eateries to the terraces and courtyards of the restaurants to make what they can of the great outdoors – while they can. Besides, Melbourne has a moment for every mood. From the cultural and artistic wonderland of Federation Square to balloon rides above the city, and toothy smiles from sharks in the Melbourne Aquarium.
Melbourne's sense of culinary indulgence comes alive during the Melbourne Food and Wine Festival. Between March and April every year the city hosts an array of outstanding events, including the Hawker's Market and World's Longest Lunch. Another Melbourne ritual is the riverside stroll, alongside the tranquil Yarra and city skyline. Such is the array of restaurants between Federation Square and Crown Casino that the riverside interlude usually ends up with a special candlelit dinner.
"Melbourne is known for being a foodie city," says local resident Marg Ryding, as I join her for a Queen Victoria market walk during my stay in the city. I think it's the biggest market I have ever seen, with every single variety of everything you could wish for, from fruit and vegetables to boomerangs and didgeridoos, Iron Maiden and Morrison T-shirts. Inside it is even more of Victorian food section, endless stalls selling olives, strong cheeses, Germanic sausages, wine and balsamic, most of it organic.
The action moves onto Collins Street, where a harpist plucks away on a pedestal. In the packed space of Block Arcade, skilled baristi are working the levers at the coffee cafes. Caf`E9 Segovia has invented the formula for the quintessential Melbourne cafe. "Take one historic laneway, add a big airy space and cheek-by-jowl tables, chuck in a timber bar, a flock of black-clad staff and a good espresso machine, and you're set." On the weekend Segovia transforms with live Latin American music making a second glass of wine justifiable.
The footpath is crammed with people sipping, chatting, nibbling and giving their designer outfits a workout. You can actually be forgiven for thinking you are in Europe as you walk through some of Melbourne's quaint laneways and arcades. The smell of espresso wafts from the Italian coffee shops, competing with the aromas of garlic and bread from cafes and eateries.
Chocoholics must visit Koko Black in Royal Arcade. The Belgian chocolate lounge is a perfect stop before you head back to your hotel. Another must is the Chocolate Indulgence walking tour of Melbourne. The brochure reads: "If you love chocolate, you will absolutely love Suzi Wharton. No one knows more about chocolate in Melbourne. She leads three chocolate tours of the city."
Melbourne reveals its soul at the street level. Apart from chocolate, you can join walking tours with themes ranging from jazz to Melbourne's gold rush history or gain insight into the city's obsession at the Australian Gallery of Sport, housed within Australia's most hallowed sporting venue, the Melbourne Cricket Ground.
The problem with chilling out in Melbourne, especially for a foodie, is that if you're only there for a few days you run the risk of running out of meal times. But in case of little time, Flower Drum is a must.
The legendary Flower Drum requires some forward planning. During Grand Prix, Melbourne Cup and Chinese New Year, reservations can take up to two months; so plan in advance.
Flower Drum has been included in the world's 50 best restaurants and more awards line the walls in the reception area. It is a classical, fine dining Chinese restaurant. The menu features the same classic Cantonese food you might find at a hundred other places. But there the similarity ends. Something magical happens in that kitchen.
The best dishes aren't always on the menu. Engage the waiters to know about the day's specials. It can include flapping fresh seafood, like King George whiting just landed from South Australia. Or another of the kitchen's specialties, such as the baked crab or the Mongolian lamb dish spooned into Mediterranean pockets.
Nowhere has Melbourne's successive wave of immigrants exerted more influence than in the city's kitchens. "You can dine every day without repeating the same cuisine," says Guy, owner of the Grossi Florentino restaurant. Food hubs include Chinatown (Little Bourke Street in central Melbourne) and Little Italy (Lygon Street in the suburb of Carlton), as well as Fitzroy's Brunswick Street, renowned for its wide range of multicultural fare.
For a unique Melbourne experience, hop aboard the Colonial Tramcar Restaurant, an elegant 1927 vintage tram that serves up an ever-changing backdrop with its kangaroo, steak, and seafood dishes. At the Green Grocer caf`E9`A0and organic vegetable store you can sit between rocket and zucchini, tucking into a delicious avocado on toast and finishing off with a creamy soy latte.
For a relaxed start to the day, there's also the Richmond Hill Cafe and Larder, a food emporium owned by Stephanie Alexander (doyenne of the Australian food scene) where you can eat great Baghdad eggs (fried eggs on flatbread with sumac and mint), followed by tea and crisp espresso shortbread.
Whether you desire an avalanche of seafood, moist lamb medallions or a traditional plate of pasta, Melbourne will not disappoint.