British films take a shot at India
A package of independent British films makes inroads into Indian multiplexes to
explore a market that is waiting to be tapped, says Saibal Chatterjee

WHEN a package of seven contemporary British films was showcased in multiplexes in Delhi, Mumbai and Bangalore last month, film enthusiasts in the country had cause for cheer. For those who seek cinematic variety in a market dominated almost completely by Hollywood blockbusters, From Blighty with Love was a great opportunity to savour big-screen storytelling of a different kind.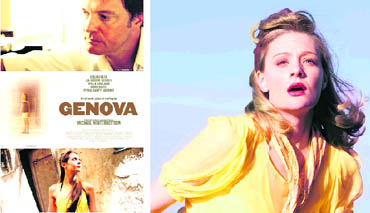 Winterbottom's Genova is an intimate human drama about an academician and his daughters after the death of his wife (right) Glorious 39 is a thriller about an aspiring actress, who is sucked into the vortex of political intrigue in 1939 when Britain is on the brink of war

Sarah McKenzie, senior executive for export development, UK Film Council, which brought the package to India, said: "We are working hard to open up UK film to international markets and audiences, and to promote our home-grown talent to new viewers. From Blighty with Love is the first time that India's English-speaking audiences will be offered a whole new British experience."
"The advent and growth of multiplexes has opened new avenues for British cinema. We now have the opportunity to bring in different kinds of cinema, a much wider variety than what was once possible. Moreover, we have access to far cheaper modes of film distribution today," McKenzie said, explaining the strategy behind From Blighty with Love.
To further their long-term goals vis-a-vis the Indian market, the UK Film Council roped in the Oscar-nominated Indian director Shekhar Kapur as a joint project patron. "I could not recommend this package of excellent movies more highly, and believe that there is something in there for everybody."
Indeed, in terms of substance and cinematic treatment, the package was amazingly wide-ranging. The package was made up of seven independent British films that have garnered accolades around the world during the past year. Among them was Sally Potter's critically acclaimed Rage, a remarkably stylised film set in the rarefied world of New York fashion and shot in the form of a series of monologues.
As catwalk models start dying in mysterious circumstances, a student documents the happenings and the views and confessions of the leading lights of the industry ostensibly for a school project. Rage has the feel of a film that has been shot on a cell phone and delivers a movie-watching experience far removed from what big-budget Hollywood flicks usually offer.
About the technique and style that she chose to adopt for Rage, says Potter: "I was interested in finding the most minimal form to express the deepest emotions in the simplest way possible. 'Naked cinema', as some have called it, is a return to the first principles of acting on film; the study of the human face and the nuances of expression that are possible when you work from within. I was also interested in the interface between new technology and the long history of portraiture. Monologues are an ancient form."
Potter, whose experiments with the medium have yielded such remarkable films as A Tango Lesson, Orlando and Yes, was in Mumbai in mid-March for an 'in conversation' with the audience.
Among the more eagerly awaited films in the From Blighty with Love programme were Stephen Poliakoff's Glorious 39, Michael Winterbottom's Genova and French director Francois Ozon's British-produced period drama, Angel.
Glorious 39 is a thriller about an aspiring actress, who is sucked into the vortex of political intrigue in 1939, when Britain is on the brink of war. Genova is an intimate human drama that traces the tentative emotional steps towards regeneration that an academic takes in the company of his daughters after the premature death of his wife. Angel, set in Edwardian England, is a visually lush and sweeping drama based on novel inspired by the life of author Marie Corelli.
Also in the package were Armando Iannucci's satire, In the Loop, Stephan Elliott's period romantic comedy Easy Virtue and James Marsh's much applauded documentary, Man on Wire, about a French street performer and tightrope walker who, in 1974, spent 45 minutes balancing on a slim steel wire joining the then newly constructed twin towers of the World Trade Center in New York.
Filmgoers, who watched these movies, went back with a sense of what independent British cinema is all about today — vibrant, constantly form-changing and perfectly capable of wooing the world. In that context, the first season of From Blighty with Love was a step in the right direction.
By way of an advice to independent British filmmakers, Potter says: "We need to look around and notice that films have been made for larger audiences and for a longer period historically than Hollywood has reached. There is much to learn from world cinema, including, importantly, India. Cinema is an international medium but tends to gaze west, which is its loss."
With the UK Film Council looking east with intent — the organisation also has Japan and China in its sights as part of its international export expansion plans — audiences in India, which are waking up slowly and steadily to the potential of world cinema as a whole, could look forward to more such interfaces with Britain's thriving independent films. Blighty isn't as mighty as Hollywood, but its cinema does have the potential to conquer this new frontier.