PUNJAB
HARYANA
JAMMU & KASHMIR
HIMACHAL
REGIONAL BRIEFS
NATION
OPINIONS
LETTERS
BUSINESS
SPORTS
WORLD
Tuesday, April 13, 2010, Chandigarh, India
Updated at 3:00 am (IST)

India to set up global nuclear centre
n Keeps intrusive NPT measures out
n Puts Pak on mat

Monday, April 12
It is billed as the single biggest gathering of world leaders in the US since War World II and the American capital has been converted into a veritable security fortress. As Presidents, Prime Ministers and Kings of 44 countries descend on DC to attend the Nuclear Security Summit, roads have been blocked off with concrete


Raj Chengappa
Editor-in-Chief
IN WASHINGTON DC

and metal barricades, police sirens wail continuously and traffic jams resembling Mumbai roads are the order of the day.
Prime Minister Manmohan Singh holds talks with US President Barack Obama at Blair House in Washington DC. — Reuters

CAST YOUR VOTE
Should politicians be allowed to withdraw so-called vendetta cases against MLAs?

EDUCATION
JOBS & CAREERS
HEALTH & FITNESS
SCIENCE & TECHNOLOGY
REAL ESTATE
SPORTS
World jittery over security of Pak nukes
Fears it may be the weakest link in non-proliferation efforts; Obama takes up matter with Gilani
The likelihood of Al-Qaida getting its hands on Pakistan's nuclear weapons keeps many in the US awake despite President Barack Obama's recent expressions of confidence in the security at these facilities. These concerns are likely to be discussed at the Nuclear Security Summit, which started here on Monday.
India lift Kabaddi World Cup
Beat Pak in final, Canada finish third
Ludhiana, April 12
Hosts India faced little resistance from their traditional rivals Pakistan as they scripted an easy win (58-24) in the final of the inaugural edition of the Pearls World Cup Kabaddi which concluded at Guru Nanak Stadium here today.
UNION BUDGET 2010-11
RAILWAY BUDGET
2010-11
NDA 60 Glorious Years
1857 The First Challenge
E - Revolution 2005:
A Two-day IT conclave
Assembly Elections - 2005
Turbans
Chandigarh is 50
125 Years of The Tribune
India: The Tasks Ahead
India at Sixty
A Tribune Supplement
EARLIER FEATURES
On Sundays
On Saturdays
Finally, Sania, Shoaib say 'kabool hai'
Their wedding was originally scheduled for April 15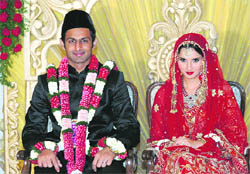 Hyderabad, April 12
After several twists and turns, the cross-border romance of tennis star Sania Mirza and cricketer Shoaib Malik reached a fairytale climax today.
Sania Mirza and Pakistan cricketer Shoaib Malik after their 'nikah' in Hyderabad on Monday. Photo: Mohammed Abdul Haq

Play pro-active role in nation building, Prez tells students
Nabha, April 12
On her maiden visit to the state, President Pratibha Devisingh Patil today gave a clarion call to students to play a pro-active role in nation building. Addressing a gathering at the golden jubilee celebrations of Punjab Public School (PPS), Nabha, the President said: "This is my first visit to Punjab and I take this opportunity to convey my warmest greetings to the people of the state."


Printing of Passports
Nepal scraps deal with India
Unable to face mounting pressure from both the ruling and opposition parties at Parliament, the government of Nepal on Sunday decided to nullify its decision to award the contract of printing machine readable passports (MRPs) to an Indian company.
Obama's high-wire act to prevent nuclear terror
April 12, 2010
Polish Prez, wife among 97 killed in air crash
April 11, 2010
Buck stops at my desk: Chidambaram
April 10, 2010
US, Russia ink pact to cut N-arsenal
April 9, 2010
If this is war, we will fight back, says PC
April 8, 2010
Bloodbath by Naxals
April 7, 2010
Mamata joins the Yadavs, pitches in for sub-quota
April 6, 2010
The buck stops with you, PC tells Buddha
April 5, 2010
Eye on youth, Punjab keeps 58 as retirement age
April 4, 2010
Terror on tracks: Ultras target Kashmir rail link
April 3, 2010