A powerful choice
The power sector may not be on the wish list of many job seekers who prefer urban service sector to working in projects and plants in remote areas, but this sector is full of opportunities, and offers an exciting career in technical as well as managerial fields, writes Geetu Vaid
Growth is the keyword for the energy sector in India today. In order to maintain the growth rate of over 8 per cent in the next decade, there is need for the development of the required infrastructure too. Thus in the 11th and 12th plans the country has ambitious plans of adding over 180,000 MW generation capacity with a likely investment of over $300 billion in the current five-year plan only.





l Medical route
l Women in Air Force
l Special field
l Summer dilemma
Careercature
Sandeep Joshi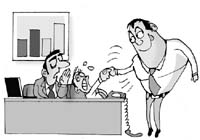 Your handshake has convinced me that a former sportsman like you is ideal for recovery not reception.

Food for thought
Choose it or lose it
Obstacles, hurdles and difficulties scare many a "braveheart" as everyone aspires for a smooth sailing in life. It is very important to face difficulties and overcome these to succeed in life. Hurdles are there at every workplace. But those who dare to confront these turn them into opportunities, and achieve success in any job or career. No human being is without potential. It all depends on how a person finds and utilizes it for a fruitful career.
Happiness work
When in doubt, pause
Gems of ancient wisdom
In the midst of tight schedules and deadlines, doubts may arise. At such a point, take a deep breath and a pause.At Mount Gandhamadan, the wise Hanuman realised many herbs matched the description that physician Sushena had provided. Even while Lakshman's life was in peril and time was at a premium, he paused and weighed his options. As a second trip was out of question, he uprooted the entire mountain and took it to the battlefield.