M A I N N E W S
Zero-tolerance for illicit N-trade: PM
Tribune News Service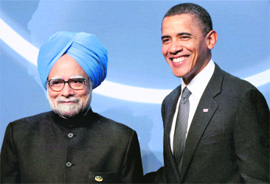 US President Barack Obama greets Prime Minister Manmohan Singh during an official welcome ceremony for the Nuclear Security Summit at Washington DC. — PTI

Washington DC, April 13
Prime Minister Dr Manmohan Singh has called for "zero tolerance" for individuals and groups which engage in illegal trafficking in nuclear items.
Addressing a plenary session of the Nuclear Security Summit being held in Washington DC, Manmohan Singh said, "The world community should join hands to eliminate the risk of sensitive and valuable materials and technologies falling into hands of terrorists and illicit traffickers."
Describing nuclear security, as "one of the foremost challenges we face today" Manmohan Singh said: "The danger of nuclear explosives or fissile material and technical know-how falling in to the hands of non-state actors continues to haunt our world. India is deeply concerned about the danger it faces, as do other States, from this threat."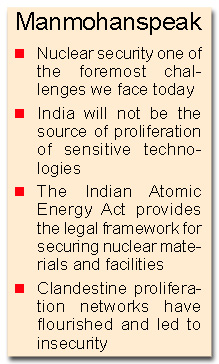 The Prime Minister wanted all countries to scrupulously abide by their international obligations. He pointed out that, "It is a matter of deep regret that the global non-proliferation regime has failed to prevent nuclear proliferation. Clandestine proliferation networks have flourished and led to insecurity for all, including and especially for India. We must learn from past mistakes and institute effective measures to prevent their recurrence." While Manmohan refrained from naming Pakistan it was obvious he was indirectly referring to India's neighbour apart from Iran and North Korea and holding them responsible for illicit nuclear trade.
The two-day summit convened by the US is being attended by over 44 countries and is the single largest gathering of leaders convened to address the issue of vulnerable nuclear material falling into the hands of terrorists.
As reported exclusively by The Tribune yesterday the Indian Prime Minister announced to summit leaders that India had decided to set up a "Global Centre for Nuclear Energy Partnership" that would be fully funded by the Indian government and located in India. Dr Singh told the audience: "We visualise this to be a state of the art facility based on international participation from the IAEA and other interested foreign partners."
Elaborating further he said the centre would consist of four Schools dealing with Advanced Nuclear Energy System Studies, Nuclear Security, Radiation Safety, and the application of Radioisotopes and Radiation Technology in the areas of healthcare, agriculture and food. The Centre will conduct research and development of design systems that are intrinsically safe, secure, proliferation resistant and sustainable. The Prime Minister added: "We would welcome participation in this venture by your countries, the IAEA and the world to make this Centre's work a success."
The Prime Minister committed to the audience that as a responsible nuclear power India "will not be the source of proliferation of sensitive technologies." Manmohan Singh pointed out that "India has maintained an impeccable non-proliferation record, of which we are proud of." He said that India has a well-established and effective export control system which has worked without fail for over six decades. He also said that India had strengthened this system by harmonisation of its guidelines and lists with those of the Nuclear Suppliers Group and the Missile Technology Control Regime.
The Prime Minister emphatically stated, "India's commitment to not transfer nuclear weapons or related materials and technologies to non-nuclear weapon states or non-state actors is enshrined in domestic law through the enactment of the Weapons of Mass Destruction Act. We stand committed not to transfer reprocessing and enrichment technologies and equipment to countries that do not possess them."
The Prime Minister told the audience that the Indian Atomic Energy Act provides the legal framework for securing nuclear materials and facilities, and the Atomic Energy Regulatory Board ensures independent oversight of nuclear safety and security. He said India was continually upgrading its technology "to develop nuclear systems that are intrinsically safe, secure and proliferation resistant."
Manmohan Singh emphasised that India's approach was that individual nations should take on the responsibility of preventing proliferation. He said: "The primary responsibility for ensuring nuclear security rests at the national level, but national responsibility must be accompanied by responsible behaviour by States. If not, it remains an empty slogan."
Manmohan also elaborated on the steps India had taken in the past to prevent nuclear material falling into the hands of terrorists. He pointed out that since 2002, India had piloted a resolution at the United Nations General Assembly on measures to deny terrorists access to Weapons of Mass Destruction. India also fully supported the implementation of United Nations Security Council Resolution 1540 and the United Nations Global Counter Terrorism Strategy.
Praising US President Barack Obama for convening the summit and pushing for a nuclear free world, he said: "The dangers of nuclear terrorism make the early elimination of nuclear weapons a matter of even greater urgency." He outlined India's commitment over the years in this regard starting from Jawarharlal Nehru and talked of Rajiv Gandhi's effort towards universal disarmament when he was prime minister in the eighties.
The Prime Minister assured the gathering of leaders that " India will continue to work with the IAEA and our partners in the United Nations as well as other forums such as the Global Initiative to Combat Nuclear Terrorism to upgrade standards, share experiences and ensure effective implementation of international benchmarks on nuclear security."