M A I N N E W S
The Last Word

Obama-Manmohan chemistry
The peacenik and The flying sikh
By Raj Chengappa
Editor-in-Chief
IN WASHINGTON DC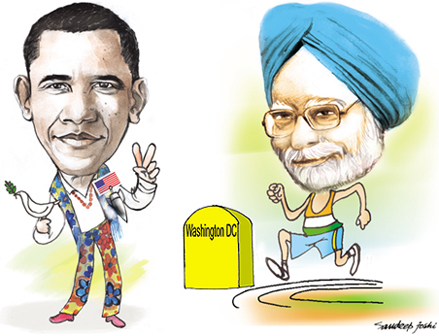 Whenever Manmohan Singh and Barack Obama meet, as they did for the fourth time this Sunday, the world is both curious and intrigued about the unusual bonhomie that has developed between them.
Manmohan is the Prime Minister of the world's largest democracy. Obama is the President of the world's most powerful nation.
Manmohan will turn 78 in September and would have been older by four years to Obama's father if he were alive. Obama will be just 49 in August.
Manmohan is a man of few words and speech making is an odyssey for him. Words and his magical way with them, including Obama's memorable "Yes We Can" election campaign, have mesmerised both America and the world.
Manmohan is in his second term as Prime Minister and comes to the table as the man behind India's remarkable economic turnaround who could also boast of a major foreign policy success of ending the nuclear apartheid against India.
If India finds itself seated at the high table at summits for world leaders, Manmohan could take much of the credit for it. Unlike Obama, Manmohan is not an alpha male and leaders like German Chancellor Angela Merkel apparently feel far more comfortable dealing with him than with others. His frequent foreign trips to build India's stature have earned him the sobriquet: The Flying Sikh.
Obama is America's first Black President, which by itself speaks volumes of his accomplishments. It appears to have won for him the Nobel Peace Prize. Obama's ability to steer his country out of the swamp that America finds itself in Iraq and Afghanistan has still to pass muster.
It is obvious, though, that he is a peacenik at heart. In Prague last year, he outlined a vision of a world free of nuclear weapons. It was considered naïve by many but that an American President was mouthing was significant. He has since demonstrated his sincerity by signing an agreement with Russia to reduce the size of their respective nuclear arsenals by as much as 30 per cent. The ongoing Nuclear Security Summit in Washington DC to prevent a nuclear weapon from being acquired by terrorists is Obama's brainchild.
That Manmohan and Obama, despite the contrasting styles and the generation gap, truly admire each other is evident. At their first meeting on the sidelines of the G20 summit in London in April last year, Obama was effusive about Manmohan saying, "He is a wise, decent and wonderful man and doing a wonderful job guiding India." Manmohan in turn told Obama that "he was as much loved and admired in India" and had brought "a ray of hope" and become an "icon" of the Indian youth.
Their affinity for each other showed when they met for a 50-minute chat along with aides at Blair House in Washington DC on Sunday before the start of the Nuclear Security Summit. Before the bilateral meeting, Meera Shankar, India's ambassador to the US, was told by one of Obama aides that "this is one meeting that the President is looking forward to - I can't say that of many of the other leaders he is going to meet".
When the two leaders met, they seemed to enjoy conversing with each other. Much of it was cerebral and they appeared to be like two spiritual masters in deep conversation. Foreign Secretary Nirupama Rao, who was present in the room, thought there was "almost a Zen-like spiritual quality to their discussions".
Manmohan's tone was almost professorial as he outlined India's concerns over Obama's AfPak policy and pointed out why it was difficult to reduce tension with Pakistan if Islamabad made no effort to bring the perpetrators of the monstrous attack on Mumbai to book. The Indian Prime Minister was never accusatory or showed any rancour.
The "remarkable calm" that has become the hallmark of Obama's leadership was clearly evident in the meeting. When Manmohan spoke, Obama listened intently. Another official present in the discussions observed that Obama was "more deeply involved" and had a "firmer grasp" of the big issues than on previous occasions. He seemed more "surefooted" and "all there". That could have been the result of his major domestic political victory in pushing through health reforms recently.
For Obama it's been tough to develop the kind of rapport and trust that his predecessor George W Bush enjoyed with Manmohan. For Bush, the world was divided into the good guys (that included India) who were with him and bad guys who weren't (Iraq, Iran and North Korea).
Obama is certainly more nuanced in his world view and thoughtful. While Bush was spontaneous and relied on his gut feelings, Obama is deliberate and arrives at a decision after carefully listening to the counsel given to him by his advisers. Many complain that his views reflect the division that exists in his administration over key issues, leaving one unsure of where he really stands. Obama though now appears to be coming into his own in foreign policy as well.
In relations with India, Bush came up with the big idea - the civilian nuclear deal that removed a major boulder that had blocked the progress of relations between the two countries. Obama and Manmohan are still searching for the big idea that could keep the two countries as deeply engaged and take the relationship into an even higher plane. They talk of opening all new chapters on education, health and agriculture - but these don't have the traction that the word nuclear does.
Meanwhile there are major irritants and differences that they need to deal with. Obama's Afpak policy has had India worried, especially over its excessive reliance on Pakistan to bring political stability to Afghanistan. India feels that the US is not putting enough pressure on the Pakistan government to end its support to terrorist groups and dismantle the infrastructure that is used to carry out attacks such as the one on Mumbai. And also that by opening its purses - the US has committed over three billion dollars in both civilian and military aide - it is, in fact, equipping Pakistan against India.
Obama has gone out of his way to show that he is no way less enthusiastic than Bush about improving relations with India. In November last, Manmohan was given the highly symbolic honour of becoming Obama's first state guest at the White House. The two leaders have also put into place a strategic dialogue at the level of secretary of state and foreign minister to make sure India and the US are constantly engaged on a range of issues and also to intently pursue the various recent agreements signed between the two countries.
In his meeting with Manmohan recently, Nirupama Rao said Obama reiterated that "there was no country in the world where the opportunities for a strong, strategic partnership are greater and more important to him personally or to the United States, than that with India". Later this year, Obama will be paying his first state visit to India as President. It is an occasion to show that he means what he says even if we all do believe he says what he means.