Al-Qaida chasing nukes: US
Ashish Kumar Sen in Washington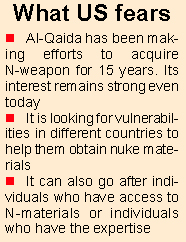 The Al-Qaida continues to seek nuclear weapons and has tasked individuals within the group to acquire this technology, according to a US official.
John Brennan, the White House's counter-terrorism chief, said there had been numerous reports over the past eight or nine years about attempts by the Al-Qaida to obtain various types of nuclear material. "We know that the Al-Qaida has been involved in a number of these efforts to acquire it. Fortunately, I think they've been scammed a number of times, but we know that they continue to pursue that," he said, adding, "We know of individuals within the organisation that have been given that responsibility."
Brennan said there was evidence that the terrorist group had targeted sympathetic insiders within Pakistan, but added that "we have been able to thwart their success to date."
"The Al-Qaida is looking for those vulnerabilities and facilities and stockpiles in different countries that would allow them not only to obtain the byproducts of nuclear reactors and materials that they can use — but also to go after those individuals that might have access to the materials as well as individuals who have the expertise that they need to actually fabricate an improvised nuclear device," he said.
Pakistani leaders this week rejected fears that their country's nuclear facilities were vulnerable to terrorists. Prime Minister Yousaf Raza Gilani told reporters on Monday that Pakistan "as a responsible nuclear state and an emerging democracy stands with the international community in its effort to make this world a better place to live in."
Foreign Minister Shah Mehmood Qureshi said the US had been briefed on Pakistan's three-layered security system at the facilities. "We are confident that our system is second to none. It's world class," Qureshi said.
White House spokesman Robert Gibbs said in his meeting with President Barack Obama on Sunday that Gilani "indicated his assurance that Pakistan takes nuclear security seriously and has appropriate safeguards in place."
But analysts worry that the frequent political turmoil and escalating terrorist attacks in Pakistan have made the nuclear facilities vulnerable. Lisa Curtis of the Heritage Foundation says that while the probability of Taliban militants over-running the country and gaining control of Pakistan's nuclear arsenal is far-fetched, "the real danger lies in the links between some retired military and intelligence officials and nuclear scientists to Taliban and Al-Qaida terrorists."
Two senior Pakistan Atomic Energy Commission scientists, Sultan Bashirrudin Mahmood and Chaudhry Abdul Majeed, travelled to Afghanistan in 2000 and again shortly before 9/11 for meetings with Osama bin Laden. Officials don't believe any nuclear material was traded by the two scientists.