M A I N N E W S

PM: Talks with Pak only after action against 26/11 culprits
l Sees no need to give more evidence on Mumbai attacks
l India to sort out issues bilaterally without US mediation
Tribune News Service

Washington DC, April 14
Prime Minister Dr Manmohan Singh again laid the ground rules for resuming comprehensive talks with Pakistan on all issues by stating that "the minimum" requirement is that Pakistan "takes credible steps to bring the perpetrators of the horrible crime of 26/11 to book."

Addressing a press conference at the conclusion of the Nuclear Security Summit in Washington DC, Manmohan Singh scorched speculation that Pakistan Prime Minister Yousuf Raza Gilani had invited him to visit Pakistan when he met him at the opening of the summit.

The Prime Minister clarified the brief encounters he had with Gilani were restricted to exchanging pleasantaries. He said: "I did run into him (Gilani) twice and we exchanged pleasantaries. In fact, I complimented the Prime Minister on the Constitutional Amendment Bill which makes the Prime Minister a more powerful personality in Pakistan's political system but beyond that there was no serious discussion on any other issue."

About the possibility of meeting Gilani on the sidelines of the SAARC summit in Bhutan at the end of April, the PM remained non-committal, saying, "Well, there is still time to think about meeting him in Bhutan. I think when we reach there, we will cross that bridge." Asked about reports that India had complained to the US about Pakistan and whether he saw a role for America in sorting out issues, Manmohan was clear that "India will tackle problems it faces with its neighbours on its own."

About Gilani's reported statement that Pakistan was expecting more evidence from India over the involvement of Lashkar-e-Toiba in terrorist acts against India, including the one on Mumbai last year, Manmohan Singh said: "First of all, I don't see the need for any further evidence about the role of Lashkar-e-Toiba and I would not like to enter into an argument with Prime Minister Gilani on this. The American intelligence and that of other countries have pointed out the role of the Lashkar and their links with the Al-Qaida. So we do not need to provide any additional information about the role that the Lashkar, Hafeez Saeed, Ilyas Kashmiri, and Zakeer-ur-Rehman are fanning terrorist acts directed against India.

The PM was also clear about further

action that India was looking for from Pakistan stating, "We all know that there are still people who are named as conspirators who are roaming around freely. These facts are borne out of our investigations and our intelligence agencies and by intelligence agencies of friendly countries. We would like Pakistan to, at least, bring to book the perpetrators of these horrrible crimes and do so effectively." Sources later clarified to The Tribune that the PM complimented Gilani over the constitutional amendment because India always wanted a democratic, liberal polity in Pakistan and anything that strengthened it would always be welcome. He also explained that India's approach was always to sort out issues with its neighbours bilaterally rather than through mediation or prodding by any other country, namely the US. The scars from Mumbai are still fresh and that Pakistan has to prove its "sincerity" and provide "a balm" by taking action against the perpetrators of terror against India if comprehensive dialogue has to be resumed.
Is Manmohan Singh going to Islamabad?
Washington DC: Pakistan PM Yousuf Raza Gilani said on Wednesday that Manmohan Singh has "accepted" his invitation to visit the country, but was contradicted by the latter. "Indian Prime Minister Manmohan Singh has accepted my invitation to visit Pakistan soon," Geo TV quoted Gilani as saying in Washington. "The announcement regarding his (Singh's) visit will be made after both sides'consultation," he was quoted as saying. However, Manmohan Singh told reporters at a press conference here that, "I am hearing it (accepting the invite) for the first time." — PTI
World leaders set 4-yr deadline to secure nukes
Washington DC: World leaders attending the Nuclear Security Summit, including Prime Minister Dr Manmohan Singh, set a stiff four-year target to secure all vulnerable nuclear material in the world to prevent terrorists from laying their hands on any of them. At the concluding session of the summit on Tuesday night, all leaders agreed that the threat was urgent and serious and and there was a need to tackle it as a shared responsibility.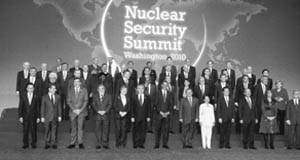 Official group photo of the world leaders who converged at the Nuclear Security Summit in Washington DC. The summit ended with an international vow to safeguard all nuclear material against predatory terrorists within four years.
In a communique issued at the end of the summit, the leaders emphatically stated: "Nuclear terrorism is one of the most challenging threats to international security" and agreed that "strong nuclear security measures are the most effective means to prevent terrorists, criminals or other unauthorised actors from acquiring nuclear material."Another summit would be held in two years in South Korea to review the progress.
At a press conference after the summit, US President Barack Obama, under whose initiative the summit was convened, acknowledged that the task was tough but had to be done. Obama said: "This is an ambitious goal, and we are under no illusions that it will be easy. But the urgency of the threat, and the catastrophic consequences of even a single act of nuclear terrorism, demand an effort that is at once bold and pragmatic. And this is a goal that can be achieved."
Indian Prime Minister Dr Manmohan Singh also said he was satisifed with the outcome of the summit and that it had endorsed what India had been pressing for at various international fora in the past several years. Answering a question asked by The Tribune, Manmohan said: "I am very satisfied with the outcome and that the concerns that we have been expressing for decades on the dangers of proliferation and the risk of nuclear materials finding their way into the wrong hands are today finding widespread acceptance. The intersection of international terrorism and clandestine proliferation affects our security directly. I am glad that the world is listening now and there is genuine concern and this the first time such a meeting is being convened to address it."
At the summit there was a clear unanimity among the leaders on the urgency and seriousness of the threat and the need to take strong measures. They agreed that it was the responsibility of nations, consistent with their international obligations, that each nation take major steps, if they haven't already, to secure the use and management of all nuclear material they possess. These would include strengthening national laws and policies and fully implementing them.
The summit also recognised that even as nations fulfil their national responsibilities these could not addressed by countries working in isolation. What was needed was a sustained, effective programme of international cooperation. The leaders agreed that at the international level the need was for compliance with existing key conventions and initiatives. As Obama said: "It became clear in our discussions that we do not need lots of new institutions and layers of bureaucracy. We need to strengthen the institutions and partnerships that we already have and make them even more effective". This includes the United Nations, the International Atomic Energy Agency, the multilateral partnership that strengthens nuclear security, prevents nuclear trafficking and assists nations in building their capacity to secure their nuclear materials. — TNS