ART & LITERATURE
'ART & SOUL
ENTERTAINMENT
TELEVISION
GARDEN LIFE
NATURE
FOOD TALK
CONSUMER, BEWARE!
FASHION
HOLLYWOOD HUES
BRIDGE
ULTA-PULTA
EARLIER FEATURE
TRAVEL
RELATIONSHIPS
DREAM THEME
TIME OFF

Two much trouble
Nonika Singh
Though the second-spouse syndrome is not new among our celebrities, it still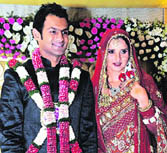 grabs the media and public glare
Many a man owes his success to his first wife and his second wife to his success. — Jim Backus
Indeed, behind many a successful man it seems there is more than one woman. The Sania-Shoaib-Ayesha saga finally ended with a whimper.

All in the game
Vaibhav Sharma
Former United States Secretary of Defence Donald Rumsfeld once said, "Know that the amount of criticism you receive may correlate somewhat to the amount of publicity you receive." Now, the line might have a lot of political connotations to it, but it can apply to almost all spheres of life in today's society.
---

Dance of joy
Kolkata Sanved uses dance movement as a therapeutic tool for patients living with mental illness. Dance has given them happiness, a sense of rhythm and a new hope, writes Shoma A. Chatterji
DANCE is a liberating experience. It turns the body into a creative channel of ideas, expressions, emotions, feelings, rhythms, shape, energy and direction. It is only natural that movements empower and celebrate, says Sohini Chakraborty, founder-director, Kolkata Sanved.

Charms of Chambal
Once known for its ravines and dacoits, Chambal also has a river that is one of the most serene and clean in the country having a wide variety of avian and marine life, writes Lalit Mohan
THE Chambal is a lucky river. No one worships it. No temples or large towns dot its banks. Perhaps that is why it is one of the cleanest perennial waterways in India.

Unheard songs of Rafi
Good news for fans of Mohammed Rafi as they now get a chance to hear some of his unreleased songs in an album titled The Last Songs, writes M. L. Dhawan
WHEN Yash Chopra was making Veer-Zaara, initially he was unable to find the right kind of music to suit the film's requirements and environment, since it was a period film. He said that the present-day composers were not able to deliver what he wanted.

Cinema about a poet
A poet and his poetry have been cinematically well rendered in Rituparno Ghosh's latest film Shob Charitro Kalponik, says Shakuntala Rao
Rituparno Ghosh is right to complain that his Bengali films often do not get the mainstream attention they deserve.

Raajneeti is my toughest role: Arjun Rampal
Subhash K. Jha
FRESH from his National Award, Arjun Rampal says he is playing his toughest role in director Prakash Jha's dark political thriller Raajneeti. In the film, Arjun is cast as Ranbir Kapoor's zany, flamboyant elder brother.

Harry Potter may return
J. K. Rowling has given Harry Potter fans a glimmer of hope by hinting that the boy wizard may make a return. The author released the final instalment of the book almost three years ago.