Ash in air: Over 41k travellers stranded in Delhi, Mumbai
Control room set up to clear backlog
Tribune News Service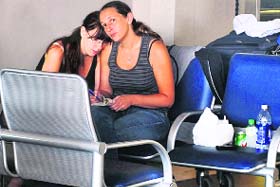 Passengers wait at Mumbai's Chhatrapati Shivaji International Airport on Monday. — AFP
New Delhi, April 19
With over 41,435 passengers are stranded at Delhi and Mumbai airports following disruption of most west-bound flights due to Icelandic volcanic eruption, the Ministry of Civil Aviation has set up a control room to clear the backlog.
Civil Aviation Secretary M Madhavan Nambiar today said the control room, headed by Joint Secretary Prashant Shukul and with officials from Ministry of External Affair and the Directorate General of Civil Aviation will solve the problem of stranded passengers.
The control room, functioning from 8 am to 8 pm, will remain operational till the crisis is over.
Though Air India and Jet Airways have started their services to the United States through Athens and Egypt, Nambiar said the situation continued to be grim. He said airlines had been instructed not to "take benefit of the situation" and charge higher fares for the tickets. Due to the closure of airports, Air India's five aircraft were stuck at various stations. "Two are stuck at London, one each at Frankfurt, Chicago and New York," Nambiar added.
The government is also in talks with Greece to grant "third and fourth freedom" rights that allow passengers from India to disembark and embark at Athens and take another flight or train to Europe.
Global air traffic to European and North American cities came to a complete halt after volcanic plumes from Iceland enveloped European cities. Air India and Jet Airways have started rerouted flights to America through Egypt and Greece and the backlog of passengers is expected to be cleared in the next few days. Flights will now be following the Mediterranean route instead of going over Frankfurt and London. There was an alternate route over the North Pole region, which is not being considered for the time being.
Operations are likely to continue unless ash cloud shifts down south to cover the Mediterranean regions as well. The ash began spewing from an Icelandic volcano on Wednesday and has drifted across most of Europe, shutting down airports as far south and east as Bulgaria.
The ministry is also coordinating with the various agencies for latest information regarding possibility of flights to different countries of Europe, which is presently almost completely closed off. Meanwhile, all passengers have been advised to postpone their travel plans particularly to destinations in Europe unless it is for emergent purposes and absolutely necessary.