Power blues for MPs on Manic Monday
Aditi Tandon
Tribune News Service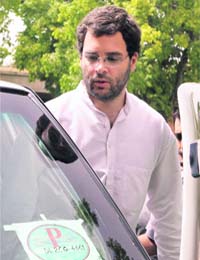 AICC General Secretary Rahul Gandhi arrives at Parliament House in New Delhi on Monday. — PTI
New Delhi, April 19
Normally, the verbal duels between the treasury and Opposition MPs generate heat inside the Parliament. But Monday was different, with the cruel summer coming to haunt members, who had to sweat it out all day as the Parliament House witnessed unprecedented power cuts --- more than 20 in a single day!
So desperate was the situation that the BJP raised the matter in zero hour, with Shahnawaz Hussain wondering how power supply could be disrupted to the Parliament --- the seat of power --- for so long. He blamed the poor governance in Congress-ruled Delhi for the situation. The issue is expected to snowball in the House tomorrow.
Needless to say, functioning was disrupted on a day that seemed prefect for parliamentary business after two working days were lost last week to the Shashi Tharoor-IPL controversy. It takes around Rs 22 lakh per hour and Rs 1.7 crore per day to run the Parliament. Estimated losses of two days would therefore be around Rs 3.4 crore. That explains the frustration of Parliamentary Affairs Minister Pawan Bansal last week when he kept urging the Opposition to allow work as it "costs a lot of money to run the show".
So just when the Question Hour commenced smoothly for the first time today since the House reassembled after recess, several lights in Lok Sabha and Rajya Sabha went off. The scenario kept repeating every half hour, and both the Houses literally ran on partial supply all day. In the Upper House, even the air conditioning was hit for two hours.
Political party offices, too, remained engulfed in darkness. "It was an unusually humid day. There was practically no power.. ACs didn't work. It was terribly humid as we also had some rain. We will raise the issue in the House tomorrow," BJD leader in Lok Sabha Arjan Charan Sethi told The Tribune.
Samajwadi Party leader Shailendra Singh also described the situation as "unprecedented" so did many Parliament staffers.
Meanwhile, enquiries revealed that a snag had hit the cable that supplies power to the Parliament House. "The New Delhi Municipal Corporation supplies power to us but due to a cable fault, the disruption happened. Since power was running on generators and air-conditioners were on, there were frequent trips. We have raised the matter with NDPL," said a joint secretary of Lok Sabha, in charge of the area.