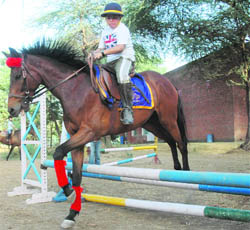 Trot, canter… gallop
Want your kids to pursue a grand passion? The Chandigarh Horse Riding Society is the place to be in
It's early in the day. A visibly excited Angad Bir Singh (5) unzips his bag, pulls out a red-coloured tee and high ankle boots; and within no time sets up to take the bull by its horns. (PS: Don't go by the literal meaning. Angad is not a bull fighter!). In the next 10-15 minutes, other kids join him, some his age, others elder.

Fee: Rs 2,000 Timings: 6-8 am and 4-7 pm
Photos: Parvesh Chauhan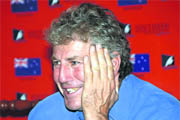 Wright talk
Former coach of Team India John Wright's take on cricket and his book
It wouldn't have surprised us if a few questions were left unanswered. Especially when it comes to someone who was part of the Indian cricket team and knew it inside out; we presumed a few "no comments" or politically correct answers.
My suicide and new life
It had become clear that there was no other option. My life was in complete disarray, falling to pieces. At about 5.23 pm, March 4, 2010, I took the decision and pulled the plug. Three hours later I was born again.
Tone it down
From Bollywood music to jokes to the wacky barks and burp sounds...mobile phone ring tones are getting different by the day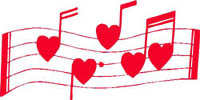 There is no specific reason to call up Raghu, the MTV Roadies infamous guy. (Sorry Raghu. We don't mean to bother you. Had it not been for this story, we wouldn't dare call). Muthu kahan, kori kehnu kenu kenu … what's this? Interesting, sure it is. Weird? Any day. Different? Of course.
Power packed
Lava International has unveiled its latest handset A9, which is loaded with advanced multimedia features. With this, Lava has entered the arena of mobile phones with handsets that stand out in the crowd.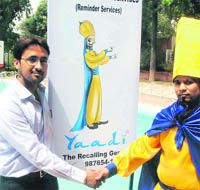 Forgot something?
An online way to remind you about things worth remembering
In case your wife has made you sleep on the couch because you forgot the first anniversary or you are being subjected to emotional 'atyachaar' because you didn't wish your father-in law's brother's wife on her birthday…here's the saviour. Mohali-based Parind Sheel Dhillon has come up with a solution to the 'hazardous' moments of memory lapse, which are universally experienced. Having launched the country's first-of-its-kind online reminder service, Yaadi.net, Parind is upbeat.
E-enthusiasm
Electronic readers like Kindle motivate children to read by making them interact with texts in ways they don't interact with the printed word, an expert says. Lotta Larson, Kansas-State University (KSU), assistant professor of elementary education, has been using the Amazon Kindle in her work with a pair of second-graders since 2009.
Space out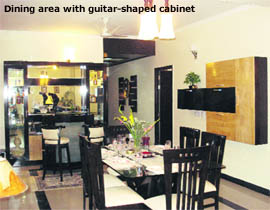 Brig (retd) IJ Singh and Anita's king-size apartment stands out in its dual tone
Anita IJ Singh always dreamt of a place from where she could see the vast expanse of nature and a waterfall. Presto, she found one that too within an urban area in their new apartment in Gilco valley, Greater Mohali. In the evenings as she sits back to admire the waterfalls at the rockery a calming peace envelops her. In fact, a soothing ambience pervades the four-bedroom, kingsize apartment of Brig (retd) IJ Singh and Anita that follows the principle of 'no clutter, create space'.
When the going gets good
Whatever happens, happens for good. Actor Kulraj Randhawa will definitely agree. After all, she waited for good things to happen. Television, Punjabi flicks, a long wait and finally, the day she was waiting for. A Bollywood movie with the three Deols, Dharmendra, Sunny and Bobby, and she plays the lead opposite Bobby. Finally!
Summer cool festival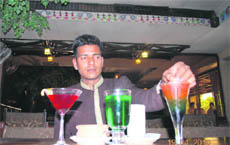 To beat the heat this summer, Khyber-35 has come up with the whole new range of concoctions ranging from chilled watermelon soup to aam ka paani under the name of Summer Cool Festival, which is priced reasonably. The items on the menu include tomato cucumber soup, rosa, jal jeera pudine wala, sattu paani, aam ka paani, masaledaar chaach, thandai, khas goond katira, fruit lassi, angoori kheer.

Spade work
Gimme some sunshine... some rain
Gardeners have different plans for different seasons and they tend their plants accordingly. But sometimes the weather plays spoilsport. And, with the extreme heat we are experiencing these days, the gardeners maybe in for a surprise. After all, plants are also living beings and they are standing out in the open all the time.
Time to Waltz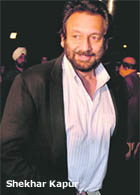 Shekhar Kapur approaches Christoph Waltz for Paani
Having worked with international stars like Cate Blanchett and Heath Ledger on his movies, internationally acclaimed Indian filmmaker Shekhar Kapur has now pitched a role to Oscar-award winner Christoph Waltz for his long pending project Paani. "(It was) just one of those days where I was going to drudge around complaining to myself about not believing in the scene I just wrote for Paani...I sat and it suddenly came to me. Something I have been wanting to do for long. Very long. I picked the phone and called my agent and said I want to speak to Christoph Waltz, the amazing actor that won the Oscar for his performance in Inglourious Basterds," Kapur posted on his blog www.shekharkapur.com/blog Sunday.

Show stopper
Television viewers know her as Pari and Rani of Woh Rehne Waali Mehlon Ki. She is Reena Kapoor, Punjabi actor, who believes in celebrating each moment. She essays the role of Rani, the delicate, pampered girl who grows up to be a woman of substance.

Razzie returns
Bullock asked to return her 'priceless' Razzie
Oscar-winning actor Sandra Bullock has been asked to return her Golden Raspberry award as she had accidentally collected the original "priceless" trophy instead of a cheaper replica made for the winners.

Zellweger & Cooper live in separate houses
Hollywood's latest couple Renee Zellweger and Bradley Cooper have found the secret to a lasting love affair - separate houses connected by a bridge. The pair have splashed out on a 3 million pounds worth double pad in Pacific Palisades, California, reported Daily Star.

Ricky's GLAAD man
Hollywood comes out in support of Ricky Martin's sexuality
Popstar Ricky Martin, who had recently admitted of being a homosexual, garnered lot of support from fellow Hollywood A-listers at the recently held 21st annual Gay & Lesbian Alliance Against Defamation (GLAAD) Media Awards.

Teen Transformation
I did not feel tortured filming Eclipse: Kristen Stewart
Hollywood actor Kristen Stewart had a far easy time filming Twilight: Eclipse as she found her character Bella evolving and did not feel tortured on the sets.

Elizabeth Hurley offers beauty advice to British politicians
Hollywood actress Elizabeth Hurley is offering beauty advice to politicians ahead of the upcoming parliamentary elections in UK. The 44-year-old star, who is now married to Indo-British businessman Arun Nayar had recently admitted of having a secret fetish for powerful politicians and declared British opposition leader David Cameron "super-sexy".