Make a move
This summer, plan a cool trip to some of these worthwhile getaways

An old, nearly tattered, map bundled under a pile of books finally makes its way to the drawing room table. Sweltering sun, showing no signs of mercy, piercing hot wind and all those drinks of little help; it definitely is the time to look east, west, north and south for cooler options!
Shervani Hilltop, Nainital Flying Sikh Milkha Singh's passion for hunting is a fact known only to a few
Lesser men were born with a silver spoon in their mouth. Flying Sikh Milkha Singh tasted blood. He saw it; was an eyewitness to his parents and siblings butchering during Partition. As kids, Milkha Uncle would never tire of narrating his inspirational stories to us. Of the time when training so hard for the Olympics in Pune, he would vomit blood.
Milkha Singh with his family Here's a sneak peek into the TV channels that are a hit with students inside PU hostels' common rooms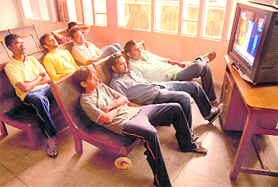 Common rooms, what's playing? The majority rules; first-cum-first-served is a principle and the hand that rules the remote, rocks the room! Here's a sneak peek into the common rooms of some of the varsity and college hostels. Sadly, the stereotypes reflect. So, sports is for boys and soaps are for girls. By the way, music channels are the fillers, for the in-between timings or before the houseful in the evenings. When we entered Sarojini Hall, MTV was blaring!
Kiss it goodbye
A kiss is certainly the best way to express love, but for female students at Edinburgh University it spells trouble - they are dropping out after falling ill by contracting what has been tagged 'the kissing disease'.
Dance with me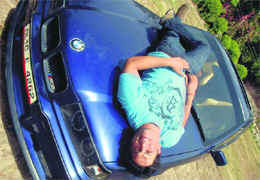 Anything Indian - from jokes on Santa Banta, Dal Makhani, a Satya Paul designer sari with Indian motifs, My name is Khan — Shah Rukh Khan, green-eyed Aishwarya Rai Bachchan and her fashion faux paux, AR Rahman's Jai Ho, to the latkaa-jhatkaas of Bollywood — is a craze in western countries. So, when Panchkula-based Karan Joshi (28) decided to move to Florida to teach dance, he sure knew that Bollywood sells like hot cakes. But minting money wasn't his sole purpose. Especially when he already has a BMW 316i converted into M3, a Mercedes Benz and a Hayabusa bike parked at his Panchkula residence.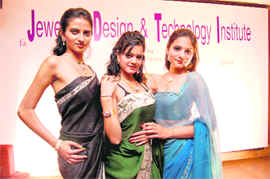 Jewel in the crown
Jewellery Design and Technology Institute-35 associates with Mumbai-based contemporary brand Angaaraa for student design projects as well as internships and placements. The students will get an opportunity to work on special interactive design assignments. They will have to design contemporary jewellery on a given design story and theme. Deserving students will be provided internships and placements.
Well versed!
Poetry is regarded as the mother of all literary arts, especially the ghazal for its ability to express the whole gamut of human emotions. It is imperative for a poet or lyricist to be familiar with prosody, the science of versification. By and large, poets lack the proper knowledge and the grammar of poetry. But to the delight of young aspiring poets and writers, the Mohali-based octogenarian author, Subedar Piara Singh Piar, has come out with a classic book, Pingal tonh Arooz.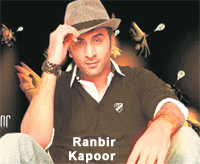 Not so tweet
Shah Rukh Khan does it, so do Salman and Aishwarya. Even as the rest of Bollywood goes gaga over Twitter, Ranbir Kapoor says that he does not understand the hype surrounding the micro-blogging website. Though the heartthrob is a member of the website, his first and last tweet came some eight months ago and Ranbir says that the popularity of the website is a mystery to him. "It's a mystery to me. I don't want to tell people 'I am eating now', 'Now I am walking to the bathroom'.

Celebration time
Bollywood star couple Abhishek and Aishwarya Rai are set to ring in their third wedding anniversary on Tuesday in the US, according to sources close to the actors. Abhishek's father Amitabh Bachchan on his blog Sunday said the couple was taking a flight to New York. A source close to the couple said, "The two have gone to an undisclosed destination and will be back in time for the music release of Raavan on April 24."

Brush with fame
Master Saleem is a name that needs no introduction. In Patiala to perform on the concluding day of the techno-fest 'Joust-2010', organised by University College of Engineering, Punjabi University, he spoke of his career and future projects.

For kids' sake
Hollywood superstar Angelina Jolie is even more motivated to perform daring stunts in her movies these days as she thinks her children like it. The Lara Croft: Tomb Raider star, who raises six children with partner actor Brad Pitt, insists that motherhood inspires her to take up tougher film-set stunts since her kids think its cool. "The funny thing about having children is that now I am twice as motivated to do a cool stunt because my kids will like it," said Jolie.

Work at hand
His 1999 debut Vaastav depicted the dark underbelly of Mumbai and brought him acclaim as filmmaker but Mahesh Manjrekar believes that his latest film City of Gold, about the condition of city's mill workers in 80s, deals with a much larger issue.

Launch PAD
Touchwood
Vista, has created a distinctive niche in home fashions including window dressings and home furnishing accessories. Expanding horizons, Vista also forayed in to laminate wooden floorings, which have become the hottest fad in interior décor.

Dance like us
The Aspiration Ladies Club celebrated Baisakhi at Chandigarh Club and presented a dance drama depicting the culture of Punjab. Chandigarh's Smartest Woman - 2009, Shelly Taneja, also made a special appearance. Monika Singal, the founder member of Aspiration, says, "It is a small effort to revive the Punjab of the yesteryears. Through this dance drama, we have highlighted how the people used to wait for festivals like Diwali, to dance and spend time with family."

Barbara Mori in India to promote Kites
Mexican actor Barbara Mori, who is playing the lead opposite Bollywood actor Hrithik Roshan in his much-awaited Kites, arrived here Monday for promotion of the film. Directed by Anurag Basu, Kites is a love story that crosses borders and linguistic barriers.

Back with a bang
Hollywood star Arnold Schwarzenegger is making a comeback to the big screen after over five years - but with just a cameo in action movie The Expendables .The California governor is seen in the trailer for the action adventure movie. The film is due for release in August.

Aniston's bounty
After launching her perfume Lolavie, Hollywood actor Jennifer Aniston is now considering a beauty range. The Bounty Hunter actor recently created her debut fragrance with Falic Fashion Group. She would like to work with the company on other products.

Mind over body
Moral actions may increase our capacity for willpower and physical endurance, says a new study. Participants who did good deeds — or even just imagined themselves helping others — were better able to perform a subsequent task of physical endurance. However, the research shows a similar or even greater boost in physical strength following dastardly deeds. Researcher Kurt Gray, doctoral student in psychology at Harvard, explains these effects as a self-fulfilling prophecy in morality.