M A I N N E W S

Taxmen raid IPL franchisees
l Nationwide crackdown; ownership discrepancies under scanner
l Enforcement Directorate files case to probe flow of foreign funds
Tribune News Service & PTI

New Delhi/Mumbai, April 21
Income Tax officials today swooped down on the offices of IPL franchisees Kolkata Knight Riders, Chennai Super Kings, Deccan Chargers and Kings XI Punjab and also on companies handling the broadcast rights of the cash-rich cricket league.

I-T officials conducted search and survey operations at the offices of Multi-Screen Media (MSM) -- formerly Sony Entertainment Television —International Management Group (IMG) and World Sports Group (WSG), all of which are closely connected to the Lalit Modi-led IPL. MSM is the telecasting agency of IPL, while WSG is its marketing arm. IMG is the organising agency of the IPL. Besides, a similar exercise was undertaken at the Bandra residence of Venu Nair, CEO of WSG.

Notably, today's raids followed a case filed against the IPL by the Enforcement Directorate — the first — with the Foreign Exchange Management Act (FEMA) being invoked to probe the possibility of unaccounted funds being routed into India by various franchisees. The survey operations went on till late in the night.

What has drawn the attention of the tax authorities is the renegotiated contract between the BCCI and WSG. MSM had acquired the telecast rights of IPL for 10 years beginning 2008 from WSG India. However last year, the IPL governing body under Lalit Modi cancelled the contract given citing poor quality of television coverage. The telecast rights were then sold to WSG-Mauritius for over Rs 335 crore, said to be 50 per cent more than what was paid by MSM. MSM went to court, but an amicable settlement was reached later. The raids are related to a "facilitation fee" of $80 million paid by MSM to WSG, a source

close to the development said. There are also allegations that Lalit Modi, whose family is associated with a defunct television channel named Modi Entertainment Network (MEN), may have awarded the IPL rights to WSG as part of a settlement between his own outfit and the Mauritius company. Some reports said WSG owed MEN more than US $ 2.5 million. "The I-T officials requested details of the contractual arrangements in relation to the BCCI and IPL and WSG cooperated fully with the investigating officers and will continue to do so," a WSG statement said.

The searches signalled a tense build-up to the expected showdown between embattled IPL chief Lalit Modi, who is under pressure to resign, and his detractors in the BCCI ahead of the April 26 meeting of the IPL's governing council. Summons were issued to the BCCI by the I-T authorities to furnish complete details of all eight original IPL franchisees.

In another development, leading industrial conglomerate Videocon, one of the unsuccessful participants in the latest IPL bidding, is understood to have submitted a copy of its bidding document to the I-T department. But Gujarat-based Adani Group, which also made an unsuccessful bid, was yet to submit a copy of its bid document, it is learnt.

In Kolkata, a seven-member team of tax officials surveyed the offices of actor Shah Rukh Khan's KKR and the Cricket Association of Bengal. There were simultaneous searches on the offices of Red Chillies Entertainment that owns KKR at the Eden Gardens and then on Gameplan -- a sports management group that looks after KKR's affairs on Shakespeare Sarani.

In Chennai, tax sleuths today surveyed the office of CSK, owned by India Cements. BCCI secretary N Srinivasan is the vice-chairman and managing director of India Cements.

In Secunderabad, an I-T team visited the office premises of Deccan Chargers Sporting Ventures Limited. "Our team was there in the Deccan Chargers office," an official said. Company officials denied any searches or raids.

I-T officials also went for a survey of the Kings XI office in Gurgaon, sources said. The raid was still going on till the filing of this report at the IPL office, situated at DLF Phase III in the city.

Gurgaon Police Commissioner SS Deswal conceded that an I-T raid was in progress. He, however, refused to give any further details.

IPL BOSS Acting as a CZAR?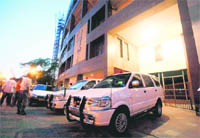 I-T team at Kolkata Knight Riders office in Kolkata. — PTI
APRIL 26 MEETING
Modi: IPL has been given powers by (BCCI) general body to hold own meetings but BCCI Secretary has never called a Governing Council
BCCI: Wants to go ahead with the Monday deliberations. Says its secretary fully empowered to convene the meeting
FRANCHISEE OWNERS

Modi: Threatens to disclose the stake-holding pattern of the teams in the league
BCCI: A complex issue that needs to be considered in detail before making it public
If the meeting does go ahead on April 26 instead of May 1 as I have asked, it will deem to be unofficial. I won't attend such a meeting

— Lalit Modi, IPL commissioner
If the situation demands tough decisions, they will be taken when the IPL Governing Council meets on April 26
— Rajiv Shukla, BCCI media panel chairman
Mumbai, April 21
Income Tax officials today questioned IPL chief Lalit Modi, barely hours after its sleuths searched the premises of three entities associated with the T20 cricket body.
"Modi was questioned about broadcasting rights related to IPL," an IT source told PTI.
The questioning by about half-a-dozen senior IT officials lasted about an hour at Modi's office in a plush central Mumbai hotel, source said. Modi was also quizzed late last Thursday at his office in Worli and the exercise went on till the wee hours of the next morning.
Earlier in the day, IT officials conducted search and survey operations at the offices of Multi-Screen Media (MSM) - formerly Sony Entertainment Television - International Management Group (IMG) and World Sports Group (WSG) - all of which are closely connected to the Lalit Modi-led IPL.
MSM is the telecasting agency of IPL, while WSG is its marketing arm. IMG is the organising agency of the IPL. — PTI
Court notice to Preity, Ness
Chandigarh: A court here on Wednesday issued notice to actor Preity Zinta and Ness Wadia, co-owners of Kings XI Punjab, on a suit accusing the Mohali franchise of not filing its balance sheets and annual returns to the registrar of companies. The notice, returnable by July 24, was also issued to other owners of the franchise Karan Pal and Mohit Burman. — TNS