M A I N N E W S
Modi grilled third time, it is BCCI's turn today
IPL chief may move court against Monday meeting
Tribune News Service & Agencies
Mumbai/Delhi, April 22
Officials of the Income Tax department and the Enforcement Directorate questioned IPL chairman Lalit Modi for the second day today. Modi, who was grilled late into the night yesterday, was subjected to another round of questioning from this morning, according to sources.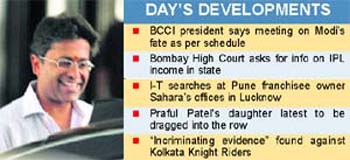 Grilled thrice in a week, Modi is facing scrutiny over alleged financial irregularities in the Indian Premier League dealings, the controversy surfacing after the IPL chief made public share-holding details of the Kochi IPL franchisee.
A team of investigators from both the agencies was closeted with Modi at the latter's posh office in Four Seasons Hotel. Then, he was taken to his office at Worli in central Mumbai.
Meanwhile, I-T department officials today confirmed that they have summoned senior officials of the Board of Control for Cricket in India to appear on Friday. They have been told to produce relevant documents regarding the selection of franchisees and payments made by them.
So far it is not clear who from the BCCI will appear before the I-T officers. BCCI president Shashank Manohar has virtually washed his hands off the whole matter saying the governing body of the IPL and Lalit Modi were responsible for the selection.


'May be ousted if skips meeting'
New Delhi: Former cricketer and IPL Governing Council member Mansur Ali Khan Pataudi said on Thursday that Lalit Modi might be ousted from his post if he kept away from the Monday meeting. He also told Modi that he should step down if he had so much conviction in his innocence. — PTI
While Modi has termed the proposed meeting on Monday as "unauthorised", Manohar reiterated that the meeting would be held as per schedule. "Under the board constitution, the secretary is the convenor of all meetings. Even today I don't convene a meeting, being the board president," Manohar said.
Meanwhile, Modi received unexpected support from former BCCI president AC Muthiah who has questioned the legality of the meeting. Muthiah told a television channel that rules were bent to favour some office bearers (read as BCCI secretary and owner of Chennai Super Kings franchisee N Srinivasan) who had commercial interests in the IPL.
Also, the beleaguered IPL commissioner is understood to be considering the option of moving the Bombay High Court tomorrow for an injunction on the Governing Council meeting here on Monday.
Sources close to Modi said he has spoken to some senior lawyers on the possibility of his taking legal recourse to see that the meeting of the Governing Council is deferred.
In another development, the Bombay High Court, following a PIL filed by Shiv Sena's Subash Desai, has asked the BCCI to provide information about the income earned by it from the IPL Twenty20 matches played in Maharashtra on April 26. Notably, the Maharashtra government has not been levying entertainment tax on IPL matches in the state.
In Lucknow, I-T sleuths raided the offices of business house Sahara, which had bagged the IPL Pune franchise for a whopping Rs 1,702 crore last month.
Meanwhile, Supriya Sule, NCP leader and daughter of Union Agriculture Minister Sharad Pawar, has defended Civil Aviation Minister Praful Patel's daughter, Poorna Patel, who is the latest to be dragged into the IPL row. "She is a nice kid… don't slug her… she is a young, enterprising, qualified 24-year-old…who has a right to decide what she wants to do," Sule said.
According to reports, Poorna, who is a junior executive with the IPL, had got an e-mail from her boss IPL CEO Sundar Raman which she forwarded to her father's secretary, who sent it further to former Union Minister Shashi Tharoor before bids for two new IPL franchises were opened. The mail reportedly contained projected valuations of new IPL franchises.
On his part, Praful Patel said he "did it for a friend" and has denied any role in the IPL.
Also, I-T officials today searched the premises of Red Chillies Entertainment, a company owned by superstar Shah Rukh Khan, as part of their ongoing probe into the alleged financial irregularities in IPL. Red Chillies has an interest in the Kolkata Knight Riders (KKR), an IPL franchise, co-owned by Bollywood actress Juhi Chawla.
In Kolkata, tax officials who conducted searches at the offices of the Bengal Cricket Association and Shah Rukh Khan's Kolkata Knight Riders till the early hours of Thursday claimed to have found "incriminating evidence" of irregularities.
"We have found incriminating evidence. We will investigate further. We needed to have a look at certain transactions and we've found whatever we were looking for," said Indian Revenue Service Deputy Director Akhilendu Jadhav.
Meanwhile, the scam took a new turn on Thursday as details of mail sent from Union Minister Praful Patel's office to former Union Minister Shashi Tharoor were leaked to the media. It has emerged that Patel's personal secretary had sent a mail to Tharoor in March, with a document containing projections of new franchisee valuation in the IPL.
It was reported that Champa Bharadwaj, personal secretary to Patel, forwarded a mail from her official ID to Tharoor's personal ID, hours after IPL chief executive officer Sunder Raman sent the same document to Patel's daughter Poorna Patel, who is IPL's hospitality manager.
Poorna Patel admitted she had forwarded the mail to her father's secretary, but said she was only following Raman's instructions. Raman, on his part, said he sent it to Poorna, as a key member of the IPL team, but did not know why she forwarded it to Patel's office.
Heritage Havelis' Sale
Rajasthan govt mulls action against Modi
Perneet Singh
Tribune News Service




Lalit Modi: Troubles galore
Jaipur, April 22
While IPL Commissioner Lalit Modi is at the centre of a huge mess right now, trouble seems to be brewing for him in Rajasthan as well for his alleged involvement in the purchase of heritage havelis in the protected Amer Palace zone during the previous BJP regime in the desert state.
According to sources, the state government is contemplating action against Modi and his wife in this connection. A probe report submitted by Jaipur Divisional Commissioner Kiran Soni Gupta to the state government has reportedly confirmed that the protected havelis were purchased as private properties four years back.
Sources said the government would send the probe report to the Law Department for its opinion and may register a case after the facts were examined by the department. Earlier, the state Anti-Corruption Bureau (ACB) had also conducted a preliminary inquiry and registered an FIR in the case in February, 2009. Though Modi's name didn't figure in the FIR, it had the names of an ASI official and the then sub-registrar.
The controversial deal was undertaken by a company owned by Modi in the protected zone near historic Amer Palace on the outskirts of the city. The incident dates back to 2006, when the BJP government led by Vasundhara Raje had floated the Amer Development and Management Authority (ADMA) with the CM herself as one of its promoters. Later, the authority put up some of the heritage havelis on sale and two of them were bought by the Amer Heritage City Construction Private Limited. However, the company later changed its name to Ananda Heritage Hotels Limited. Modi and his wife Minal are the company's directors. The havelis were given heritage status under a 1974 notification.
The deal came under the government scanner after the Congress came to power in the state. Congress legislator Ramnarayan Meena raised the matter in the recent Assembly session, seeking a CBI probe into illegal sale of the heritage havelis. Action was also demanded