Desi & Spicy
Eight girls from the glamour industry share the experience of being village belles
How do you sell a product? C'mon, you don't have to be a nuclear scientist to answer this. Good marketing strategy, what else! And yes, how can we forget, loads of free- floating rumours. (Hrithik Roshan and the growing warmth between Barbara Mori before the release of movie Kites or for that matter Shahid Kapoor and Priyanka Chopra seeing each other prior to the launch of Kaminey!). But we discovered a very new marketing technique and this one is custom-made for the reality show on Imagine TV — Desi Girl. First, get a PR person to call the media and sell the idea of a 'big story'; second, organise a field trip to a village to bring in the 'real element' and third get the fourth estate from all over the world (Oh! this is an exaggeration.
Sambhavna Seth — Photo: Vinay Malik


The CHASE is on
In the city to promote their upcoming flick Chase, Anuuj Saxena and Udita Goswami get candid
First a doctor, then a television actor; takes a sabbatical, goes back to his business in pharmaceuticals, opening restaurants; turns a producer and finally debuts in Bollywood mainstream cinema. If there is anything left to be done in life, Anuuj Saxena has just begun exploring his potential!

Udita Goswami and Anuuj Saxena at the Chandigarh Press Club on Thursday


Girl in Action
One look through Udita Goswami's career graph and her run at box-office has been action-packed. Whether it's her debut 'Paap' or films that followed, action-thriller seems to be her genre. "I don't want to be typecast in any way. I have always tried to select good scripts and even if most of them have been thrillers, my roles have been different in each," she says.


art-i-fact
Impressed, forever
Impressionism means taking inspiration directly from nature, trusting your senses rather than what you think you know. — Michael McClure
That in a nutshell was the key to impressionism, the French art movement of the 19th century that broke new ground and made its own rules on how to paint. Since then it has been followed by many more 'isms' but impressionism remains one of the most significant art movements, not only of its time but also of entire art history.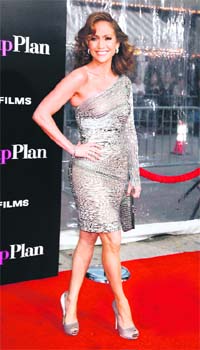 Jennifer Lopez arrives for the premiere of the film The Back-up Plan in Los Angeles, California on Wednesday. — Reuters photo

Dali's doodles
The distance between Bollywood kitsch art and Spanish master Salvador Dali is a light year, but for Gurgaon-based pop artist Baba Anand, the progression from one to the other has been natural.

Creative ZONE


Write path
Only a few savour success early in life, which serves as an inspirational force for them in shaping their career later in life. Daljeet Singh Cheema, a brilliant student at Khalsa High School Qadian (Batala) whose poetic creations were regularly published in the established Punjabi magazines like Jagriti and Punj Darya way back in 1955 onwards, belongs to this category.

Treasure trove reopened
Paintings once belonging to Ambroise Vollard, one of the 20th century's most important art dealers depicted by Picasso and Renoir, go under the hammer this summer some 70 years after they were deposited in a bank vault.

Read on...
Despite a number of online options available, avid readers still prefer to sip coffee and dig into a book
For understanding symbols designed by god or a desire to touch base with political scenario of the country; a craving to be part of the mystical world of magic or just the thought of taking the romantic route…everybody needs a book for a some reason or the other.


Sparkling show
A variety of styles and stones, jewellery designer Annuu Chaddha's boutique brings a feel of luxury
Class apart! Exclusive, exquisite and expensive! Designer jewellery by Annuu Chaddha customizes the word 'elite' for you. Launching her spring summer collection and opening her second boutique at Shopping Arcade, Taj-17, Annuu underlines elegance that is synonymous with her brand of jewellery.
Entry point
Nokia has announced the launch of four new affordable mobile phones – the Nokia 2690, Nokia 1800, Nokia 1616 and Nokia 1280 for entry level consumers in Punjab. The portfolio has a phone for everyone with relevant features such as first time access to the internet, music with 3.5 mm Audio Visual connector.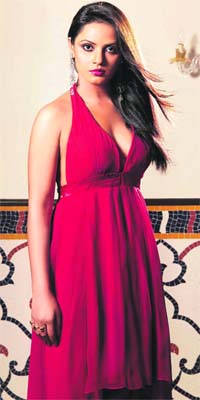 Foreign Impressions
At leisure
Bernadette Moylan, a teacher from England, out for a two-week holiday in India chose to spend a couple of days in the city beautiful, which was described to her as the number one city in India. And we caught her happily sauntering in an exhibition along with her husband Peter Knight and children Patrick and Laura. Bernadette shares her impressions.

Side Lanes


A bed from Benares
It is a tall, four-poster, double bed, made of walnut wood, polished to a satiny umber and toned with reddish sienna. The headrest is like a soaring tiara with roses, leaves, curling vines and other flora dovetailing each other gracefully.

Neetu's apartment


Glamorous actor Neetu Chandra, a graduate from IP College, Delhi is now looking amazingly beautiful in Jagmohan Mundra's psycho thriller Apartment. She has played different roles. Neetu who holds a black belt in taekwondo debuted in Garam Masala opposite Akshay Kumar.


It's back
After Angelina Jolie, Amanda Seyfried has done it too. The Hollywood beauties have come up with a novel way to stand out on the red carpet, by wearing their dresses back-to-front. At first glance, it looked like the Mama Mia star Seyfried had accidentally committed a rather regrettable fashion blunder. But as the actor sashayed down a Hollywood red carpet in a dress featured a forward-facing zip, it became clear that her back-to-front look was a very deliberate style statement.

In grey abandon
Hollywood star Demi Moore has revealed she "plucks out" any grey hairs, because she doesn't want to look old.The 47-year-old actress, who is known for youthful looks, but she does her best to keep on top of any tell-tale signs of ageing."I don't dye my hair, but I do have a few grey hairs that I pluck out," Moore said. The Ghost star, who is married to actor Ashton Kutcher, who, at 32, is 15 years younger than his wife, also revealed she hates working out but has taken up Bikram yoga, which is performed in extremely high temperatures, and is finding it works wonders for her figure."I'd love to say that I exercise a lot but I don't. Although Ashton and I have started Bikram yoga.



After the period
After Shyam Benegal's social satire actor Minissha Lamba is now wants to embark on a period drama like Jodhaa Akbar. "I do not have any particular genre that I would like to do. I just want to entertain people. But I want to do a period drama like Jodhaa Akbar. I loved the film and wished I was a part of it," Minissha said. The 25-year-old actor started her journey as an actor from the critically acclaimed film, Yahaan, alongside Jimmy Shergill in 2005. She was later seen in Corporate, Bachna Ae Haseeno and with her ultra-glamorous look in Kidnap. "It has been a great journey. There were disappointments and happier times as well. These things are part and parcel of every industry...And of everyone's life.


NEW RELEASES


An Apartment with a view
Producer: Nari Hira
Director: Jagmohan Mundra
Music: Bappa Lahiri
Cast: Rohit Roy, Tanushree Dutta, Neeta Chandra, Anupam Kher