Punjabi Antenna
A hit with the masses
Randeep Wadehra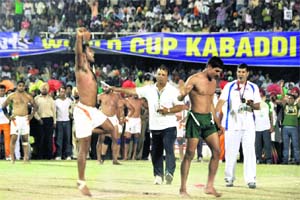 The Kabaddi World Cup — held recently in Punjab — was a big draw
Kabaddi is the subcontinent's indigenous sport. Its different versions are played in different regions. Each form has its own set of rules. But there is something common to all these versions — the traditional Indian respect for the guru (now coach), lack of animosity towards rival players, and immense self-discipline in matters of food and lifestyle.
In Punjab, kabaddi is invariably equated with manliness — making it imperative to tame a growing boy's feral instincts and channelise them into a healthy activity, building a strong body in the process. This sport does not need any sophisticated infrastructure or great investment; a small plot of land will do. No wonder it enjoys great popularity among rural folks.
Whatever his unstated political or pecuniary agenda, Sukhbir Badal has avowedly chosen this sport as a bulwark against the spreading menace of drug addiction among Punjabi youth (we shall, for the moment, ignore the uncomfortable news report of several kabaddi players failing the dope test). The Kabaddi World Cup, telecast live by PTC News, was a step in this direction. The opening ceremony was certainly impressive with artistes from 15 Indian states displaying their folk dances and also presenting a well-choreographed medley of composite folk culture when each group danced in tandem with the others to the tune of a common song, which climaxed into the enthralling Dama Dum Mast Kalandar number.
The finale was impressive, too, with the bhangra, followed by Vande Mataram. The camerawork was great and acoustics were absolutely marvellous. The commentary was deliciously peppered with rustic metaphors and proverbs. However, one wishes that obsequious flattery of Sukhbir Badal was avoided. The hyperventilating commentators, including Bhagwant Mann, tomtomed his uchhi suchhi soch (lofty and pure thought) every other minute.
Earlier, when players/artistes were marching past, the camera remained fixed on Punjab's Deputy CM and his retinue which included the Dharmendra-Sunny Deol duo. During the finale we watched the Chautala sons plus Manoranjan Kalia joining the senior Badal's retinue, thus reinforcing Sukhbir's presence. There was this cantata wherein the Deputy CM pleaded with the CM to give government jobs to the Indian kabaddi players, and the pater acceded graciously in front of the entire Ludhiana public, plus TV viewers worldwide. Wish other governmental decisions were taken with similar alacrity and transparency. But that would be asking for Utopia.
In Punjab Speaks Reeta Sharma, along with panellists Gobind Thukral (a senior journalist) and Mita Lochan (IAS, Maharashtra) discussed the entire gamut of issues relating to grassroots governance, involving women panches, in Punjab. There was an interesting exchange of experiences and opinions between the panellists and the invited women grassroots representatives. Although quite a few women panches have seemingly made a mark in village politics and development, it is well known that most of them are mere puppets in the hands of their respective men folk.
However, not one of them admitted to the fact. Nonetheless, the problems facing women in Punjab's villages are numerous and daunting — be these social, political, administrative or economic. It is good that these were focussed upon.
The teacher-student equation in Punjab has undergone a huge transformation. There was a time when teachers commanded respect, which has apparently evaporated now. DD Punjabi focussed on the evolving guru-shishya relationship during one of its morning shows. Obviously, the materialistic culture has affected the manner in which teachers look upon their role in society; and equally obviously, there is no point in harking back to "the good old days" because nostalgia is a golden abstraction for every generation.
A new set of ethics needs to be put in place that would guide the teaching community in matters of discharging their professional duties efficiently. Moreover, the expectations from them would be realistic, shunning sham idealism.