Eggxotica unravelled
Intricately cut, carved and decorated eggs were on display at Farha Sayeed's egg art exhibition held recently, writes Man Mohan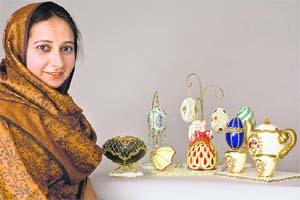 Farha Sayeed with her creations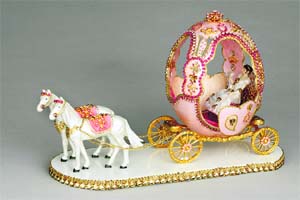 A chariot made from an eggshell
Farha Sayeed (39) sells eggs at very exorbitant prices, ranging from Rs 10,000 to more than Rs 1 lakh. But these are not ordinary eggs. These are objets d' art. The eggshells she designs are very intricately cut, carved and decorated by hand and ornamented using pearls, beads, crystals, brocade, velvet, satin, golden laces and rhinestone chains, making each one a masterpiece.
While the USA and Europe are some of the important centres for egg artwork, the credit for introducing the fascinating egg art in India goes to Farha, wife of a diplomat, Dr Ausaf Sayeed (1989 IFS batch). She picked up this art over a decade ago and improvised and experimented with the fusion of Indian and Islamic elements to this otherwise western art.
Farha is the only known Indian member of the International Egg Art Guild (IEAG), a non-profit association of artists, artisans, and craftspeople, who work with natural eggs as an art or folk art medium. One got a glimpse of the unique egg art at her first recent solo four-day exhibition, aptly titled 'Eggxotica' in New Delhi.
Her repertoire of egg art included a wide selection of decorated ostrich, emu, goose, duck, turkey, guinea and chicken eggs. Farha employs various techniques for decorating eggshells like cutting, carving, decoupage, trolling, etching, engraving, dyeing and beadwork.
The art of egg decoration goes back to early civilisations, when eggs were coloured and used as gifts to celebrate the re-birth of life on the earth. Ostrich eggshell with engraved hatched patterns have been found as early as 60,000 years ago at Diepkloof Rock Shelter in South Africa.
From ancient time until now, eggs have been decorated in many ways. Ostrich, emu, rhea, goose, turkey, duck, swan, hen and pigeon eggshells are used by the egg artists. Egg shells, particularly those of ostrich, are known to work as repellent to spiders and other insects. In India, hen eggshells are commonly used to ward off lizards.
According to the Provincial Museum of Alberta, egg collecting has been practiced for centuries. At first, eggshells were hung in medieval homes for decoration and later, eggs became popular items to collect.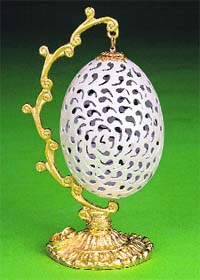 "I was deeply interested in art and craft since my school days," Farha, who hails from Hyderabad, said. After doing honours in English Literature, she pursued her interest in various mediums. She has passion for egg decorations and silk painting. But she is equally adept at charcoal, thermo, cole, tiles and glass paintings, aluminium foil work, glitter and zardori work and soft-toy making.
The eggs used for her artistry belong to hatchery or farm-grown birds only. No eggs are taken from the wild. Ostrich eggs are naturally a pearl white to cream colour. The next largest eggshells Farha uses come from the emu, which are beautiful deep emerald green. The innermost layer is white, the middle layer is teal green, and the outer layer is a deep green textured coating.
"This is one feature that distinguishes emu eggs from all others, making each one unique and genuinely beautiful.`A0To expose the last layer is a challenge because the white layer is very, very thin and easily penetrated when carving," says Farha.
At 'Eggxotica' exhibition, one could make out that Farha had created each egg with great precision and ingenuity and involved several hours of intricate work. "The price of each decorated egg depends on its size and the ornamentation," she explains.
She orders blown eggshells through internet, which are empty shells of unfertilised eggs that have not been used for hatching. She gets them from all over the world but mainly from America, Britain, Australia and some African countries. She cleans and disinfects the empty eggshells before working on them.
Using a high-speed tool for cutting to reduce torque, Farha prevents shattering. Shells are treated with liquid polymer to strengthen and preserve their natural beauty. The eggs are then mounted on beautiful silver and golden stands. Her collection of decorated eggs was first displayed in October 2003 for a month by the Art Lovers' Group of H. Lundbeck A/S.
Her maiden solo exhibition of 'Decorated Eggs and Silk Paintings' was hosted by the Frederiksberg Commune, Denmark, at Byggeriets Hus in April 2004. A part of her collection was also displayed in the 'Ramadan around the World' exhibition in Jeddah in October 2005. Her second solo exhibition was held in Jeddah in June 2008, which was inaugurated by Princess Fahda Bint Al-Saud.
Farha came across egg art first time on in 1998, when her husband was posted in Qatar. "I immediately liked this fragile art. After learning the basics from a teacher such as cleaning and disinfecting the eggs, their hardening, varnishing and basic cutting," says Farha, "I started working to enrich my knowledge."
Mother of three teenagers, Farha says they give all kinds of vague and boyish ideas like, "why don't I carve a skeleton or a vampire in an egg?"
"To sustain their involvement," Farha points out, "I was forced to place all kinds of toys or objects in the eggs. That is how the dwarfs landed up in my hen egg creations — 'Dwarf's Arch' and 'Santa's Den'. Now, Farha sees an egg as a medium of expression.