It's not the 'usual' that's cooking up in younglings' kitchens, writes Mona
Gone are the days when the compulsory summer r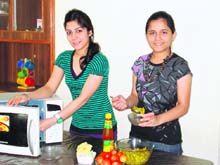 ecreational activity for young Punjabi girls was taking a dip into the cultural curry and learning the art of making aloo gobi and round chapattis.But that certainly doesn't mean that the younglings today are not interested in 'dishing out' stuff. Adolescent eating machines love food and many enjoy making it. But it's not the usual that is cooking up in their kitchens.




FRIENDS: Neha Sharma and Mehar Anand

Your honour
The greatest thing is not winning but fighting well - thus goes the Olympian slogan but then a sign of encouragement bestowed on a writer or an artist motivates one to work even better.Meet some of the region-based Punjabi litterateurs honoured by the Haryana chief minister for their contribution to Punjabi literature.

Madhuri, the benchmark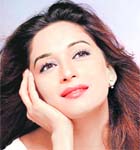 Many were dismayed when the 'dhak-dhak' girl of Bollywood bade au revoir to the silver screen but for renowned kathak exponent Sandeep Mahavir Madhuri Dixit's departure was the end of an era.According to Mahavir, the actor's exit also marked the departure of classical dances from the repertoire of styles used in Bollywood, which now favours bachata over bharatnatyam."I can say for a fact that after Madhuri Dixit there have been very few actors in tinsel town who can carry off classical styles," Mahavir said."Most, if not all, yesteryear Bollywood actors were trained dancers.
The problem child
Bollywood superstar Shah Rukh Khan says his friends have started calling him a 'problem child' for his constant brush with controversies."My friend just called me a 'problem child'... always in trouble. I think it is true...it would be so boring to be a 'solution adult'," Shah Rukh posted on his Twitter page.In wake of allegations of financial irregularities in the Indian Premier League (IPL), income tax officials had visited Shah Rukh's Kolkata Knight Riders (KKR) office in Kolkata and claimed to have unearthed vital clues.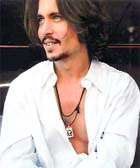 In Dep(p)th measure
British rockers Babybird have hired a team of bodyguards to take charge of security at their summer shows so Hollywood star Johnny Depp can join them on stage. "These guys can handle any situation. Babybird concerts are usually pretty good natured, but it only takes one idiot," a source said.The "Pirates of the Caribbean" star is a big fan of the group. He funded the recording of their latest album and even joined them in the studio to play the guitar for a track and direct the promo for it. Earlier plans had got scrapped due to security fears.
Wrinkle free
Hollywood actor Jude Law has reportedly splashed out thousands of dollars on anti-ageing products.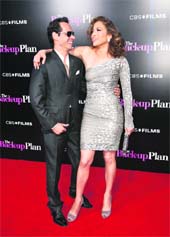 Actor Jennifer Lopez and her husband, singer Marc Anthony, arrive at the US Weekly Hot Hollywood Style Issue Event in Hollywood, California recently. Reuters photo

Eyeing the Iron Man
Hollywood actor Scarlett Johansson fought hard to land a role in 'Iron Man 2' and had to immerse herself in comic books, to impress movie bosses.

Weighty issue
It was not crash diet that almost made actor Preity Zinta faint, but her weighing scale that shocked her to core."Eeeks! Stepped on the weighing scale after two months and almost fainted! Have put on four kilos! Forget the news! I need to focus in the gym now," Preity posted on her Twitter account.

Big dream
While many filmmakers want to cast Bollywood superstar Amitabh Bachchan in their movies, Big B is wondering when Priyadarshan will work with him.After watching "Kanjeevaram", a Tamil film by Priyadarshan. Big B wrote on his blog bigb.bigadda.com: "Good film, powerful subject, exquisitely shot and directed.

In the city, Sanjana Jon talks about cause, celebrities and the culture
"Life is not about negative things. One should look out for possibilities it offers. You cannot fight darkness with sticks and stones, but with light." Sanjana Jon seems to be working on the lines well after brother Anand Jon's much publicised conviction. The frequent trips that she made during the time of his trail to appeal to the government and fashion fraternity to support Anand first introduced her to the social circle. But the designer and social worker has gradually improved since then, creating her own space, whether it is in the fashion world or outside it.

Palette-able truth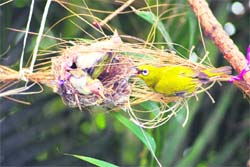 Realities, Illusions and Phantasia is an aptly named exhibition by six young artists. This group of friends pays tribute to their teacher late Manmohan Sharma, by painting humanity and nature in its myriad forms.Ramandeep Kaur and Sumidha Khanna paint wandering human nature. Raman's series In Search in mixed media brings out the state of human mind and one's limitation to do things in life.


THE NEST BEST THING: Director, Tagore Theatre, Rajnish Wattas captures this White Eye bird family in his Sector 28 residence.
Spice up
Travelling bright
When you are away from home, the time and means to make yourself attractive may not be easily available. So, what you need are a few tips, to enable you to limit your grooming needs, so that you look pleasing, feel comfortable and relaxed……. And enjoy your trip, of course!
Virtual world, real threats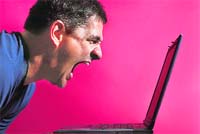 The virtual world that entertains the real world has become a real challenge to deal with. It's addictive. It doesn't let one put an end to the conversation with friends on a social networking site. It keeps one hooked till one crosses more levels than friends of an online game. And by the time one succeeds in doing it, invariably someone else glued to the other terminal somewhere would surpass. It's a vicious circle, affecting the school going children the most. "It's important to realise if adults who are sensible enough, given their age can fall in the trap, how will children deal with it," says Punita Singh, a counsellor.
Take a bow!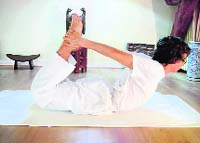 Diabetes is a disease where the conventional system of medicine has fallen short of finding a cure or even a reasonably successful treatment. Diabetes happens to be one of the deadliest diseases, killing and maiming millions of people every year. In fact, India is getting the dubious distinction of having one of the largest numbers of diabetics in the world. It affects all the major body systems, including the heart, the kidneys, the eyes and the nervous system. Chronic renal failure and heart attacks are the two most common complications of diabetes worldwide and in fact are the cause of most of the fatalities.
Save your skin
It's time to bring out the short dresses and the strappy shoes! But remember that the skin bears the most brunt of the harsh sunlight. And, with the temperature soaring to unbelievable heights, the smartest thing to do is to protect your skin.
BODY wise
Liquid asset
When it comes to our health, water is undoubtedly the first-prize winner. It is nature's perfect beverage. It has no taste, no colour and no odour. What you will find though, is a vastness of pure goodness for your health. Water is critical to our health. We can survive much longer without food than without water. More than half of our body is made up of water.
Are you listening?
Young people are putting their hearing at risk by listening to music as loud as a jet engine, a researcher has warned. Playing music at high volume and using earphones that fit in the ear canal could lead to loss of hearing.