Map your path
For centuries maps have been essential tools to understand and navigate through the world. More than being an art, Cartography is a science. In the 21st century it has come a long way from the ancient maps of Babylon and the ones made by Chinese and Portugese explorers.Usha Albuquerque on cartography as a career choice for the gen X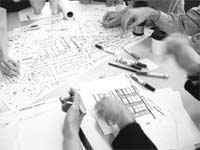 There are only a handful of students who take up geography as a subject in school, and fewer still who would have a strong enough interest in the subject to consider a career in cartography. Yet geography is a fascinating introduction to knowledge about the physical world we live in, its different and varying physical features and their influence on the economic, political and cultural life of all creatures that inhabit earth.
Geography originates from the Greek words "Geo meaning "Earth", and "graphein" meaning "to describe" or "to map". Therefore Geography is the study of the earth, its physical and cultural features, while Cartography is the creation, production, and study of maps of this physical world.
Cartographers are often geographers who specialise in the combination of art, science, and technology to make and study maps. They produce maps, including details of projection, design, compilations, drafting and reproduction.
Map making has been both a science and an art from ancient times when Cartographers obtained their information from navigators and surveyors. Explorations that expanded the geographical awareness of a map-making culture also resulted in increasingly sophisticated and accurate maps. Today, cartographers incorporate information from aerial photographs and satellite images in the maps they create.
A map is a two-dimensional representation of the spatial distribution of phenomena or objects in the physical plane, showing the location of cities, mountain ranges, rivers, or types of rock in a given region.
Job profile
The job of a cartographer is to create maps that are easy to read. Map production starts with a detailed plan and supporting research. The data collected is then documented and the map is drawn up with specifications like title, legend, scale etc. clearly defined. Cartographers use computer technology, and techniques from maths and science to design and revise maps and charts
When creating a flat map of a portion of the earth's surface, cartographers first locate their specific area of interest which involves land surveying and aerial photography. Their job may include taking measurements, recording and classification of data into appropriate formats and making calculations based on the data. They then use map projection techniques to represent the three-dimensional characteristics of that area in two dimensions. Finally, a grid, called a rectangular coordinate system, may be superimposed on the map, making it easier to use. Cartographers use various types of scales to keep those features and relationships in the correct proportion.
With the use of special software packages such as Adobe Illustrator, Photoshop and Quark Xpress, cartographic illustrators provide illustrative design, photographic services and desktop publishing for use in teaching, display, on internet sites and promotional purposes.
A major change in cartography during the past decade has been the growing use of geographic information system (GIS) software to produce, store, and use maps. With the use of GIS cartographers can produce digital topographic data and store it in geographical databases, analyse and interpret the information.
The Google maps that are so widely used today have been produced using GIS software and cover much of the physical world down to detailed features of an area of specific interest to a user. With the use of GIS, digital maps can be widely distributed using internet map servers that allow users to interactively explore a large map by scrolling and zooming.
Getting In
While it is useful to have taken up geography as a subject in Plus II, it is not essential for a career in cartography, although a sound knowledge of statistics and calculus is an advantage. Most universities offer geography at the graduate and post-graduate level in both science and humanities faculties. Cartography can be taken up after graduation in geography or science. If you are keen on pursuing geographical Information Systems you must possess computer-programming skills. Some institutes prefer students with a background in natural and social science.
There are several universities offering PG diploma in cartography, including Osmania University, Hyderabad-500007, that offers PG diploma in Geographical Cartography, Utkal University, Bhubaneshwar, which offers a diploma in cartography, and University of Madras, where you can do a masters in cartography. University of Pune, Pune, Aligarh Muslim University, Aligarh, and Annamalai University, Annamalainagar also offer diplomas in cartography. Anna University offers a BE course in geo-informatics which includes a module on cartography, while Jamia Millia Islamia in New Delhi offers a PG diploma in GIS.
To become a cartographer you also require to have a keen interest in the physical surroundings, strong power of observation, good colour vision, precision, patience and perseverance.
The job may require travelling to various places to physically survey the land and so you must have an interest in outdoor work, be indifference to unpleasant weather conditions, and have good physical health. You must also have the ability to enjoy creating and imagining, an eye for form, a scientific approach, and love for exploration.
Avenues
Today there are maps for a variety of purposes, including topographical maps, maps related to town planning, weather forecasting, travel and tourism, geological or mineral exploration, and military and development of geographical information systems. Cartographers can, therefore, be employed by the government as well as private firms, with Town Planning organisations, forest departments, land survey agencies, defence sector, rail, road and airport authorities, housing boards and tourism departments of the government.
Cartographers can also join the Survey of India or state Survey Departments or Private organizations such as Eicher maps, Google maps. They can be employed by public and private organizations engaged in Urban planning and design and by NGOS involved in rural development projects, or with government for mapping changing phenomena such as floods, draught and forest fires, etc. Businesses that deal with selling maps, producing maps for encyclopedias, reference books and atlases, publishers, planners, engineers, architects also need cartographers.
So if geography is your favourite subject, you can now not only develop your field of interest but also map out your career in the best possible way.