Unlike stars, like cause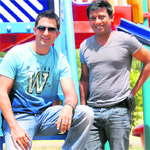 Just a little away from the huddle around Sanjay Suri, we could hear him ask every student he signed an autograph for, "What's your name?" Sanjay repeated the answer, "Rohan, this one's for you." Next came the autographs for Yuvika, Avideep, Shivani and Jaskaran … with a dear prefixed to each! And it wasn't the usual 'visit a school on invitation, a few waves, flying kisses, small lecture and a final wave through the half open widow of the car'. Sanjay Suri and Onir, as is reflected from the kind of cinema they do, were different. — Photo by Pradeep Tewari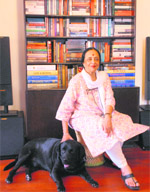 PhenoMENON
When Anjolie Ela Menon celebrates her 70th birthday on July 17, art lovers around the world get a return gift - a book published by Vadhera Art Gallery on her life and works by this celebrated artist. After all, it's not everyday that a beautiful woman turns 70 and completes 50 years as an artist! "I started young. In fact, when I was only 18. I was still at the art college when MF Husain organised my first solo exhibition, first in Delhi and then took it to Mumbai," recalls Anjolie even as she makes herself comfortable in the living room of her long-time friends KN Singh and Deepa Jain's Sector 2 residence. — Photo by Pradeep Tewari
Hisss…ing at Cannes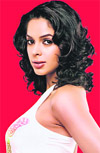 Mallika Sherawat's Hisss, Love, Barack at Cannes Bollywood bombshell Mallika Sherawat is going places and this year she will have not one but two of her films being featured in the prestigious Cannes Film Festival next month.Sherawat plays a snake woman, out to revenge the capture of her mate by an American hunter. Directed by Jennifer Lynch and produced by Govind Menon and Vikram Singh Lamba, the film is in post-production in Hollywood for the past several months.Actor Irrfan Khan has already confirmed his presence at the festival where the producers will announce the release date for the film.
— Mallika Sherawat
Salman believed in me: Katrina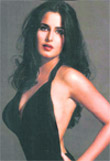 Support system
Bollywood actor Katrina Kaif, who is all set to make a splash in her upcoming film Raajneeti, says her mentor-turned-boyfriend Salman Khan was always sure of her doing well and making a mark for herself in the tinsel town. "Apart from guiding me, Salman had confidence in me. He is not the person to say that because he is friendly with you. He will say it genuinely," said Katrina. The 25-year-old actor feels that it was her destiny that she came into the Hindi film industry and succeeded. She has many people to thank for her soaring career here. — Katrina Kaif
Adam's family

'No Boundaries" hitmaker Adam Lambert wants actor Leonardo DiCaprio to play him in a movie on his life.The American Idol runner-up thinks the Hollywood heartthrob would be perfect to portray him on the big screen if his life was ever deemed worthy of a biopic. "I have always thought that Leonardo DiCaprio is a really good actor - he could play me, he could get intense," he said.He also revealed he would love to work with English musician David Bowie in the future, if the legend could be tempted out of exile. "To be able to work with David Bowie would be amazing - his imagination and creativity are beyond, he's an icon," he said. —IANS —
Adam Lambart
Musical bridge
A R Rahman is leading a hectic life balancing work in India and Hollywood but the musician is not complaining as he wants to bridge the gap between East and West through his music.
STAND ALONE: Scarlett Johansson poses at the premiere of Iron Man 2 at El Capitan Theatre in Hollywood, California on Monday.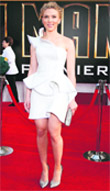 Jolie good show
Hollywood's superstar couple Brad pitt and Angelina Jolie are planning a small wedding.The couple, popularly known as Brangelina, are reportedly determined to shield their nuptials from the public and have decided to opt for a low-key affair in order to avoid accusations of wasting money, OK! magazine reported."Brad and Angelina are exceptionally private people, and they pride themselves on being humble and not wasting money," a friend of the couple said."So some over-the-top, beachfront affair with hundreds of guests isn't going to happen," the friend added.It has been claimed that the couple, who have been dating ever since they met on the sets of 2005 movie Mr and Mrs Smith - only decided to get married after their older children begged them to make their union official.A source close to pitt and Jolie said, "First it was Maddox, who has begged his parents to tie the knot for years. Lately, Shiloh and Zahara have been chiming in, and pax thinks it would just be the coolest thing ever to be a ring bearer." Jolie, 34, has previously admitted she and 46-year-old pitt are expecting the children, Maddox, eight, pax, six, Zahara, five, three-year-old Shiloh and 21-month-old twins Knox and Vivienne, to eventually start questioning why they had never got married."Usually people fall in love and everything revolves around the ritual of marriage, children are an afterthought. We did everything backwards," Jolie said."But sooner or later it will be the kids who ask us to get married. You know, they see films and start asking questions. Such as, 'Why are Shrek and his love Fiona married and you're not?," she added. — PTI
Kat walk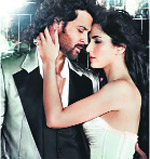 Katrina Kaif will be seen romancing Bollywood heartthrob Hrithik Roshan for the first time in Zoya Akhtar's film Zindagi Milegi Na Dubara. The actor, who has given several hits with superstar Akshay Kumar and has shared screen space with top Bollywood actors, including Salman Khan and Ranbir Kapoor, says she is excited to work with Roshan.

"It's a brilliantly written script and I am looking forward to working with Hrithik. I don't know him at all. The film will go on floors in three weeks from now after the release of Kites. The movie has the ability to emerge as progressive new cinema," Katrina said.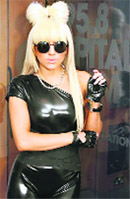 Going Gaga
American singer Lady Gaga has helped download sales in the UK shoot up by more than 50 per cent, according to new figures. According to the music industry body of the BpI, songs and albums bought from online retailers like iTunes yielded 154 million pounds in 2009, reports The Telegraph. The music industry generated 928.8million pounds in 2009, the figures say. Digital services make up for one-fifth of the music revenue that comes to UK. ''It's encouraging to see industry revenues stabilise and even show modest growth in 2009," BpI chief executive, Geoff Taylor said.
— Lady Gaga
Size sub-zero?
Hotel heiress paris Hilton was recently spotted looking painfully thin while hosting the Rehab pool party at the Hard Rock Hotel & Casino in Las Vegas. The 29-year-old socialite was looking shockingly gaunt in her hot pink bikini and matching sarong revealing protruding ribs and ultra thin legs.
This summer, how about chilling out with Bacardi Summer Coolers?

Mix it right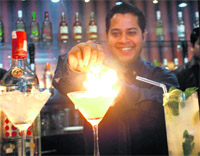 Everything comes with an expiry date. And sure, everything comes with a history — a withered rose hidden inside a novel, an old rocking chair in the verandah, a bronze choker lying in the grandmother's closest, a fort in the outskirts of the city, an old bottle of wine, a bottle of Martini and a bottle of clear Bacardi! Of course, the Bacardi that easily mixes with liquid has a history too. Tracking the footprints of history, Arijit Bose, trade ambassador for Bacardi India Limited, stumbled upon on the amazing world of spirits. — Arijit Bose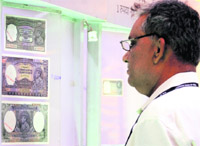 Money talk
Indian currency notes have not always been the same. There is a history behind every character on the note - behind the picture of Mahatma Gandhi, the thread that assures the note is not fake, the distinct colour of every denomination, the national emblem and even the signature of the RBI governor. The Reserve Bank of India opened its first building at Kolkata in 1935. Two years later, the bank premises were shifted to Mumbai. And the first currency note to be printed in India was the Rs 5 note.
Literary leap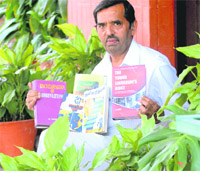 Besharam third divisioner"… Surprised? Don't be. For this is the title of the autobiographical novel authored by Inder Bikram Verma in 1989, which is based on his personal experiences. Verma, a retired librarian from a government college, says albeit he has authored six books, "Besharam…." has received remarkable response and is running out of print now. "Being a third-divisioner is a literal curse, which I suffered after my matriculation examination while I was at Chail," says Verma. "Such was the pressure on my mind that I decided to share my story with others.
—Inder Bikram Verma
Cheese spread
parag Milk Foods, known for Gowardhan brand of dairy products, has launched Go Cheese - a wide range of cheese made from 100 per cent pure cow milk.
Rock on
City-based rock bands or rap crews are managing everything
from studies, finances, releasing underground music to shooting
videos, producing music ...
Ever belonged to a band? Thought of forming one? Being a part? Anyone who's been there and seen that will nod in agreement; it's more than an excited audience, deafening noise, touring cities and all that. From releasing tracks underground, juggling gigs, shooting videos, to uploading them, city-based rock bands and rap crews are doing it all, all alone, by themselves. Dude, aren't we talking of an exercise in resilience here?
The Carrot Fish, The 9th Cadaver and The Harmonic Friction
Run for power


If you''ve forgotten to charge your ipod and a power plug is nowhere in sight, a simple run could help you get out of the trouble - if new technology being developed is successful. Every step you take can generate electricity. By packing 20,000 nanowires into three square centimeters, Georgia Tech scientists have developed the world''s first gadget powered solely by piezoelectric materials.
Code of conduct
Teenagers on social networking sites such as Facebook and Bebo are using code language to keep their activities private and baffle nosey parents or employers, say researchers. Tricky teenagers say they are 'getting MWI' — getting mad with, instead of writing that they are drunk.Being in a relationship is known as 'taken' or 'Ownageeee', and 'Ridneck', a corruption of redneck, means to feel embarrassed.Girls posting the word 'legal' are secretly saying they are at least 16 years old and legally allowed to have sex.