M A I N N E W S
India rolls out first indigenous stealth warship
Ajay Banerjee
Tribune News Service
Mumbai , April 29
India has effected a generational shift in its warship-building capability by commissioning INS Shivalik — the first indigenously built stealth frigate that is the biggest in its class in the world. The ship, which is 143 metres long, can tactically fire weapons even before the enemy detects it.
The hard-to-detect warship will form a crucial component of the Indian Navy. It is equipped with a mix of Indian, Russian, Israeli and western weapons and sensors.
INS Shivalik, the first of the three new stealth frigates for the Navy, was commissioned by Defence Minister AK Antony at the Mazagon Docks here today. Antony said the two other such ships — INS Satpura and the INS Sahayadari — would follow within 11 months. Each ship would carry on board long-range surface-to-surface Klub missiles, area defence missiles Shtil and Barak, anti-submarine torpedoes, 100 mm mounted gun and six-barrelled 30 mm gun. Ships like these would form the core of the India's battle fleet in the first half of this century.
A 250-member crew, including 35 officers, will man INS Shivalik. The new design features give the ship enhanced operational capabilities in terms of survivability, stealth, sea keeping, ship handling and weapons.
The sea king Choppers on board will carry torpedoes to target submarines which are out of the ship's ranges. It will have an array of sensors and an anti-missile defence for its own protection and also coordinate the firing of onboard weapons.
In future the Navy is looking to have a data exchange system with the IAF's Airborne Warning and Control System (AWACS). A system is being integrated with the AWACS to provide data that may be out of the range of the ship. This will provide an edge in firing of weapons.
The naval satellite to be launched in the near future will help this ship to coordinate with other ships in the fleet for firing of weapons and will form the network centric operations. The combat management system developed by the Bharat electronic systems will give the ship's captain a view of all weapons and data in one screen. For first time a battle-ready ship has been commissioned. Almost all the guns have been tested, the Commanding officer, Captain MD Suresh, said, adding that some of these were fired in the first test sortie with the ship builders on board.
State-of-the-art INS Shivalik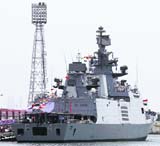 n India's first indigenously built stealth frigate with over 80 pc local components
n 6,200 tonne displacement; 143 metres long
n Biggest stealth ship among 'frigate' warships
n Can hoodwink enemy radars, sensors by concealing its size
n Has three-dimensional warfare capability — surface, air, underwater
n Its weapons suites have anti-ship, anti-submarine, air defence missiles
n Powered by a unique combination of gas, diesel engines
n Can stay in sea for more than 3 weeks or cover 10,800 km without refuelling.
n Its filters can protect crew during a nuclear, biological or chemical attack.