Symbols of SUKHNA
Treasure haunt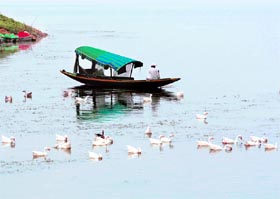 If Robert Langdon, the protagonist of Dan Brown's novel Da Vinci Code, were to visit Chandigarh, he would love it. He would be happily decoding the city's myriad symbols and signs embedded into its buildings and art works by its legendry architect-planner Le Corbusier. Be it the famous tapestries of the High Court or the Assembly, the bass-reliefs on the concrete facades of College of Architecture or the enamelled door of the Assembly.

Photos by writer

Little luck, little logic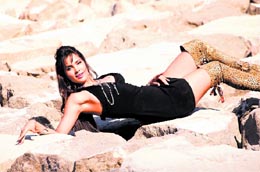 Lara Dutta debuted in 'Andaaz' with Priyanka Chopra opposite Akshay Kumar. She bagged Filmfare Best Female Award in 2003 for this film. The actor with films like No Entry, Jhoom Barabar Jhoom, Partner, Billoo and Blue is on top of the world now. Her latest film Housefull, a comedy caper where she stars with Akshay Kumar, Deepika Padukone and Jiah Khan, hits the theatres today. She talks to Lifestyle:


Lara Dutta

Comedy of errors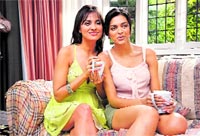 Film: Housefull
Producer: Sajid Nadiadwala and Sunil Lulla
Director: Sajid Khan
Starring: Akshay Kumar, Deepika Padukone, Lara Dutta, Riteish Deshmukh, Jiah Khan, Arjun Rampal, Randhir Kapoor, Boman Irani


A scene from Housefull

Side Lanes
The graduate
Four years seem to have passed at break neck speed. Each semester has made us ask a million questions about the exam results. He has never given us a chance to complain. In the beginning there used to be an occasional B+ but usually there were straight As and A+s. Today he is at the top of his class. His tutors think highly of him. When he was praised by the teacher who was conducting an international project, parts of which were to be put before the UN, our pride made us quite bloated and painful in company. This is our youngest son. The other two have made their international mark professionally. This fledgling has to find his place in the world.
Objet D'ART
A Street Called Desire
Not so long ago, artist Gulammohammad Sheikh introduced us to popular folk art kavad. In the traditional sense, kavad is a wooden painted temple, with lots of panels and secret compartments that fold out and in to tell a story.
Creative ZONE
Sing along!


She was among the 50 finalists on the Zee TV Antakshari Show in 2007-08. But, Priyanka wants to achieve greater heights through sincere hardwork and dedication. Hailing from Hoshiarpur and educated at Sacred Heart School, Amritsar, Auckland Convent, Shimla, and DAV-15, Priyanka, who is pursuing a Master's degree in English literature from the MCM College-36, is one of the most sought after singers for any show that is held in the city.
Folk tell


Indian folk paintings act as a canvas for myriad customs and traditions of indigenous communities
A piece of art is appreciated neither because it is modern nor ancient, but because it is a sincere catharsis of emotions, a true reflection of aesthetic persona and an embodiment of one's soul. One such form that deserves a special mention is the vibrant folk art, which is a unique portrayal of the country's multidimensional cultural ethos and a true icon of nationality.