M A I N N E W S
The Last Word

Parkash Singh Badal
Can he still weave his magic?
Naveen S Garewal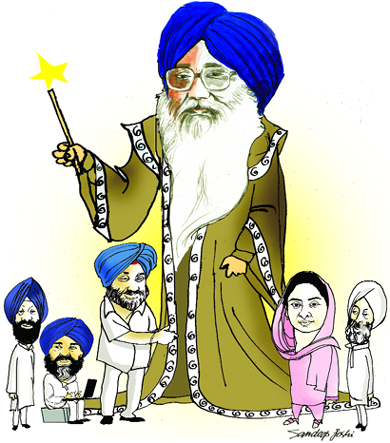 Imposing in a patriarchal kind of way, Parkash Singh Badal towers over other political leaders in Punjab, the land of his ancestors that has become his personal fiefdom. He cultivates a folksy image, yet is seen as a foxy politician. It has been a long innings for a man who was first elected to the state Assembly in 1957, at the age of 30. He is now 83.
He is readily accessible to people, but even those closest to him can't claim to know his mind - not even his son, Deputy Chief Minister Sukhbir Singh Badal. Each time there is talk about his failing health, the veteran leader proves his adversaries wrong by returning to political centre-stage and asserting his command.
When the Supreme Court recently quashed the expulsion of his predecessor, Captain Amarinder Singh, it was seen as a major challenge to the Akali Dal, but Badal could not respond since he is in the USA, where his ailing wife Surinder Kaur is being treated. When he returns, fireworks are expected between the old adversaries, but will Badal still be able to keep his political magic alive?
During his solitary visit to the Vidhan Sabha for the Budget Session, Badal was dressed in a white kurta pajama and sported a blue turban. He can sit patiently for hours, but that day he shifted his weight from one side of the chair to the other trying to dodge the discomfort from the herpes he is recovering from. "Kaka ji, main bahut takleef sahi hai, par ehni buri koi vi nahin" (I have faced many illnesses, but none has been so painful), he said.
Like any patriarch, he looks after his brood. The pan-Panthic Shiromani Akali Dal has turned into a family-run 'business'. The family has other businesses too, but that's another story. There is simply no one who can question Badal's authority or decisions. He does not impose decisions, just ensures that he is asked by the political affairs committee of the party to 'decide' on crucial appointments and issues.
The most important decision was to anoint his son, Sukhbir Singh Badal, as the heir to the throne. Yet, no one knows exactly when he will finally take over. Sukhbir is already the president of the Shiromani Akali Dal as well as the Deputy Chief Minister. He runs the show by issuing contracts, posting officers, etc. When will the de facto Chief Minister become the de jure CM ? The good Badal keeps everybody guessing.
What about brother Gurdass's son? The competent, intelligent, soft, conformist face of the SAD - Manpreet Singh Badal -- who has been marginalised within the government and the party? What will his role be? Ah! Ambiguity! That political mantra.
Parkash Singh Badal, the leader closely identified with the rural masses of Punjab, went to the cosmopolitan Lahore to study just before Partition. He earned his FA from Sikh National College and did BA from Forman Christian College. The four-time Chief Minister of Punjab did not want to join politics but the Provincial Civil Services after graduation. His uncle, Sardar Teja Singh, however, initiated him into politics. It was after he became an MLA that he married Surinder Kaur, who also came from a political family.
Badal, Parkash Singh's village, became his last name, replacing Dhillon, and ambiguity became his political mantra - his success has been in direct proportion to his indistinctness. He weathered many a storm in his long political innings, and ousted or outlasted all potential rivals.
He has, of late, donned the mantle of a 'saint', but critics call him an opportunist. Badal speaks strongly against terrorism today, but remained mum when 'gun-toting boys' moved freely in Punjab. A vocal votary of a strong federal set-up and all for dilution of the powers of the Centre, he sups with the Bharatiya Janata Party, which advocates a strong Centre.
Ambiguities aside, Badal is a mass leader, who is at his most effective mingling with his constituents, so much so that he seldom has time for policy-making or other administrative chores. His day starts early. He listens to every person who comes to him with a plea. It is a separate issue whether the grievances get redressed or not.
He politically emasculated his arch-rival, bitter critic and predecessor Captain Amarinder Singh by keeping his cool. Instead of trying to send Amarinder to jail, he weakened him politically. And he did it all with clinical coolness, without ever making a comment or remark. He, however, tripped on the issue of expelling Amarinder Singh from the state Assembly. What was initially thought to be a Badal triumph is now seen as a major blow to him.
People who know him well remember how Badal first promoted politicians with potential and then neutralised them. Prominent 'friends-turned-foes' include Jathedar Mohan Singh Tur, Jathedar Jagdev Singh Talwandi, Sant Harchand Singh Longowal, Surjit Singh Barnala and Gurcharan Singh Tohra. Badal is not known to forgive those who betray him. He may wait for the sake of political expediency, but he never forgets and strikes at the right time, but discreetly.
There is no disputing the fact that Badal is one of the last leaders who has witnessed politics from pre-Independence era to the present millennium. He could easily have been a national leader had he not decided to remain firmly embedded in Punjab. Centre-bashing has paid him rich dividends and given him a distinct identity.
Badal refutes the accusation that he has not done enough for the state despite being in command in Punjab and at the Centre as Union Agriculture Minister under Morarji Desai. "Don't judge by the tenures I have had. Count the actual days my government was allowed to run before being brought down by the abuse of Article 356," he often says.
By his own reckoning, Badal has spent more time in jails than in power. "For as long as I can recall, more time was spent in jail after being rounded up during agitation for the Punjabi Suba, riparian rights for Punjab and other Akali morchas to protest injustices meted out to the state. I have hardly seen my children grow up. Every time I was back from jail, it would take me time to adjust to the new avatar of Sukhbir and Preneet, my daughter," he once told this correspondent.
Of course, Sukhbir can't complain too much of paternal neglect now, and neither can Preneet, whose husband Adesh Partap Singh Kairon, switched his political allegiance from the Congress after his marriage and is one of the most powerful Akali politicians today. Lest others of the brood have a reason to brood about their (political) position in life, Parkash Singh has been accommodating towards them as well. Nephew Manpreet is Finance Minister, daughter-in-law Harsimrat Kaur is Member of Parliament from Bathinda, and daughter-in-law's brother Bikram Singh Majithia, who stepped down as Cabinet Minister to pave way for Sukhbir, is an MLA with much clout and power.
The patriarch takes care of his own! When it comes to pampering his native village, Badal, the sky is the limit. Badal is like an oasis in Punjab, competing with California. The village has a state-of-the-art telephone exchange, its mansions are stately, roads the best and electricity round-the-clock.
Now, if only he could have done that for Punjab. A powerful orator, Badal gathers votes and talks to people in the language they understand. But when it comes to taking decisions, he is at sea. Ambiguity is a mortal enemy of pro-active decisiveness. The state needs a vision that goes beyond Badal, the village.
Badal has several problems before him like unemployment, corruption, lack of human resource development, depleting water table, threat to agricultural yields. But Punjab, which is mainly an agrarian state, has done little for diversification or transformation from agriculture to industrialisation. Badal's vision for the state is limited
to agro-processing and export of fruits and vegetables to "foreign countries".
Currently, Punjab is facing a severe financial crunch. Though, Manpreet feels that the worst for Punjab is over, the Chief Minister himself is incapable of financial wizardry to pull Punjab out of this debt trap.
Badal refuses to carry a wallet or wear a watch. Well, the state's wallet is empty, and the clock is ticking. Badal still has tremendous physical endurance, but the patriarch needs to look beyond his immediate family, to the needs of the people whom he calls his family - the people of Punjab.