MUSIC ZONE
Saurabh & Gaurav
V.V. Brown— Travelling Like The Light
(Island)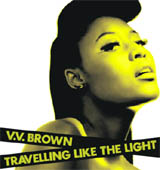 One listen to the album and you'll know you're listening to an artist who's in control of her sound and will continue to make music worth listening to. Brown turns 1950s and early 1960s pop-rock back into the soul from which it emerged without smoothing out the rough edges. The breadth of influences she incorporates into her idiosyncratic music keeps the set from growing stale. The one constant element is Brown's voice, a versatile instrument that she utilises to brilliant effect throughout.`A0 From the heavy funk rhythm section of Game Over to the rapid-fire standout Quick Fix, Brown makes some truly unexpected, inspired stylistic choices. Both Leave! and Crying Blood are excellent, doo-wop influenced ditties, the former carrying a genuinely heart-wrenching lyric about a relationship in freefall. The album's best tracks find Brown giving in to slick pop production. Notably on Shark in the Water, one of the album's catchiest singles, an irresistible guitar riff drives the verses until a fleshed out full band ensemble`A0 and boisterous Brown explode on the chorus as she sings, "Baby there's a shark in the water / there's something underneath my bed / oh, please believe I said / Baby there's a shark in the water."
Best track: Shark In The Water
Worst track: Crazy Amazing
Rating ***
Kate Nash — My Best Friend Is You
(Geffen)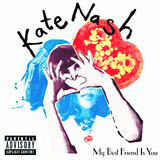 The British Indipop songstress returns on her sophomore album with the same jubilant melodies and girl-power attitude that won us over on her debut, Made of Bricks, that resulted in some fantastically catchy pop tunes loaded with cutting-edge contemporary tracks. Kate Nash's latest is bratty pop with a heavy accent and, at times, equally heavy subject matter. She finds her dream producer in Bernard Butler. The former Suede guitarist frames Nash against a backdrop of sweeping strings and melodies. It works beautifully on tracks like Do Wah Doo and Paris, while Take Me To A Higher Plane adds a country feel to the mix. Kiss That Grrl, Later On and Early Christmas Present are all addictive, but the quieter moments work well too, including the touching I Hate Seagulls, that slowly reveals itself as a declaration of love, while Pickpocket is a fragile, hushed ballad with just piano for accompaniment. There are more highlights here, including I Just Love You More, which is easy and flourishing, with just a distorted guitar hook and Nash repeating the title until she bursts into screams for the chorus. My Best Friend Is You doesn't tread any new ground but is a solid pop record that's simple in spirit and should catch on with fans of the new wave of Brit girl pop.
Best track: Do Wah Doo
Worst track: You Were So Far Away `A0
Rating **
Cornershop— Judy Sucks Lemon For Breakfast
(Ample Play)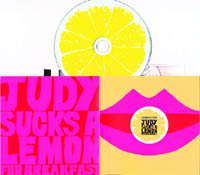 Tejinder and Co. have picked up where their last big singles, Brimful of Asha and Lessons Learned From Rocky I To Rocky III, left off. The sound on the album is breezy, with the simplest of two-chord rhythm tickled by unpredictable flourishes: sitar licks, analogue synthesisers, sudden bursts of choruses (the massed 'Manchester and Liverpool' line in Soul School), sprightly dholaks and bubbly trumpets. The first single The Roll Off Characteristics (of History in the Making) is immensely catchy, especially for a song that incorporates a strong brief take on the early roots of corporate globalisation. The brief couplet early in the piece clearly sums up the song's title: "Winners will never be losers, and the losers will never win." Free Love is an inspirational strings-laden trip into traditional Punjabi folk filtered backwards through the Beatles' Tomorrow Never Knows, while the opener Who Fingered Rock 'n' Roll breezes on crisp piano, tight guitar licks and delicious trombone. After an uncomplicated cover of Dylan's The Mighty Quinn, The Constant Springs wanders along passably, while instrumental Chamchu is an agreeable dub-bhangra groove. The album really rounds out Cornershop's musical passions and its multi-layered production reflects that they've developed great confidence and competence in their sound.
Best track: The Roll Off Characteristics
Worst track: Shut Southall Down
Rating ***
Album of the month
Erykah Badu— New Amerykah Part Two: Return of the Ankh
(Motown)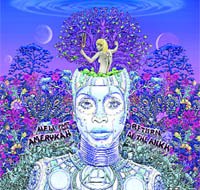 Erykah Badu emerged in 1997 with her masterful debut album Baduizm. Since then Badu's career has followed a similar route to those of her neo-soul peers. She hasn't released very much music in the last 13 years, but what she has released has been increasingly well accepted. If Part One brought us the politically charged, musically eclectic side of the Badu charm, then Part Two is all about the interpersonal, soulful side.
The songs here are about romance and self-evolution. Badu plays a gold digger in Turn Me Away (Get MuNNY), a loyal girlfriend in Gone Baby, Don't Be Long, and a femme fatale in Fall in Love (Your Funeral), which borrows an expression from the Notorious B.I.G., "Slow singin' and flower bringing/ If my burglar alarm starts ringing."
The centre of the album is cut with a computerised vocal announcing that humankind only experiences two feelings, love and fear, lashing out a three-song suite. Love is the most uncomplicated with Badu developing her voice into an interesting chorus over laid-back funk. Keyboardist James Poyser and producer Georgia Anne Muldrow gradually turn up the intensity on the 10 minutes closer Out My Mind, Just in Time, building from a piano bar lament into a harried echo chamber of jazz-funk beats. Incense ends with a reprise of the reversed vocals that became the voiced renovation of the famed Network monologue on Part One's Twinkle. On the slow jam, Window Seat, Badu sings yearningly about wanting "A chance to fly/ A chance to cry/ And a long bye bye." New Amerykah, Part Two: Return of the Ankh is a record full of smooth, creative, grooving songs that are exceptionally well-conceived, penned, and executed.
Best track: Out Of My Mind, Just In Time
Worst track: Agitation
Top 10 singles
Nothin' On You B.o.B Feat. Bruno Mars (CU)

Rude Boy Rihanna (FD)

Hey Soul Sister Train (NM)

Break Your Heart Taio Cruz (CU)

OMG Usher feat. will.i.am (CU)

Telephone Lady Gaga Feat. Beyonce (FD)

Your Love Is My Drug Ke$ha (NE)

Need You Now Lady Antebulum (FD)

Carry Out Timbaland Feat. Justin Timberlake (FD)

Whataya Want From Me Adam Lambert (CU)
Legend: CU (coming up); NM (non-mover); FD (falling down); NE (new entry)