TELEPROMPT
Modi tweets all over
Mannika Chopra

The IPL seems to be a never-ending news story — the scandal, not the game. As the final match wrapped up, rather tamely, on Sunday night, the who-did-what-to-whom-and-when saga continued with full force. The muck is till flying thick and fast, and at the speed of lightening, which is quite difficult, given that muck is not known to have the velocity of lightening. But you know what I mean. If you lose one link to the story, you are doomed and have to start all over again.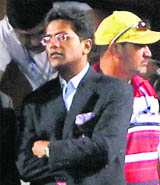 Every time you switched on the TV, you would see Lalit Modi full of bravado and bluster
There is no canning this can of worms. It is a riddle, wrapped in an enigma inside a puzzle. Of course, Winston Churchill was referring to Russia, decades ago, but he may well have meant the IPL. Every time you switch on the news, you can see Lalit Modi full of bravado and bluster and tweeting furiously (I will be back. I have only been suspended. I will show them). Hell hath no fury like a tweeter scorned. The BCCI is talking about missing papers, absentee owners and such like. It almost sounds as if, before this whole tamasha hit the airwaves, the BCCI was a giant invisible blob, not knowing or caring about the internal functioning of the IPL.
Clearly, the stars of the IPL soap do not believe in self-deprecation, or self-revelation as much as the blame game. But making it easier for us folks who don't own millions, and are not likely to, were some exclusive interviews with some team owners (read celebs) whose teams are being scanned by the Income Tax Department. Enter Preity (dimple) Zinta and Shilpa (really can't stop giggling and flicking her hair) Shetty. On NDTV 24X7, Zinta said she had nothing wrong, all the while hotly proclaiming that she pays her taxes diligently. In fact, she could not even pronounce the word benami. In an anglicised kind of way, the star called it be-name-ee. So innocent, na? It was left to a mightily amused anchor Barkha Dutt to pronounce the word correctly and explain to dumb ol' Zinta what the word actually meant.
On CNBC 18, Anuradha Sengupta interviewed Shilpa Shetty, who also proclaimed her innocence, along with husband Raj Kundra's. Shetty is an interviewer's delight. She looks good; marriage has not resulted in any weight gain, and she comes up with good one-liners. So when this generally smart and sharp star says both she and Kundra did their homework when they were co-buying the Rajasthan Royals, why don't we believe her?
Alas, Shah Rukh Khan, the owner of the third team under the scanner, Kolkata Knight Riders, has not given his version till this column was written. This is surprising because till about two weeks ago you could not but help bump into the Khan on your TV screen. From shows on Travel and Living to tweets on his team's dismal performance, he was everywhere. Perhaps silence is golden.
And as the IPL, the matches not the controversy, ends, other entertainment shows are thankfully popping up. Like Indian Idol on Sony. American Idol on Star World is now on the extremely talented stage. Each weekly show, as the numbers of the contestants get whittled, is riveting. I am rooting for the bluesy, country singer Crystal what'shername. Indian Idol, however, is definitely at phase one — beginners and starters — full of nervous hand-wringing and bleeding hearts. Judges Anu Malik, Sunidhi Chauhan and Salim Merchant are busy separating the toads from the nightingales — no offence to toads.
And the process is quite hysterical. Aka, Annu, who refused to believe she sung badly, since she had sung 900 songs over a space of two days. Ultimately, she had to be escorted from the stage by security guards. Just as I was thinking that all the wannabe Indian idols can only sing filmi numbers, out pops one greasy-locked Dilshad Ahmed from Aligarh. It was so refreshing to hear something different, and, yes, I did get teary-eyed because after all he was singing a Nusrat Fateh Ali Khan qawwali and it was fantastic.
Equally refreshing in the midst of this cricket mayhem was actually an event that happened a few weeks ago. So this is bit of a flashback. The inaugural World Kabaddi Cup was held in Ludhiana's Guru Nanak Stadium. The finals were a face-off between Pakistan and India in front of a crowd that would easily have been over 50,000. That the finals were taking place during the height of the Shoaib-Sania telethon and cricket matches may have explained the lack of national coverage, but it still doesn't condone it.
The Pakistani captain, in tasteless, pre-match remarks, said having taken one trophy, Sania, Pakistan was ready to take a bigger one — the Kabaddi World Cup. As it happened, India won the championship handsomely and it was left to Star News to carry a detailed news item showing screaming fans in a frenzy.