Field wide open
The cricket stadium at Dharamsala is a step forward for sports in the region, but more infrastructural support is needed to make it run, writes Gopal Sharma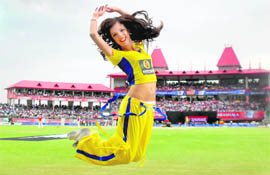 It could be a giant leap for the uplift of cricket in the hill state of Himachal Pradesh. With the hosting of two Indian Premier League (IPL 3) matches in mid-April at the picturesque cricket stadium in Dharamsala by the Himachal Pradesh Cricket Association, cricket is sure to get a big boost.

HIGH SPIRITS: An IPL cheerleader brings colour to the air at the cricket stadium at Dharamsala. Photo: Pradeep Tewari

Fitness mantra
Chill fill
Nancy Sahni
The heat is increasing day by day as the summer gets on and it brings along the usual problems like heat strokes, dehydration and listlessness. Cool foods help our body to rehydrate and replenish important electrolytes such as sodium and potassium. If we look around, Mother Nature provides us with all these 'cool' foods during the summer months. Technology has advanced so much that these seasonal foods are available the entire year. So, rejuvenate your immune system and stay hydrated with these 'cool' mantras.
Scorch bearers
For a soft summer skin, keep it hydrated, cut down on fizzy drinks
and eat healthy
Shilpa Raina
Gearing up to protect your skin from the summer sun? Water, sunscreen, an umbrella and cotton clothes are not enough. Experts say to keep feeling soft and radiant, increase the intake of liquids, stock up on rose water and go for non-spicy foods.