Brand ambassador

In the city, Claudia Ciesla of Bigg Boss 3 fame reveals her love for India and everything Indian
In love with the culture and people of India, working dedicatedly for underprivileged children, trying to adjust and get in better inputs to improve the education system (particularly of the Lovely University); a keen interest in understanding the religion of this country, and last but definitely not the least, mesmerised by the glitz of Bollywood.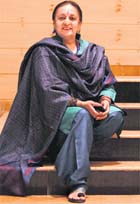 High designs
An innocuous looking envelope arrives at gifted costume designer Dolly Ahluwalia Tewari's Panchkula home. She spots the word IIFA. Just when she is ready to dismiss it as an invite, she reads a little more. Goodness gracious, she just cannot believe her eyes. For it reads - congratulations you have won the IIFA (International Indian Film Academy) award 2010 for costume designing for the movie Love Aaj Kal.




City-based costume designer Dolly Ahluwalia Tewari has won the International Indian Film Academy award 2010 for the movie Love Aaj Kal
Picks & piques
Comedy of errors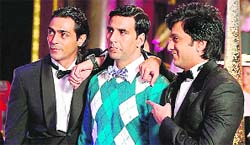 The IPL is over and the T20 Champions Trophy has begun in earnest. Hopefully, it won't have the same impact on the cricket-loving public like the IPL ó at least that's what the Bollywood honchos are praying for! The biggies have jumped at the opportunity to crawl out of the godowns and the first one to see the light is Houseful. Director Sajid Khan's second film is a multi-starcast comedy supported by Sajid Nadiawala.
Brand ahead!
Bollywood stars Shah Rukh Khan and Kareena Kapoor left behind a brigade of other celebrities in popularity to top the Bollywood Barometer ranked by eBay India.
In good company
Unperturbed by box office duds post Kaminey, Bollywood actor Shahid Kapoor is looking forward to the release of Badmash Company and his father Pankaj Kapoor's directorial debut Mausam.
No paani for Kristen
A representative for Kristen Stewart has denied rumours that the Twilight star is heading to Bollywood. Earlier this week, it was reported that Indian director Shekhar Kapur had offered the 20-year-old actress a lead role in his upcoming film Paani.
Die-hard romantic
Alisha Chinoy is probably the only pop diva in Indian music industry, who has also enjoyed success in Bollywood, but personally it has been a tough ride for the Kajra Re crooner.
May we bring in change?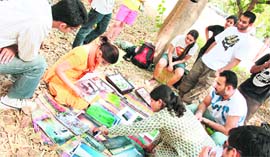 The inaugural day of May Fair, the first-of-its-kind eco-friendly festival in the city, saw a gathering of art and nature lovers at the Leisure Valley
Eco-friendly approach seems to be high on the agenda of city folks. And adding to this is the May-fair, Chandigarhís first-of-its-kind, eco-friendly, zero-electricity, citizen-powered, open-air art and cultural extravaganza that opened at the Leisure Valley-10 on Saturday.
Musical evening
Well-known singers from the city are set to participate in the 39th edition of the cultural bonanza to be presented by the Swar Saptak group at the Law Bhawan-37 on May 2 from 6.30 pm onwards.
Mind game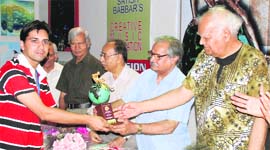 What if an accidental shape that you created after the daily stress of routine work won you an award? What if your mind is the real painter and your hands just a mode for transferring your thoughts on paper? What if simple things make for the most special moments to remember in life? Too philosophical? Well, for Sanjeev Kumar, this is how art is created.

City-based artist Sanjeev Kumar has received an award for his painting at the 2nd All-India Annual Art competition and exhibition held at New Delhi
Diet on cricket
We just canít have enough of cricket. Itís been hardly a week post IPL and we are ready to welcome more cricket and more entertainment. Preparations are also being made across the city restaurants to how to add more fun and thrill to the T20 World Cup.
Liquid asset
Ecological faucets, which save 50% water due to specially designed Pressure compensating Aerator as compared to regular faucet have been introduced in India by KLUDI RAK.
Trained to rock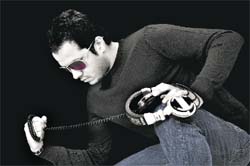 It's all about passion. And if you can hone the passion with a bit of training, you have made it. DJ Ashish Nagpal, who is all set to rock the audience at Black Magic on Saturday, feels training is essential to hone one's skills, whether it is deejaying or making music. "Passion is a good driving force. At the same time, if you club it with training it just makes the individual sound like a professional," says Ashish. "However, there is no denying the fact that training is of no good if you don't have the passion or love for the subject," he adds.
Life-size entertainment
HKMT Acoustic Designs an integrated design, total audio video and automation consulting firm provides a turn-key solution for acoustically customized Hi-definition luxury multimedia rooms for homes.
Tarot TALK
ARIES: The Wheel of Fortune blesses you sensitivity and creativity in whatever you do. Do not take too optimistic an attitude to public activities. Focus on pending jobs. Your spouse might be feeling a little emotional and overly sentimental. Avoid arguments. Tip of the week: Plan your life to avoid the in build delays that comes your way. Lucky colour: Crimson.