M A I N N E W S
Gill applies brakes on tenure of Kalmadi & Co
No sports body chief to serve for more than 12 years
Aditi Tandon
Tribune News Service
New Delhi, May 2
Upsetting the balance of power in the multi-million dollar Indian sports industry, the government today prescribed limits to the hitherto open tenures of those in charge of affairs at the national sports federations (NSFs), including the Indian Olympic Association.
From now on, no president can serve a sports body for more than 12 years (with or without break); a four-year cooling-off period is mandatory for a secretary or treasurer seeking re-election; every office-bearer/member must retire at 70 years. New tenure regulations are in order with the International Olympic Association charter, which limits presidents' tenures to eight years and office-bearers' retirement age to 70 years.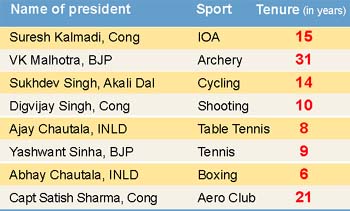 Sports Ministry's new rules spell doom for the authority of the likes of Congress MP Suresh Kalmadi, who has been president of the IOA for 15 years (he was the parallel chief of Indian Athletics Federation for over 25 years but quit the post a while ago to pave the way for his confidant Lalit Bhanot); former Congress minister Priyaranjan Dasmunshi, president of the All-India Football Association since 1989 (these days aviation minister Praful Patel is the acting football chief due to Munshi's illness); BJP's VK Malhotra, head, Archery Association of India for 31 years (the maximum tenure held by any politician cian in a sports body).
Equally affected will be Akali Dal's Sukhdev Singh Dhindsa, president, Cycling Federation of India for 14
years, INLD scions Abhay and Ajay Singh Chautala, who have controlled the Indian Boxing Federation and the Table Tennis Federation of India, respectively, for eight years each; BJP's Yashwant Sinha, president of the All India Tennis Association for nine years and Congress' Orissa leader KP Singh Deo who has been controlling the rowing association since nine years. Congressman Satish Sharma, known for his proximity to the Gandhi family, also stands to lose from new orders as he has been the president of Aero Club of India for 24 years.
The new regulations come into force today for every election held hitherto. However, in case of existing elected office-bearers who are currently serving, the rules would apply after their term expires. That means Kalmadi, who has a year to go as IOA chief, can complete his tenure before the new limits halt his march.
Today's orders restore the 1975 cap, which the then Prime Minister Indira Gandhi had put on the tenure of president, secretary and treasurer of NSFs. The said cap was blocked in October 2001 and again by an August 24, 2002, order by Uma Bharti, the then Sports Minister, who passed executive instructions to this effect. MS Gill today told TNS, "I am satisfied that the cryptic order passed on August 24, 2008, by the then minister, blocking the perfectly valid 1975 regulations, served no public interest. I have set it aside and passed new order to serve the best interests of the sportspersons and improve transparency and professional management of Indian sports in the new century."
Sportspersons vs politicians
Government's new rules have come as a whiff of fresh air in times when sportspersons have always had to struggle to manage games in India. Two classic examples of how top sportsmen quit the sector under bureaucratic and political pressure are those of Prakash Padukone and BS Bedi. Ace badminton player Prakash Padukone could not complete his four-year tenure as chief of the All India Football Association and quit after two years. The association is now under former Air India director VK Verma, who is also executive secretary of the organising committee of Commonwealth Games. Similarly, cricketer BS Bedi could not survive as chief of the Delhi District Cricket Association, which is now presided over by BJP leader Arun Jaitley.
Now, Excise Dept slaps notices on Kings XI
Jangveer Singh/TNS
Chandigarh, May 2
After being surveyed for income tax violations, Kings XI Punjab has been slapped with two notices by the Punjab Excise and Taxation Department, which has now asked it to deposit entertainment duty for all matches held after March 31 this year.
The Punjab Cricket Association (PCA) was exempt from entertainment duty earlier even as 125 per cent entertainment duty was charged for all sports and culture related events in the state.
In the last Budget, entertainment duty was reduced to 25 per cent with state Finance Minister Manpreet Singh Badal claiming it might result in more revenue as there was lot of evasion due to high duty.
The Excise and Taxation Department has taken the view that exemption given to the PCA was only till March 31. It also maintains that following this, the Cabinet has taken a decision to charge entertainment duty of 25 per cent, which is applicable to the PCA also. Accordingly, the Excise and Taxation Commissioner A Venu Prasad confirmed that two notices had been issued to Kings XI to pay entertainment duty on all matches held at the PCA stadium after March 31.
Though the duty applicable will be based on the receipts for the matches, sources said Kings XI could be asked to pay around Rs 1 crore per match to the state. This is based on the price of an average ticket sold by the franchisee ranging between Rs 125 to Rs 12,000. The PCA stadium has a capacity of 25,000 seats. The commissioner also disclosed that the second notice had been issued to the IPL franchisee after it failed to provide a "satisfactory" reply to the first one. Sources said the franchisee took the plea that all state governments had exempted the BCCI from paying entertainment duty and Punjab should do likewise.