M A I N N E W S
Sex taint spells minister's exit
K'taka minister accused of raping friend's wife, quits
Shubhadeep Choudhury
Tribune News Service
Bangalore, May 2
The BJP government in Karnataka received a big blow today when a minister from Chief Minister Yeddyurappas's home district Shimoga resigned following a report in a daily saying the minister had raped a friend's wife.
Food and Civil Supplies Minister Harathalu Halappa resigned after a Kannada daily carried a front-page story that alleged that he had raped the wife of a social worker. The report did not name the minister, but made it amply clear as to who it was referring to.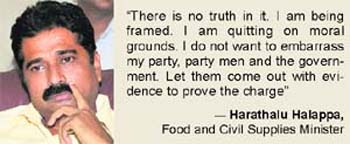 Halappa dismissed the report and said it was "baseless and untrue". He said it was a political conspiracy against him by his political opponents and some from his own party. He, however, but did not name anyone who could be involved in the "conspiracy".
"There is no truth in it. I am being framed. I am quitting on moral grounds. I do not want to embarrass my party, party men and the government. Let them come out with evidence to prove the charge," Halappa told reporters.
The incident allegedly took place about two months ago.
Chief Minister BS Yeddyurappa said in Belgaum that he had accepted the resignation of the minister. Without giving credence to the newspaper report, he said Halappa insisted on quitting to stop the Opposition from exploiting the issue ahead of the panchayat elections in the state. Yeddyurappa said Halappa was a loyal party member who had not faced any allegation in his life.
"Prima facie, there appears to be no truth in the allegations. I told him not to take a hasty decision but he forced me to accept his resignation saying he did not want to embarrass the party, and he wanted to clear his name".
Yeddyurappa said the report was a "political conspiracy" by opponents who could not accept the fact that the BJP government, the first in south India, was implementing a development-oriented agenda and that the party had also won the recent elections to Bangalore city corporation.
Transport Minister R Ashoka has been given the additional charge of food and civil supplies portfolio following Halappa's resignation. Reacting to the issue, president of Karnataka Pradesh Congress Committee RV Deshpande said a criminal case should be filed against Halappa and inquiry held.
He said he had convened a party meeting on Monday to decide on the strategy on the issue as "the prestige and protection of women" were involved. Activists of the Indian Youth Congress also held a demonstration in front of the CM's residence here demanding police action against the minister. Supporters of the Janata Dal also held a protest near his official residence.