M A I N N E W S
No lie detector tests: SC
'Narco, polygraph & brain mapping invade privacy'
R Sedhuraman
Legal Correspondent
New Delhi, May 5
In a verdict expected to weaken cases against terrorists, other dreaded criminals and high-profile offenders, the Supreme Court today cited "mental privacy" to rule that police and other prosecuting agencies cannot forcibly conduct lie detector tests — narcoanalysis, polygraph or brain electrical activation profile (BEAP, popularly known as brain mapping) — on accused, suspects or witnesses.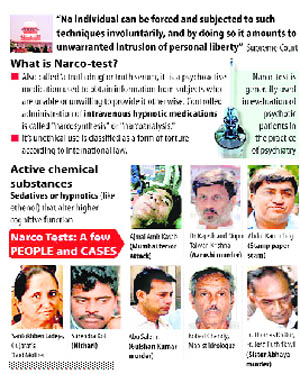 "Compulsory administration of any of these techniques is an unjustified intrusion into the mental privacy of an individual. It would also amount to cruel, inhuman or degrading treatment with regard to the language of evolving international human rights norms," a Bench comprising Chief Justice KG Balakrishnan, RV Raveendran and JM Panchal held.
Further, placing reliance on the results gathered from these techniques would come into conflict with the right to fair trial. "Invocations of a compelling public interest cannot justify the dilution of constitutional rights such as the right against self-incrimination" guaranteed under Article 20(3) of the Constitution, the Bench said in the 251-page verdict, written by the CJI.
Forcing an individual to undergo any of these tests "violates the standard of substantive due process which is required for restraining personal liberty", the apex court said.
Legal experts feel that even those criminals who are in jail after their conviction was upheld by the Supreme Court on the basis of such tests can now seek review of verdicts against them and would be in a better position to obtain bail and acquittal.
Similarly, accused like Sadhvi Pragya Thakur, allegedly involved in the Malegaon blast, and disgraced Satyam chief Ramalinga Raju, facing charges in a Rs 5,000-crore fraud, can now refuse to undergo lie detector test of any sort.
The apex court also observed that the scientific validity of the techniques "has been questioned and it is argued that their results are not entirely reliable…empirical studies suggest that the drug-induced revelations need not necessarily be true".
The Bench said that before arriving at the conclusion it also assessed the "tensions between the desirability of efficient investigation and the preservation of individual liberties" and the reasoning that these techniques "are a softer alternative to the regrettable and allegedly widespread use of third degree methods by investigators".
At the end, the apex court made it clear that the eight-point guidelines issued by the National Human Rights Commission in 2000 for conducting narcoanalysis tests should be strictly adhered to. Among the guidelines were: No lie detector tests should be administered except on the basis of consent of the accused. If the accused volunteers for a lie detector test, he should be given access to a lawyer and the physical, emotional and legal implication of such a test should be explained to him by the police and his lawyer. The consent should be recorded before a judicial magistrate.