This Above all
Zafar and the Mutiny
KHUSHWANT SINGH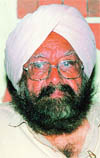 Did you know that Bahadur Shah Zafar, the last Mughal king of Delhi, had 49 children? How did he remember their faces or names? He extended patronage to many great poets like Zauq and Ghalib, both named poet laureate, and Momin. He was an ace archer and horseman. When the mutineers from Meerut entered Delhi on May 11, 1857, he was not sure whether or not to support them.
One version, which he endorsed later at his trial in the Red Fort, is that he was against the rising, and did his best to distance himself from it. Another is that he was overjoyed, got out of his gold throne and once more pronounced himself Emperor of India. He sent orders to rajas and nawabs to send troops to fight the British usurpers. During the five months that this mini War of Independence lasted, he banned cow slaughter. There were no Hindu-Muslim riots, and the only communal tension was between Hindus and Jains.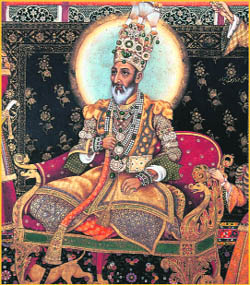 Last Mughal Emperor Bahadur Shah Zafar banned cow slaughter during the five months that the Mutiny lasted
Did you know that while the Mutiny lasted, there was extensive looting of property all over the city, and little attention was paid to the British closing in towards the city? It was only after Bakht Khan arrived and took charge of defence preparations that some law and order was restored, and real confrontation with the British organised. Bakht Khan fought to the end till he realised that the battle was lost, and disappeared. The British were never able to capture him. In the last days, citizens of Delhi, including women, fought the British in every locality they tried to seize but lost.
Did you know that for some months after the Mutiny was quelled, Sikh cavalry occupied Jama Masjid ? There were no calls for prayer, and no Muslim was allowed to enter the grand mosque. I wonder if Imam Bokhari is aware of this. Did you know that while the majority of the Muslims fled the city when the British reoccupied it, some notable persons stayed? Among them was poet Asadullah Khan Ghalib in his haveli in Gali Qasim Jan.
He had congratulated the British when they defeated the Sikhs and annexed their kingdom in 1849. However, not only he and his family but the entire mohalla was guarded by Sikh troops of the Maharajah of Patiala. I learnt some of this and much else after reading the manuscript of Mahmood Farooqiís book entitled Besieged : Views from Delhi 1857 to be published soon by Penguin. Mahmood Farooqi was a Rhodes scholar and now a film maker. He helped William Dalrymple in translating Urdu.
In turn Dalrymple told him of the wealth of untapped material on the Mutiny of 1857, lying in the National Archives, which no one had looked into. So Farooqi got exploring it to complete the book, giving a daily account of events in Delhi to the death of Bahadur Shah Zafar in Rangoon.
Pen and scalpel
Mrs Charanjit Singh (Chairperson of Hotel Le Meridian) gave me an autographed copy of The Scalpel: The Game Beneath (Rupa), and said: "He is a good friend; write something about his novel." I asked her: "What do the initials of his name H.S. stand for?" "I donít know," she replied. "I will find out and let you know." Then she flew off to the US to attend to her nephewís wedding and see the Niagara Falls for the third time.
A few days later came Sadia Dehlvi and insisted: "You better write something about Dr Rissamís novel; you may have heard about his expertise as a heart specialist. You may visit him one day." "What does H.S. stand for? " I asked. "I donít know, but I will find out and let you know," she replied. She never did.
I wrote a postcard to Dr Rissam and asked him to send me his personal bio-data, including his full name. He sent me a sheaf of clippings from over a dozen papers with favourable reviews and an official bio-data without telling me what H.S. stood for. In desperation I sent him a second postcard, spelling out exactly what I wanted to know about him.
This time he answered all my questions, including the initials H.S., and another sheaf of clippings about his book. Harbhajan Singh Rissam is a Kashmiri Sikh. His parents fled from Poonch when tribals aided by the Pakistani army raided Poonch in 1947 in an attempt to annex Kashmir. He was born in Jammu in August, 1951. He did his MBBS from Government Medical College, Amritsar, and MD in cardiology from the PGI, Chandigarh.
Thereafter, he travelled around the globe visiting universities and heart institutes. Today he is head of Max Heart and Vascular Institute. Alongside his medical work, Dr Rissam cultivated interest in literature, reading fiction and poetry. It was in a suburb of Paris, Rouen, that he started writing his novel. It takes you into the world of Mafia gangs, underworld, jihadis, terrorists, cold-blooded killers. It remains to be seen which instrument he uses with greater skill, the scalpel or the pen.
Donít part with the novel after you have read it. The author-doctor promises to give you a 20 per cent discount if you go to Max Heart Institute for treatment, provided you can show the receptionist a copy of the novel. However, if you have parted with it, borrow one to show and you will get the same benefit. The doctor will never know.
Nickname
One man asked another: "What is your name?" The latter, who had the habit of stammering, replied: "Gha see see see seta Ram. Whatís yours?" "Mine is the same. Only my Ghaseet is shorter."
(Contributed by Roshni Johar, Shimla)