COLUMNS

THIS ABOVE ALL
TELEPROMPT
GOOD MOTORING
LIFE'S LESSONS

FOR CHILDREN

CROSSWORD
ROOTS
RHYME TIME

Earlier Feature
TELEVISTA

AUDIO SCAN

Rabindranath Tagore's 150th birth anniversary falls on May 9
Tagore tales on talkies
The works of Rabindranath Tagore have always fascinated filmmakers, as these are universal — in time, space, emotions and human relationships, writes Shoma A. Chatterji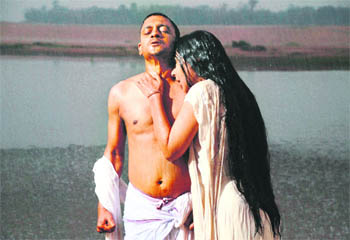 Rabindranath Tagore's writings bring up images of lyricism and romance. Many filmmakers feel that the horizon of a Tagore creation — be it poetry, fiction, essay or drama — is too large, all-encompassing, complex and alien to Indian masses, conditioned to 'popular' literary figures like Sarat Chandra Chattopadhyay and Bankim Chandra Chattopadhyay. Their creations, it is felt, are more cinema-friendly. The 14 remakes of Devdas in different Indian languages is an example.
New but not raw
Bollywood newcomers have a sound understanding of the craft, says Manpreet Kaur
The mantra in Bollywood is no more about learning on the job, but coming prepared before the director calls "action". Newcomers venturing into the industry believe they must have a sound understanding of their craft, even technically.
Beauty via ayurveda
Ayurvedic salons have come of age. They compete with modern parlours in capturing the business of beauty, says Dhanvanti Keshaverao
Take Mumbai, New Delhi, Kolkata and Chennai, for example. A few years ago, you could count the number of ayurvedic beauty parlours in these metros with the fingers of one hand, and still have fingers free to manipulate an eyelash curler. But today there is a multitude of ayurvedic beauty salons, and they vie with the modern beauty parlours in capturing the beauty business.