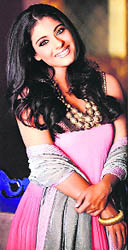 On a role
Urban Indian mothers are staggering under the pressure of being successful career persons, loving care givers and efficient homemakers. To top it all, they aspire to be sexy and slim stylistas like the stars, writes Vimla Patil
A recent shampoo ad that was shown widely on Indian television must have quietly but surely stirred up the hornetís nest in the media! It showed a young mother dropping her daughter to school and looking extremely guilty at the childís question, "Mere baal lambe kyun nahi?"

Yum mums
Bollywood moms are, to some extent, style icons for many a young Indian mother. Motherhood has impacted the careers of these B-town moms differently, some having given it all up for their kids, some having made a comeback post-child rearing...

Better late than never
Surekha Kadapa-Bose
The debate on late motherhood through the Assisted Reproductive Technique has been going on even as the ART Bill is pending before Parliament
RAJO Devi, a resident of Hisar in Haryana, is an unusual mother. Rajo became a proud mother on November 28, 2008. She is 70 years old and her husband Bala Ram is 72. And the much-wished-for baby girl was conceived after extensive IVF (in-vitro fertilisation) treatment.
Forgotten forts of Pinjore
Ajay Bahadur Singh
AurangzeB sent a firman (royal order) to Raja Budh Prakash, alias Mahi Prakash (also known as Bihari Chand) of Sirmaur who ruled from 1659-78), through his eldest son, Prince Muazam. Prince Muazam later ruled over the disintegrating Mughal empire from 1707 to 12, with the title of Shah Alam Bahadur Shah.
Gritty woman
Asma Praveen has done her village in Bihar proud by having been chosen by the UNPF to promote gender empowerment, writes Swapna Majumdar
SAkrisariya in Muzaffarpur district is among the many obscure, backward villages in the state of Bihar. This village would have remained unknown had it not been for the accomplishments of 19-year-old Asma Praveen, who catapulted her family and village to fame by being chosen for the prestigious United Nations Population Fund (UNPF) calendar for this year.
True story of False Point
K. J. S. Chatrath visits the first lighthouse on the east coast of India
FALSE Point ó it was the unusual name that caught my attention. I was fascinated enough by the intriguing name to take a two-hour boat from Paradip Port, on the eastern coast of Orissa, to reach the place.
Smart chimps
Chimpanzees have a highly developed awareness about deaths, two new studies say. In one study, researchers describe the final hours and moment of death of an older female chimp living in a small group at a British safari park as captured on video.

Reality shows donít guarantee success: Sunidhi
Music talent hunt shows on TV may give you opportunity and platform but success comes only if you are talented, says the versatile singer in a chat with Ruchika Kher
POPULAR playback singer Sunidhi Chauhan does not feel that music talent hunt reality shows can guarantee the winner success in Bollywood, though she herself appeared on the Hindi film scene, thanks to a talent hunt on TV.
Will India take flight in Cannes?
A small film by a first-time Mumbai director is set to compete with the best in the worldís premier film festival. Saibal Chatterjee gives a sneak peak of the event which begins on May 12
AS the worldís premier film festival gears up to unveil its 63rd edition from May 12 to 23, the globeís most prolific moviemaking nation, India, has at least one small reason to rejoice.
Mrinalís magic at work
Ranjan Das Gupta chats up the ace filmmaker whose Khandahar will be screened at the Cannes
Mrinal Senís classic Khandahar has been selected for the classic section of the Cannes Film Festival. Dressed in casual white, Mrinal Sen sips a cup of black coffee at his modest South Kolkata residence and says, "Last year, the retrospective of my Calcutta Trilogy, Calcutta 71, Interview and Padatik at Cannes had to be cancelled as film prints were too poor.