Ideal tourist hotspot: HP has miles to go
High-end visitors shy away from hill state
Tribune News Service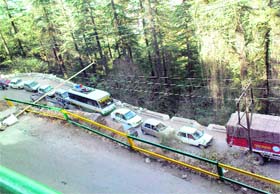 Tourists' Travails
Choked roads
Poor air connectivity
No parking spaces
Lack of basic facilities
Green giving way to concrete
Poor govt assistance
Shimla, May 9
Kerala may be the "God's own country" but when it comes to natural beauty, "Dev Bhoomi" Himachal Pradesh is certainly more blessed.
The pristine and virgin locales attract visitors from every corner of the world to the hill state, making tourism an important sector for state's economy. However, lack of basic infrastructure, haphazard construction activity and unregulated traffic is proving to be a dampener for those who long for unmatched serenity and old-world charm the state offered earlier.
Even as there has been an appreciable increase in the number of tourists visiting Himachal every year, with the figure touching around one crore annually, the government has failed to give a professional impetus to the tourism sector. The result: Himachal has still not become a preferred destination for too many high-end tourists.
Barring three months in a year, the sector sustains mostly on weekend tourism as visitors from neighbouring areas of Punjab, Haryana, Chandigarh and Jammu make a beeline to the hills to get some respite from the scorching heat. It is only in April-May that tourists from Gujarat and Maharashtra come here while in October-November visitors from West Bengal head for the "Queen of Hills".
"We love Himachal for its beautiful locations like Dalhousie, Mcleodganj and Manali but the manner in which natural beauty is being ruined with the coming up of concrete eyesores, these places are losing their original charm," rues Adesh Patel from Gujarat, who has been visiting the state for more than a decade. He says Himachal has everything to offer right from rich culture to adventure sports but lack of professionalism is reflected everywhere.
Ola from Sweden has been frequenting Mcleodganj and its surrounding areas like Dharamkot and Bhagsunag for past many years. "When I first visited the area there were tracks leading to beautiful hamlets in the mountains but within the last decade the resplendent natural beauty has given way to haphazard constructions even along natural springs and waterfalls," she laments.
Poor air connectivity is another stumbling block, which deters the high-end tourists. The flights are scarce and above all unreliable. Domestic tourists complain of lack of basic facilities. The unregulated traffic in Mcleodganj left Delhi-resident Ravinder Singh, who visited Dharamsala for the first time, dismayed. "Mini buses are allowed to ply on the narrow road right up to the Bhagsu Nag waterfall. It obviously leads to congestion," he said.
Lack of parking places in most towns like Shimla, Manali, Dharamshala, Dalhousie is also very frustrating for the visitors.
The Mandi-Kullu-Manali tourist circuit is reeling under similar problems. "Traffic jams on Manali-Rohtang pass route are a routine. The situation is no better in and around Manali", says Rahul and Chetan Kapur, tourists from New Delhi. "Manali has lot of catching up to do on cleanliness front. The sewers are choked and garbage dumps can be seen all around," complained Suhangi and Shailja Bhagat, tourists from Mumbai. The snow scooters are only adding to the increasing pollution levels, they added.
The long unending stream of cement-laden trucks on the Ropar-Mandi highway is a big nuisance, making the journey arduous and mishap-prone.
"Rafting and paragliding are great tourist attractions in Manali. But the administration should fix rates for rafting trips and joyrides as private operators charge at will and fleece tourists," said Ishan and Rehan Malhotra, students from Delhi. "No body is paying heed to the degradation of environment in the higher hills," said Paul Gentleman, a tourist from Britain.
Except for a select few hotels, Mandi town does no have enough quality hotels. Mandi can be a stopover, but it lacks tourist infrastructure, said Manav and Pankaj, tourists from Ludhiana.
Majority of the tourists pointed out that Himachal is an ideal holiday location but there was an urgent need of wider roads, five-star comfort, proper parking lots and better assistance from tourism authorities to make it more attractive.
"The local administration should take effective steps to preserve the natural beauty of the areas. Tourists come to Himachal to take a break from the hustle bustle of big cities. The quaint little towns here has lots to offer," says Ola.
With inputs from Pratibha Chauhan (Shimla), Lalit Mohan (Dharamsala) and Kuldeep Chauhan (Mandi).