'71 war veterans shocked by loss of records
Shubhadeep Choudhury
Tribune News Service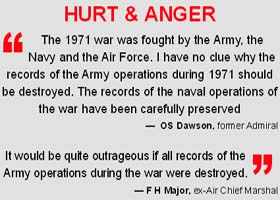 Bangalore, May 9
Veterans of India's most successful war against Pakistan in 1971 have been shocked by the reported destruction of the records of the Army operations started during the campaign.
"I am shocked to read about this", Admiral OS Dawson (retd), who was the director of Naval operations during the war and later became Chief of the Navy, said. Dawson, who now lives in Bangalore, said though not in the scale of the Army, the Navy, too, had imparted training to the members of the Mukti Bahini.
"The Bangladeshis are very good seamen. The guys trained by us were very effective in our operations to block the Chittagong port", Dawson said.
The Navy had also helped set up the Bangladeshi Naval commando unit and had provided command staff for gunboats which were used for riverine operations and disrupted merchant marine movements in East Pakistan.
Dawson recalled the spectacular attack on the Karachi port carried out by the Navy during the war, besides the sinking of Ghazi, the-state-of-the-art submarine leased to Pakistan by the USA. He said he still could not forget the loss of the battleship, INS Khukri, to an attack by the Pakistani submarine, Hangor.
"The 1971 war was fought by all three wings of the armed forces - the Army, the Navy and the Air Force. I have no clue why the records of the Army operations during 1971 should be destroyed. The records of the naval operations of the war have been carefully preserved", Dawson said.
Air Chief Marshal F H Major (retd), former IAF chief, who was a junior officer during the war, said the IAF always maintained a war diary during any hostility and the war diary of the '71 war, containing all details of the IAF operations, had been preserved.
The IAF helped the Mukti Bahini form a light aircraft unit called Kilo flight, which was manned and serviced by Bengali pilots and technicians of who had defected from the Pakistan Air Force. This unit launched attacks on targets in Bangladesh (then East Pakistan) prior to the start of formal combat between India and Pakistan.
Major, now a resident of Bangalore, said while it would be quite outrageous if all records of the Army operations during the war were destroyed. He would not be surprised if only the records related to the Army's engagement with the Mukti Bahini, the armed force consisting of Bangladeshi freedom fighters, were destroyed. He said those records could be destroyed to play down India's direct role in arming and providing training to the Bangladeshi freedom fighters before war between India and Pakistan broke out formally.