The Shaw goes on

Octogenarian Frederick Shaw is roping in slum children to take care of their malnourished counterparts
At the roundabout near PGI, Frederick drives his car through heavy traffic. He senses our surprise at his near perfect driving.

A volunteer teaches the recipe of a nutritious meal

An enigma called Tagore
Choreographer Arnab Bandhopadhyay, singer Srabani Sen and Pranava Banerjee demystify Tagore Maya as the Bengali community celebrates 150th birth anniversary of Rabindranath Tagore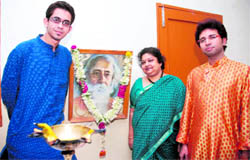 Believing and getting inspired from these words of wisdom that Rabindranath Tagore offered to the world is Arnab Bandhopadhyay. The renowned artiste who has been learning and performing Rabindra nritya natyas or the Tagore dance for the past 20 years will be presenting his Tagore Maya at Tagore Theatre.


Pranava Banerjee, Srabani Sen and Arnab Bandhopadhyay. Photo: S. Chandan

Wedding plans
Marriage may not be on her list of priorities for now but Sameera Reddy has already decided on the jewellery and look for her big day.
Nothing cool about it
Bollywood star Hrithik Roshan on Saturday lost his temper after being mobbed by the media on a visit to the shrine of Sai Baba in Shirdi town but later said he should have acted with restraint in dealing with the throng of mediapersons.
She cares!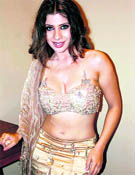 She is known for her 'devil-may-care' attitude and is not one to mince words, but reality show star Sambhavna Seth wonders whether being more manipulative would have helped her showbiz career. "I sometimes regret being so straightforward and non-manipulative. I wonder - if I knew how to be sweet to people and sugarcoat my words, then maybe I would have been more likeable and things would have been easier for me in this industry," Sambhavna said.The star, who is considered the next favourite drama queen on the small screen after Rakhi Sawant, is known face in Bhojpuri cinema and shot to fame in Bollywood with the reality show Bigg Boss 2.

Finding Nemo?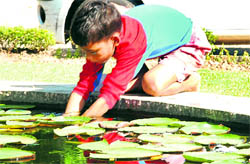 A child tries to catch a fish in the pond at the Government College of Art campus. Lifestyle photos: Nitin Mittal

Ian's Bollywood innings
Legendary cricketer-turned-fundraiser Ian Botham will be starring in a Bollywood movie, it has emerged. The 54-year-old will play a role in the new film Patiala House. Botham, aka Beefy, will be accompanied by fellow England players Graham Gooch and David Gower on set. They will be filming for the movie in the coming few weeks in London.
Mama Mia
Bollywood actress Amrita Arora, who gave birth to a baby boy February 5 this year, is excited about her first Mothers' Day, Sunday.
In the Hot list

Zeenat Aman has beaten off tough competition from some of the greatest film icons in the history of Indian cinema to top Eastern Eye's list of the 50 Sexiest Bollywood Stars of all time. The first leading lady to truly and fully express her sexuality, Zeenat lit up the 1970s with her beautiful face and near perfect body. The fashion icon laid the blueprint for the sexier heroines who dominate Bollywood today and inspired a number of incredibly attractive clones.


Zeenat Aman
Unsavoury truth
Mexican actor Barbara Mori, who will be seen opposite Bollywood star Hrithik Roshan in the forthcoming film Kites, likes being in India but dislikes the Indian food.
Remembering Batalvi
Songs that immortalised literary genius Shiv Kumar Batalvi, like Mainu tera shabaab lei baitha", Ki puchh deo hall faqiran da, were the titles of musical tributes paid to legendary Punjabi poet on his 37th death anniversary by various cultural associations in the city.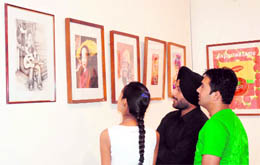 Different strokes
Pencil sketches, water colour drawings for sari borders, portraits, storyboards, animations, advertisements, package designs to other publicity material like posters, diaries and calendars - budding artists have left no stone unturned to showcase their creative talent which are on display at the Government Museum and Art Gallery-10.
Happy feet
Featuring in just two dance sequences Aan milo sajna in Gaddar with Sunny Deol and Amisha Patel and Garba Lagaye.. in Devdas with Shah Rukh Khan, Aishwarya Rai and Madhuri Dixit have made me immensely popular," says kathak dancer Mahua Shanker. "But instead of riding on this popularity wave I wish to sincerely devote myself to kathak," adds Mahua.
Spice up
Superfacial
Many natural ingredients help to cool and refresh the skin during summers. Most fruits can be used for face packs. In fact, fruits like cucumber, papaya, melons, et al. have a cooling effect. These can be used as face masks. They also soothe the skin, while many of them help to remove sweat deposits and reduce oiliness.

Pulling a fast one?
A study says shedding weight quickly is the best way to achieve lasting results. However, city-based fitness experts do not agree
We seldom bother about the means that lead to a certain end. What matters to us is just the final result. Especially so, if we are talking about weight loss. Who cares how we lose it as long as we lose it?
BODY wise
Travel meals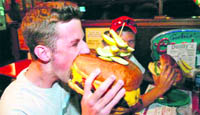 A vacation is a time to unwind, celebrate, rejuvenate, see new places and try new things. But it can lead to inconvenience when it comes to eating out especially if you are trying to diet healthy and maintain or lose weight. It's very easy to fall off the healthy eating wagon when you're on a vacation. An irregular routine - not to mention all of the temptations - can make you opt for poor choices.
Recap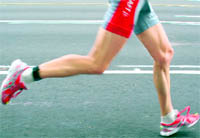 Life for most recipients of a joint/knee replacement is vastly improved after healing from the procedure. Pain that was once always present is often eradicated, allowing normal activity levels during the day and sound sleep at night. However patient related factors besides surgical precision are equally important in ensuring long term survival of artificial knee. The main problem of joint replacements is loosening and infection.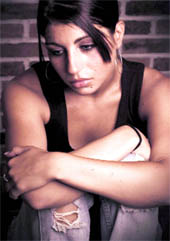 Matters of heart
Women are twice as likely to suffer from heart diseases caused by stress at work places as compared to their male counterparts, a new study has found. The finding suggests that the well-known damaging effects of job stress on men cause more harm to women's heart. During the study, among female nurses in Denmark, researchers observed for 15 years the impact of having a demanding job on the hearts of 12,000 women aged 45 to 64. Those who complained of excessive pressure were at least 50 percent more likely to have heart disease than those who said the pressure was manageable or appropriate. This figure was reduced to 35 percent when lifestyle factors such as smoking were taken into account.
Dark chocolates have much more to them than just the taste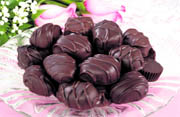 A compound in dark chocolate is likely to protect the brain after a stroke by increasing cellular signals already known to shield nerve cells from damage. Scientists found that a single modest dose of epicatechin, a compound found naturally in dark chocolate, helps in less brain damage in mice induced with ischemic stroke. While most treatments against stroke in humans have to be given within a two to three-hour time window to be effective, epicatechin appeared to limit further neuronal damage when given to mice 3.5 hours after a stroke.