PUNJAB
HARYANA
JAMMU & KASHMIR
HIMACHAL
REGIONAL BRIEFS
NATION
OPINIONS
LETTERS
BUSINESS
SPORTS
WORLD
Tuesday, May 11, 2010, Chandigarh, India
Updated at 3:00 am (IST)

Higher Education Bill hits a bump
4 states reject the draft; law being reworked
New Delhi, May 10
Government's much-hyped Bill on the overarching regulator in higher education is in for major changes after several state governments put up stiff resistance to its proposals, terming these as "anti-federal".
Prime Minister reprimands Ramesh
It is advisable for Cabinet colleagues not to make comments on the functioning of other ministries
New Delhi, May 10


Prime Minister Manmohan Singh today ticked off environment minister Jairam Ramesh for criticising his own government on foreign soil. Known for his irreverence, Jairam Ramesh breached protocol when he described the home ministry as being "alarmist" and "overly defensive" about the entry of Chinese companies in India while speaking to media persons in Beijing over the week-end.
CAST YOUR VOTE
Should India and Pakistan resume composite dialogue?

EDUCATION
JOBS & CAREERS
HEALTH & FITNESS
SCIENCE & TECHNOLOGY
REAL ESTATE

SPORTS & WELLNESS
Race for Jharkhand CM's post hots up in BJP
New Delhi, May 10
Even before the BJP could persuade Jharkhand Chief Minister Shibu Soren to step down for its nominee, contenders in the BJP have started openly staking claim to lead the next government in Ranchi.
The Last Word
Thuingaleng Muivah
Guns and Roses
Why this suited Naga rebel is still important
Guwahati, May 10


He is a rebel who is flown in BSF planes around the country. When he moves, it is in a motorcade, surrounded by officials and security men, much as a high government officer would. While other militants languish in jails, the Government of India once moved at great speed to keep him out of one. He leads an 'army' which has not fought for the last 13 years, and in this lies the key to his special status.
UNION BUDGET 2010-11
RAILWAY BUDGET
2010-11
NDA 60 Glorious Years
1857 The First Challenge
E - Revolution 2005:
A Two-day IT conclave
Assembly Elections - 2005
Turbans
Chandigarh is 50
125 Years of The Tribune
India: The Tasks Ahead
India at Sixty
A Tribune Supplement
EARLIER FEATURES
On Sundays
On Saturdays
Law Minister rules against 'Uncle Judges'
Says they should opt out of HCs where their kin practise
New Delhi, May 10
"Uncle Judges" may soon be a thing of the past. For, the Union Law Ministry is learnt to be keen on taking an undertaking from judges at the time of their elevation that they would not function in a court where their relatives were practising.
Retirement age may now be 65
Shyam Benegal takes on Kalmadi
New Delhi, May 10
There is fresh trouble brewing for the embattled Commonwealth Games Organising Committee chief Suresh Kalmadi. Renowned filmmaker Shyam Benegal has dashed off an angry letter to the group of ministers (GOM), headed by urban development minister Jaipal Reddy, overseeing the preparations for the Commonwealth Games to complain at the last-minute decision to advance the timings of the opening ceremony of the games to favour Australian broadcasting companies.
Green Games: Delhi has lots of cleaning to do
Pollution levels rising, could hit athletes' performance,
warn experts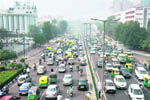 New Delhi, May 10
Reduce, measure and monitor air and noise pollution levels, says the ecological code for the Commonwealth Games 2010. However, the levels of tiny particles in the air are very high and climbing, said the Center for Science and Environment (CSE), an NGO, today.
Chhattisgarh forests death traps: Police
May 10, 2010
BJP wins power tussle
May 9, 2010
Mukesh wins gas battle against Anil in SC
May 8, 2010
Gallows for Kasab
May 7, 2010
No lie detector tests: SC
May 6, 2010
Kasab's head, nothing less, says prosecution
May 5, 2010
Verdict out, Kasab guilty
May 4, 2010
Gill applies brakes on tenure of Kalmadi & Co
May 3, 2010
Bottlenecks for access to Headley cleared
May 2, 2010
2 CRPF jawans held for selling arms to Naxals
May 1, 2010