Alcohol dependence: a fast emerging problem
Dr Rajeev Gupta
Alcohol is the most commonly used psychoactive substance in the world. Used earlier by tribals, today its consumption has gained acceptance both in the rural and urban areas. Punjab and Haryana continue to be the top consumers of alcohol in the country. Regular and heavy users of alcohol fall prey to a vicious pattern of addictive behaviour, a stage of alcohol dependence or alcoholism.
Alcohol dependence is considered a chronic relapsing disease that is often progressive and, if untreated, eventually turns fatal. Alcohol use is often influenced by personal, social and family factors, but the tendency for alcohol dependence often runs in families. Children of alcoholics are four times more likely to become alcoholics than the children of non-alcoholics.
Alcohol dependence and medical illnesses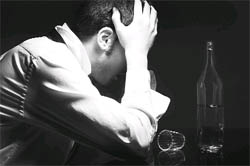 Alcohol consumption is a major health problem in most parts of the world. It is responsible for 3.2 per cent of deaths and 4 per cent of the disability-adjusted life years. Alcohol dependence is known to reduce one's life expectancy by 10 years.
Alcohol is a central nervous system depressant. Initially, one feels that alcohol helps you to uplift your mood and appears as a stimulant. It lowers your emotions and affects your thoughts, actions and judgments. It impairs speech and coordination. Regular alcohol use can cause a number of medical complications:
Liver disorder: A regular drinker can have fatty liver, alcoholic hepatitis and finally cirrhosis. Common signs and symptoms are loss of appetite, nausea, vomiting, jaundice, swelling of feet, abdominal swelling (because of the collection of fluid) or oedema of the whole body, blood in the vomitus or stools. Alcoholic cirrhosis is an irreversible and non-treatable condition.
Gastro-intestinal problems: Alcohol can cause gastritis and impair the system of absorption of vitamins, particularly folic acid and thiamin and other essential nutrients. The pancreas, an insulin-producing organ, is often damaged by alcohol, thus leading to diabetes in alcoholics.
Diabetes complications: Alcohol can cause the release of insulin and precipitate the release of glucose from the liver and can lead to hypoglycemia. It can prove fatal for those diabetics who are on insulin. It is important to remember that their alcohol is a form of sugar.
Sexual problems: In men, it can cause a decrease in libido and sexual dysfunctions.
Cardiovascular effects: Regular drinking can increase one's blood pressure and damage one's heart. It also increases the risk of strokes and heart failure.
Bone loss: Alcohol delays new bone formation and increases one's proneness to fractures and bone thinning.
Risk of cancer: Alcoholics are at a higher risk of developing cancer of the stomach, mouth, pharynx, esophagus, liver, colon, rectum and breast.
Psychiatric complications: Alcohol-dependent individuals are known to suffer from alcoholic hallucinations, memory loss, dementia, pathological jealousy, severe depression, episodes of excitement and confusional state.
Alcohol is an important factor causing road accidents, domestic violence, poor work and scholastic performance, suicides, sexual assaults, rapes, murders and many other law and order problems.
Common myths about alcohol dependence:
* I can stop taking alcohol anytime.
* My friends drink more than me and they are still healthy.
* I am not an alcoholic since I am taking every responsibility.
* Many females feel that their love will help their alcoholic friends or spouses to give up the habit.
Denial in alcohol dependence:
Most alcohol abusers and alcoholics deny they have any kind of problem. In majority of the cases, they have to be persuaded to seek medical help. They turn blind to the problems caused by alcohol. They tend to blame their parents, children, spouses, employers, colleagues, friends or employees for their alcohol habits. They underestimate their drinking habits and never take it seriously.
It is important to remember that social or moderate use of alcohol is quite common, but alcohol abuse or dependence is a serious problem. Regular use of alcohol affects our thinking, perception and coordination capacity.
The writer is a Ludhiana-based psychiatrist. Email: happymind@rediffmail.com