M A I N N E W S
Centre clears decks for first defence varsity
Will come up at a cost of Rs 300 cr near Gurgaon
Tribune News Service
New Delhi, May 13
More than 40 years after it was mooted, the Union Cabinet today gave its approval to set up the nationís first defence university near Gurgaon. It would aim at imparting education on strategic challenges to armed forces officials, bureaucrats, academicians, parliamentarians and trainees at military academies.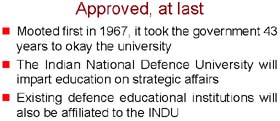 A meeting of the Cabinet, chaired by Prime Minister Manmohan Singh, accorded an in principle approval to set up the Indian National Defence University (INDU), Information and Broadcasting Minister Ambika Soni told reporters here.
The university will come up at Binola, around 20 km from Gurgaon, the glitzy financial capital of Haryana and a suburb of Delhi. To be established at an estimated Rs 300 crore, the institute would come up on an area of about 200 acres. A sum of Rs 100 crore has been earmarked for land acquisition.
The existing defence educational institutions like the National Defence College, New Delhi, College of Defence Management, Secunderabad, National Staff College, Wellington, and National Defence Academy, Pune, would also be affiliated to the INDU. At present, these institutions are attached to various universities across the country.
The proposed university, which would be fully autonomous and constituted under an Act of Parliament, would promote policy-oriented research on all aspects of national security as part of the strategic national policy-making. The university was first mooted in 1967 and the matter was accorded all seriousness after the 1999 Kargil conflict.
The government had set up a Kargil Review Committee, headed by strategic expert K Subrahmanyam, which had recommended establishment of such a university to exclusively deal with defence and strategic matters. It will encourage awareness of national security issues by reaching out to scholars and an audience beyond the official machinery.
Earlier, Ambika Soni said the INDU would educate national security leaders on all aspects of strategies in the fields of security, military, information and technology through teaching and research. The university will undertake long-term defence and strategic studies and create synergy between the academic community and government functionaries, she added.
Gurgaon MP Rao Inderjit Singh, a former minister of state for defence in the first term of the UPA, has also welcomed the move.