Down to earth
In the city for a fashion show, Miss India Earth-2009, Shreya Kishore, has a lot on her mind than just the ramp
The last time she was here, global warming (read Copenhagen Summit) and Chandigarh Fashion Week was on her agenda. In Chandigarh again, Miss India Earth-2009, Shreya Kishore, has new issues and another ramp to walk on.
Shreya Kishore and Kaushik Ghosh pose with the students of IIFT
Show time
Another round of fashion and glamour will be witnessed at the DT City Mall, IT Park, when students of IIFT, Mohali, showcase their collections at the institute's annual show — Lakshya 2010 — on Friday. As many as 70 designs will be displayed in a combined effort by 50 students, which will be based on themes like the monsoon, colour competition, ethno-paradise and much more.


Face & Facets
Each frame reflects the same face but reveals a different facet. The person is one, while the persona infinite. Aleph, an exhibition of 30 self-portraits by young artist Navdeep Sandhu is true to its meaning — literally first and only tangentially narcissist.

OBJET D' ART
TRUCK load
The ornate exterior, funny one-liners and a lingo that is peculiar, trucks continue to inspire artistes and photographers alike
One may dismiss them as the licensed killers on highways, but one cannot ignore the fact that they make for a genre of art that is peculiar to this part of the world. We are talking about truck art or rather 'Trucklore', to coin a term for the man and the machine!



A painting by Bheem Malhotra
creative zone
Of love & longing
Born with a deeply sensitive mind, child prodigy Harnek grew up listening to stories of the plight of families of a particular community uprooted during the Partition in 1947. While being raised by his maternal parents at village Gharuan, he would often think of those who had to leave their native places for no fault of their's.
Side Lanes
The glamour quotient
For women of all ages, Shashi Twitter Tharoor is the quintessential lover. Boyishly youthful, with a soft flick of thick hair rakishly hanging over one eye (all of us would love to run gentle fingers through it so that it does not hurt his expressive orbs); a voice like warm honey brandy and that look of wide-eyed innocence which appeals to our motherly instincts.
Ethnic drapes
If you wish to drape yourself in elegance, exclusivity and ethnic charm, here's an option. Fabindia brings you hand-crafted saris, and a collection in a variety of craft techniques, fabrics and colours. The range extends from cotton, kota and silk blends such as Mangalgiri, Poona, Sooti to chanderi, which make for a perfect light summer wear.
Fab-ulous
This is an endavour to get craftsmen and customers together. A fashion show organised by Rashtriya Sanskriti Samaj Avom Sabhyata at Kisan Bhawan, Sector 35, on the eve of inaugration of 'Fab of Indya' an exhibition-cum-sale starting May 14 to May23.
Self worth
A self-portrait by Edouard Manet, the father of Impressionism, may raise as much as 30 million pounds at an auction. Self-Portrait With A Palette is one of the two existing works that Manet had painted of himself. The other is at the Bridgestone Museum of Art in Tokyo.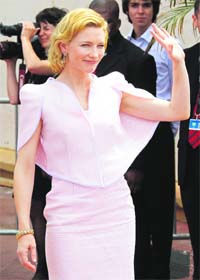 Robin(g) the limelight
Ridley Scott's modern take on the famous outlaw of Sherwood Robin Hood opened the 12-day run of the 63rd Cannes Film Festival on Wednesday. The epic drama, playing outside the competition, narrates the story of how the legend of Robin Hood began.
Ban on Diaz
Hollywood actress Cameron Diaz has been banned by her lover Alex 'A-Rod' Rodriguez from watching his baseball games all like his ex Kate Hudson, as he wants to take things slowly with her.
Koffee break
Assam Safary
Darsheel Safary, who played the dyslexic kid in Aamir Khan's Taare Zameen Par is back on the silver screen after two-and-a-half years in Priyadarshan's Bumm Bumm Bole along with another child star Ziyah Vastani.


New REleases
Emotion packed
Film: Bum Bum Bole
Producers: Percept Pictures and Sanjay Ghodawat group
Director: Priyadarshan
Star cast: Darsheel Safary, Ziyah Vastani, Atul Kulkarni, Ritupurna Sengupta