ART & LITERATURE
'ART & SOUL
ENTERTAINMENT
TELEVISION
GARDEN LIFE
NATURE
FOOD TALK
CONSUMER, BEWARE!
FASHION
GLOBOSCOPE
BRIDGE
ULTA-PULTA
EARLIER FEATURE
TRAVEL
RELATIONSHIPS
DREAM THEME
TIME OFF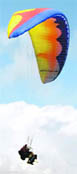 Soaring safely
Even as adventure tourism is exploring new territories, safety concerns need to be addressed on a priority basis, writes
Pratibha Chauhan
IT is away from the hustle-bustle of the crowded concrete jungles of Shimla-Manali-Dharamsala that a new passion for adventure activities like heli-skiing, river rafting, paragliding, mountain biking and rock climbing is attracting hordes of tourists, especially youngsters who are game for their high-risk thrill.


Reducing risk
Where wildlife is safe
Brijindra Singh, whose mission in life is to preserve Jim Corbett National Park and protect its inhabitants, is feared by poachers and respected by the authorities, writes Rajeev Khanna
AT the ripe age of 64, Brijindra Singh continues pursuing his passion — to preserve Jim Corbett National Park, and to protect its inhabitants. For him life without an association with the animals of the park would be like being a fish out of water.
Art through ages
Getty Centre in California is dedicated to study of the visual arts. Famous for its architecture and gardens, it also has one of the most-visited museums in the United States. It contains western art from the Middle Ages to the present, writes S. S. Bhatti
The first view of Getty Centre can be an unforgettable experience: at once entertaining, informing and uplifting. Nestling in the foothills of the Santa Monica Mountains in Los Angeles, J. Paul Getty centre is set on about 750 acres of undulating land.
The magic of Rabindra Sangeet
S. S. Sanyal
TrUE to his roots, Rabindranath Tagore was a true Renaissance Man. As a poet, novelist, musician and playwright, he reshaped Bengali literature and music. Gurudev, as he was affectionately called, could only be described as a polymath.
Short and hot
Flash those legs you have worked for so hard, and look like you have just walked off the ramp in this season's shorts, says Homai Sagar
WITH fashion shows in full swing and shops bursting with their new spring-summer collections, it is time to spring- clean your wardrobes and stock up the latest threads. Put aside your woollens and make way for the whacko-coloured skirts and cool shorts of this season.
A truly global cinema
Bollywood is not the only film industry looking for inspirations elsewhere; Hollywood follows suit, writes Shakuntala Rao
OUR filmmakers have long been critiqued for adapting, copying and cloning movie scripts and ideas, mostly from Hollywood and European film factories. Has this been a fair criticism of Bollywood, one can ask, as film industries around the world globalise?
No weddings, no Punjabis in new films: Gurinder Chadha
Robin Bansal
GUrinder Chadha has decided to move on. The Britain-based Indian filmmaker says she will leave behind her usual marriage formula in new projects, one of which is a children's film focussing on ecology and another that trails her own family history.