Magnetic POOL

Who can resist a cool splash in this hot summer? Here is a complete guide to the city's red-hot aquatic destinations
As the summer sizzles and temperature soars, city folks, especially children are soaking themselves in city pools to beat the heat. And, it's not like that parents are only ferrying their kids. Tempted, as their children, parents as well are taking a dip, making most of the 'family time' offered by various pools.
Punjab di Shan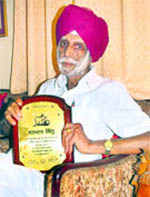 Felicitations and honour by the Punjab Chief Minister at a state level function on Fateh Divas at Fatehgarh Sahib came as a salutation to the spiritually enlightened vision and literary prominence of legendary litterateur Harnam Singh Shan. He was presented a citation, shawl, memento, ceremonial sword, siropa and a cash award of Rs 51,000. A genius with intuitive wisdom and vast knowledge, Professor Emeritus, Dr Harnam Singh Shan (87), ever sporting an innocent smile, is a renowned scholar of religious and Punjabi literary studies.



Dr Harnam Singh Shan. Photo: S. Chandan


No kidding!
Four-year-old Suri Cruise plays a pivotal role in the Cruise household as the family's stylist - not only to mom Katie Holmes but also to her star father Tom Cruise. Suri, frequently offers style tips to 47-year-old Cruise. "She tells me what to wear," said the actor.
WATER FRONT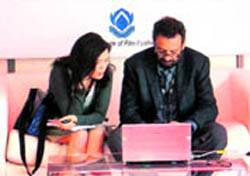 Filmmaker Shekhar Kapur, who is a jury member at this year's Cannes festival, hopes to find a solution to the grave problem of global water shortage through his next venture Paani. The shooting of the film, starring Bollywood heartthrob Hrithik Roshan, will begin in November in Singapore and Dubai. Based on a book by Maude Barlow, Blue Covenant: the global water crisis and the coming battle for the right and scripted by David Farr, Paani will tell a dark story.


Shekhar Kapoor at the 63rd Cannes Film Festival in Cannes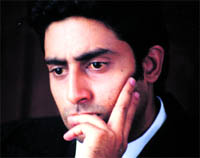 Lethal combo
Will Abhishek be third time lucky with Mani Ratnam?Abhishek Bachchan's last two solo hero films have flopped and he has not been seen on screen for a while. But, then again, he is doing director Mani Ratnam's Raavan, the combination has never failed so far. Not surprisingly then, all eyes are on Raavan."The combination of Mani Ratnam and Abhishek is unbeatable.
Mane attraction
A little puff here, a small diamond butterfly there and voila, you are the perfect crowning glory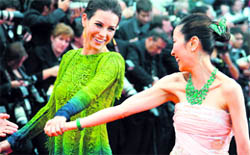 Cannes is not just about world cinema but also global fashion trends. The biggest names in the international film fraternity compete with each other for the perfect red carpet look. Talking about Indian contribution, Aishwarya Rai Bachchan's red carpet appearances at Cannes continue to shock and surprise all. While Mallika Sherawat toned down her loud fashion sense to a more sophisticated one, Deepika Padukone brought some respite.


Butterfly effect: Actor Michelle Yeoh goes interesting on the red carpet



RED LETTER DAY

Reuters photos


Actor Salma Hayek arrives at the red carpet for the screening of the film Wall Street - Money Never Sleeps during the 63rd Cannes Film Festival in Cannes on Saturday

Actor and television host Celyne Durand poses while arriving on the red carpet for the screening of the film Another Year in competition during the 63rd Cannes Film Festival in Cannes on Saturday
Spice up
Sun screen
The needs of the skin during hot and dry weather are different from hot and humid weather. In the dry season, there is lack of humidity in the air and the skin loses moisture to the atmosphere.
Well versed
As many as 27 poets from tricity met for the verse at the DAV college-10 mini theatre hall in a Trilingual poetic symposium and seminar organised by Sirjan, an institute of creativity on Sunday.
One stop shop
Whirlpool of India, the subsidiary of Whirlpool Corporation, has expanded its presence in the retail segment with the launch of four New Brand shops in Chandigarh making it to a total of six exclusive Whirlpool showrooms in the city.
Every move you make…
Cardio, pilate and spinning may have become part of every gym-goers vocabulary, but how many of us know what exactly they imply?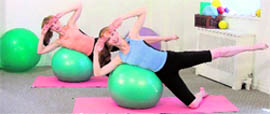 How many of those who go to the gym, work out really hard and burn calories, ever bother to know what exactly they are doing? What purpose does weight training, cardio or pilate… serve? Everything has to do with losing weight of course, but how much a certain exercise or work out contribute towards it, not too many people are aware of.
Say cheese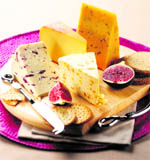 Cheese can help preserve and boost the immune system of the elderly by acting as a carrier for probiotic bacteria, researchers have found discovered. The research reveals that daily consumption of probiotic cheese helps to tackle age-related deterioration in the immune system. "The increase in the proportion of aged individuals in modern society makes finding innovative ways to thwart the deterioration of the immune system a priority," said Fandi Ibrahim from the University of Turku in Finland, who led the study.
Jinxed gene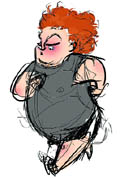 The age-old question of why men store fat in their bellies and women store it in their hips may have finally been answered: genetically speaking, the fat tissue is almost completely different. "We found that out of about 40,000 mouse genes, only 138 are commonly found in both male and female fat cells," said Deborah Clegg, assistant professor of internal medicine at University of Texas Southwestern Medical Centre (UTSMC) and senior study author. "This was completely unexpected. We expected the exact opposite - that 138 would be different and the rest would be the same between the sexes," Clegg added. The study involved mice, which distribute their fat in a sexually dimorphic pattern similar to humans. Sexual dimorphism is the systematic difference between individuals of different sex in the same species.

Trio-logy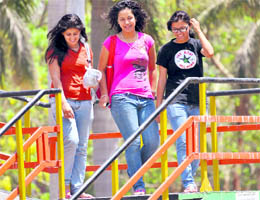 Three girls brave the sun to have a little fun at Stu C. Lifestyle photo: Parvesh Chauhan

Boiling point
With temperatures soaring above 40°C everything is virtually on the 'boil'. And when that is happening, how can the tender human skin remain unaffected from the summer boils (read skin abscesses)? Summer boils, known as furuncles in medical parlance, are swellings in the skin surrounded by large red areas. It is a deep-seated septic infection of the hair follicle in which the hair root is completely destroyed and comes out as the core of the boil.


BODY wise
Summer woes
Heat can cause various health problems. Here is how to sidestep some top seasonal ailments so you can protect yourself when the temperature rises and savor your summer days.