It's my style

'Mirror mirror on the wall who is the prettiest of all?…if only our celebrity actors and models care to look into the mirror once before leaving for any award function or party, fashion critics would probably find it a wee bit difficult to zero in on their faux pas. Our Cannes brigade led by Aishwarya Rai seems to be in dire need of a wall size mirror!


Kulraj Randhawa

Gul Panag on media as a career option
Breaking news!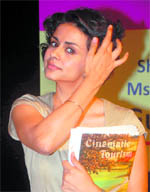 Most of our student life is exhausted in finding an answer to one question - What do you do for a living? And once we find that answer, the rest of our life is exhausted in wondering if it is the correct answer! The 1,000-odd students gathered at ITFT Media festival at Tagore Theatre on Monday morning too were haunted by the same question. And helping them find the answers were actor Gul Panag and Rajiv Makhani, MD, NDTV, by introducing them to an industry with a market of 61,000 crores and an annual growth potential of 12.5 per cent!


Gul Panag

Flight of fancy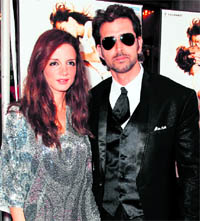 Karan Johar has extended his holiday in New York to attend the premiere of Hrithik Roshan-starrer Kites at Times Square on Sunday. "It's a big film for the Roshans who are very close to me and Shah Rukh (Khan). The success of Kites is also very important to the film industry. I've a release I Hate Luv Storys coming up in July. And if Kites works, it'd mean favourable things for my films," Karan said.





Hrithik Roshan and his wife Sussanne Khan Roshan pose for photographers as they arrive at the premiere of Kites in New York City on Sunday. — Reuters photo

Special effect
Hollywood actor Dennis Quaid hogged on fast food to gain extra flab for his portrayal of former American President Bill Clinton in a new film.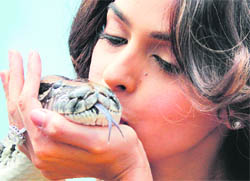 Mallika Sherawat kisses a snake as she poses during a photocall to promote the film HISS by director Jennifer Lynch at the 63rd Cannes Film Festival on Sunday.
Big success
After the success of his blog, Bollywood megastar Amitabh Bachchan launched his voice blog "Bachchan Bol" and is glad to know that this service too has become immensely popular among his fans.
Guru Sherlyn
After actors Shilpa Shetty and Bipasha Basu, item girl Sherlyn Chopra is all set to feature in a fitness DVD. A content provider has approached Sherlyn to feature in the fitness DVD. The workout regime is being designed by experts in a manner which will not only strengthen the body but also the mind. It will be a unique blend of weight training, functional training and yoga.
Believe it or not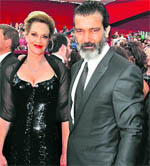 Believing in your partner is the key for a happy married life, according to Spanish actor Antonio Banderas.Married to actor Melanie Griffith, whom he met on the sets of the 1995 film Two Much, the secret of his healthy, happy, and passionate marriage is 'to believe', Ok! "The secret is to believe. To believe that after a crisis for example, you're going to get stronger. To be passionate, believe me, is not a bad thing. It is a very underrated virtue. Very," Banderas said."But, it holds big virtues. If you don't have passion, all of these big virtues fall apart. But, if you do all of this can shine.


Antonio Banderas & Melanie Griffith

Daddy's boy


Bollywood hearthrob Shahid Kapoor, who has just been seen in con film Badmaash Company, is extremely excited about his forthcoming film Mausam which is the directorial debut of his father Pankaj Kapoor.




Shahid Kapoor

BITS ABOUT BYTES
Tweaking, sharing & viewing
While sending photos to friends online, get sharp
The very essence of taking a picture involves sharing it with others. After all, what are photographs other than memories immortalised. Even as we compose a picture on our viewfinder, or, more often, on the LCD screen of our camera or phone, we are already thinking of people we would love to share the moment with.
E-alliance


For people looking for 'dedicated' life partners, matrimonial sites are indeed a blessing in disguise
This needn't be the first, but this definitely is the last resort. For people looking for 'dedicated' life partners, matrimonial sites indeed are a blessing in disguise and these have definitely grown over the years. An increase in the number of matrimonial sites is indicative of the fact that the web is the hub where the world meets and you might just find someone there!
Haute pick
Head-to-head


For crystal clear high definition video one needs a crystal clear personal sound system - the infrared (IR) wireless headphones. These headphones use infrared rays to operate and the sound is clear, as compared to the conventional wireless headphones that suffers from static interference caused by radio waves. The infrared headphones also afford true privacy because they work only in the line of sight

Smaller the better
From the young to the old, more and more people in today's world are using computers. Nowadays the most common machine in every house after a television is a computer and why not? After all it has the capability of replacing each and every source of home entertainment, be it a music system, DVD player, television et al. A computer's sound system can match up to the latest technology, so can the digital video formats.
Play safe
With parenthood comes a lot of responsibility, so here are a few ideas on how to make the house safer for babies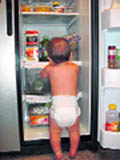 A baby brings a sea change in parents' life — some sweet, some challenging. Although there is no guidebook that can prepare you for the testing times that parenthood brings, we bring to you some ideas on how to baby-proof your house. The normal, comfortable house that you stayed in before the baby walked into your life can prove to be pretty dangerous for the little one. First things first, get a car seat to take the baby home. In fact in the US one is not allowed to move out of the hospital until one has a car seat for the newborn. Next, crawl around the house to get 'baby's eye view'. For a toddler there is a whole world waiting behind that couch!

Miss-tic allure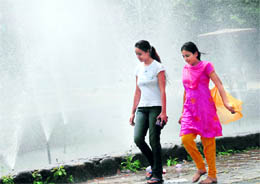 Sprinkle from this fountain at Panjab University provides a welcome relief from the sweltering heat.
Lifestyle photo:
Manoj Mahajan
Are you a genius?
Max New York Life Insurance, one of India's leading life insurance companies, has announced an innovative photography contest under its I-Genius programme. Referred to it as I-Genius Photography Hunt, the initiative is primarily aimed at nurturing photography skills among children. The I-Genius Photography Hunt seeks participation from parents as well as children across the length and breadth of the country. The contest is open for children aged between 5 and 18 years and their parents.
Mega deal!
Sun Direct Private Limited, the second largest direct-to-home service provider in the country, has gone one step further to fulfill the growing needs of its subscribers with the Mega Shine pack. The subscribers can avail a three-month subscription and choose from six free top-up packs of popular channels at Rs 1,750, which is inclusive of installation charges. On a steadfast pace to cater to the enhancing entertainment demands of the subscribers, Sun Direct has launched a new add-on pack loaded with top-of- the-line channels for a power packed experience at a never before price.
Spade work


Take another look
Nature has many surprises in its lap. Look around, you will find an amazing range of flora. Even within species there is an awesome diversity. Garden lovers are always on the prowl to supplement their collection with 'something new'. This gives their garden dynamism. But a word of advice; there is still untapped flora which is old and forgotten.