Going places
With increasing worldwide interest in travel, the industry has grown enormously and is considered the world's largest industry. As it continues to expand, the requirement of trained workforce is likely to grow in proportion. Usha Albuquerque on career choices in travel and tourism sector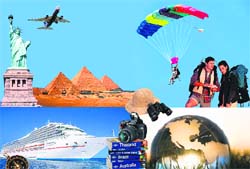 Summer is here again and everyone is preparing for a holiday – whether spending the vacations with grandma, or going off to an exotic beach in Bali or Thailand, or to the cool climate of Mussoorie or Shimla. Almost 5 million Indians go abroad, and more than 3 million tourists visit India every year. And of course there are millions of Indians just traveling around the country, whether for business, holiday, study or pilgrimage. So despite war, terrorism, epidemics and other global catastrophes such as the volcano eruption in Iceland, more and more people are travelling, providing jobs to millions of people in the tourism industry.
The Guiding hand

An articulate tour guide can make every tourist site relevant and fascinating, while placing it in the context of the country's social and historical heritage. By weaving in local legends, social customs and cultural traditions into the historical facts and figures, a tour guide enlivens history. With an increasing number of tourists visiting India and larger numbers of domestic tourists travelling to the many natural and historical locations across the country, there is a growing demand for efficient tour guides to provide the necessary information and guidance to visitors.


Careercature
Sandeep Joshi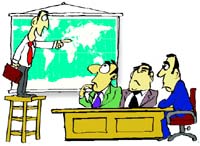 Sir, I am a management post graduate from as foreign university situated somewhere near here.

Course watch
Bachelor's course in 3D animation
The Maya Academy of Advanced Cinematics (MAAC) will now offer Bachelor of Arts in 3D Animation and Visual Effects degree in collaboration with IGNOU — the world's largest Open University.
Career Hotline

UK test details

Road to an arty career

Green-collar execs
Ride the Webworld
Gone are the days when one had to refer to books or call people in order to plan a holiday. Today with the power of Internet, one can book airline tickets, hotel room, car rentals etc.
Steady growth
Tourism is no longer only about travelling, at least not from the revenues which it brings to the Indian economy. Tourism has become a popular global leisure activity. In 2008, there were over 922 million international tourist arrivals, with a growth of 1.9 per cent as compared to 2007.
Stepping stone
You send your resume to a recruiter and you are immediately told that you have been selected and you are offered the salary of your dreams!