14 blocks without permanent BPEOs in district
Jalandhar, May 18
Hundreds of primary schools across the district are compromising on surveillance and monitoring due to unavailability of permanent Block Primary Education Officers (BPEO) in the district. Fourteen out of total 20 primary education blocks in the district are functioning without permanent Block Primary Education Officers.
Going places at eight
Jalandhar, May 18
Her innovative dancing skills and wavy moves usually left the audience at her school and family functions stunned. But things are a bit different now. Her phenomenal dancing steps are wooing audience in the country and even abroad.
Young World
DAVIET, CT students bag placements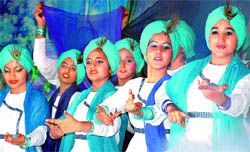 Jalandhar, May 18
As many as nine students of BTech of the DAV Institute of Engineering and Technology (DAVIET) bagged placements with Computer Sciences Corporation, Noida, at an annual package of Rs 3.75 lakh.


Students of Cambridge International School present a mesmerising performance during the prize distribution function at the school in Jalandhar. Tribune photo: Malkiat Singh
Drugs seized from medical store
Jalandhar, May 18
In a campaign to put a check on the unethical sale and purchase of habit forming and prohibited drugs, the district health authorities today raided a medical store in the Model House locality here and seized large amount of prohibited drugs.
DG writes to Railways for station near Science City
Kapurthala, May 18
In an effort to make its easy connectivity with the rail, the management of Pushpa Gujral Science City (PGSC) has written to the Railways to set up a station at a place near the PGSC.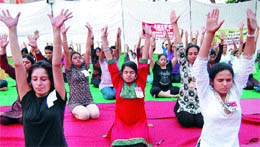 Students practise yoga during a camp organised by the Art of Living at Lovely Professional University. A Tribune photograph

MC panel okays projects worth Rs 25.5 cr
Jalandhar, May 18
Projects worth Rs 25.5 crore were cleared at a Finance and Audit Committee meeting of the Municipal Corporation here yesterday.
Southern Air Command are volleyball champions
Jalandhar, May 18
Southern Air Command emerged as champions and won the rolling trophy of the Air Force volleyball championship, 2010-11, held at Air Force Station, Adampur, near here, on May 15.
HR summit held at LPU
Jalandhar, May 18
Top HR experts have said the academic curricula should be reviewed and designed in such a way that they fully serve and match the needs of the industries.
NDA coaching classes from May 25
Jalandhar, May 18
The District Sainik Welfare Office would conduct preparatory classes for the NDA, CDS and OTA examinations to be held by the UPSC in August- September. The classes would be held for five weeks from May 25.
Mobile phone thief arrested
Phagwara, May 18
The police arrested a mobile phone thief, identified as Rakesh Kumar, today and recovered two mobile phone sets and two gas cylinders from his possession. — OC
2 injured in clash
Phagwara, May 18
Two teenager youths were injured in a clash here today. Idenitified as Gurminder Singh of nearby Pharwala village and Jaspreet Singh of Khalwara Gate, they were admitted in the local Civil Hospital in serious condition. Sharp-edged weapons were openly used in the clash. Personal enmity was said to be the cause of clash, the police said.
NDA block to be ready by year-end
Jalandhar, May 18
Deputy Commissioner Priyank Bharti yesterday said that the NDA block at District Sainik Welfare Office (DSWO) would be completed by the year-end. The state government had already released a grant of Rs 1 crore to complete the project.
4 ETT teachers take to water tank protests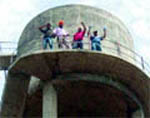 Kapurthala, May 18
Protesting against the Punjab Government's decision on the ETT teachers, four members of the Unemployed ETT Teachers Union today climbed an overhead water tank at Thattha village near Sultanpur Lodhi and threatened to kill themselves by jumping down from it.

Protesting Dharmendra Style: Unemployed ETTs protest on an overhead water tank at Thatta village, near Sultanpur Lodhi, in Kapurthala on Tuesday. Tribune photo: Malkiat Singh